DODEA schools to open in South Korea as military eases coronavirus restrictions
by
Kim Gamel
September 23, 2020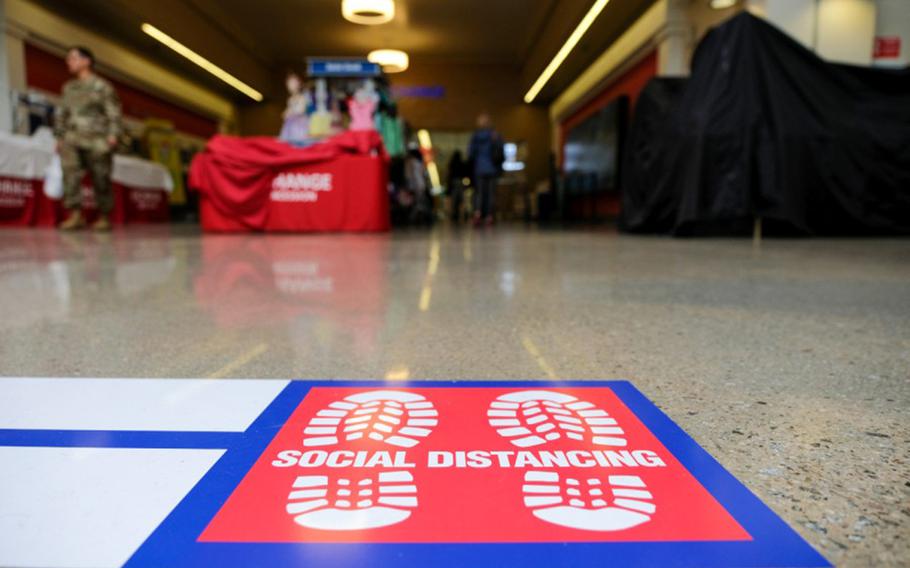 Stars and Stripes is making stories on the coronavirus pandemic available free of charge. See other free reports here. Sign up for our daily coronavirus newsletter here. Please support our journalism with a subscription.
SEOUL, South Korea — Schools on U.S. bases in South Korea will open next month, officials said Wednesday, as the military announced it is easing coronavirus restrictions thanks to a decline in the number of cases nationwide.
Department of Defense Education Activity had given parents a choice of sending their children back to in-person or virtual classes amid the pandemic. However, the schools were forced to revert to online education after South Korea suffered a new outbreak in mid-August.
U.S. Forces Korea raised its coronavirus risk level to substantial, in military terms Health Protection Condition-Charlie, on Aug. 16, the day before teachers had been due to report back to work after summer vacation.
The command announced Wednesday that it's lowering the alert level to Bravo for most areas beginning at 4 p.m. Thursday, although personnel will still be barred from unofficial travel to Seoul and surrounding areas.
DODEA followed suit, announcing that students who opted for in-person learning could begin classes. The virtual school option will continue accordingly.
"We have begun the process of transitioning to the brick and mortar learning environment," regional superintendent Jeff Arrington said in a memo. "At this time we are planning to resume in-person instruction on (Oct. 5) at all of our schools in Korea."
Remote instruction will continue through Sept. 30 to provide continuity, but no live sessions will be held for a few days to allow teachers to prepare their classrooms and receive training on coronavirus prevention measures, he said.
Laptops that were signed out for remote learning should be returned by Oct. 2 to ensure the schools have sufficient resources for classroom learning, he added.
Students also will be required to respond to health questionnaires and wear masks while in school.
"DODEA has ordered two washable face masks for each student and staff member," the memo said. "However, you will need to ensure your child has a mask to wear on the first day."
Other safety measures will include social distancing, disinfection of frequently touched surfaces, clear physical barriers in cafeterias as well as individual portable barriers for all students, it said.
Wednesday's decision to lower the health protection condition to Bravo also will allow troops, family members and civilian employees to eat out at restaurants and conduct other recreational activities and travel off base.
However, the command said bars and other adults-only establishments remain off-limits and personnel must maintain the usual safeguards against the virus, including wearing masks at all times when off their installations.
Travel to Seoul and surrounding cities also is not allowed except for official business, although people who are stationed at Yongsan Garrison and the nearby K-16 base may go to restaurants and other facilities in their local communities, USFK said.
The number of confirmed cases has been declining in South Korea after a new outbreak began in mid-August. Health authorities reported three consecutive days of double-digit figures, although the official tally rose to 110 on Wednesday.
"Once again, the [South Korean] government has done an exceptional job in effectively containing and suppressing the recent outbreak of COVID-19," USFK commander Gen. Robert Abrams said in a press release, referring to the respiratory disease caused by the virus.
"Our record speaks for itself. We will continue to monitor and assess the virus as we have done since January, and will maintain our aggressive approach to identify, contain and prevent the spread of COVID-19 within our formations, installations and communities," Abrams said.
USFK, which comprises a military community of about 58,000 people, raised its coronavirus risk level to substantial, in military terms Health Protection Condition-Charlie, after the pandemic began to take hold in late February. Condition Bravo indicates a lower, moderate risk of coronavirus infection.
USFK briefly lowered the risk level to Bravo in August but reimposed strict safeguards after a new outbreak began on Aug. 14 in the Seoul metropolitan area.
"Based on South Korea's current COVID-19 situation returning to favorable conditions, USFK has adjusted its current health protection condition from 'Charlie' to 'Bravo' for Areas I, III, IV and the Yongsan and Songnam districts within Area II," effective 4 p.m. Thursday, USFK said. "All other districts within Area II will remain in HPCON Charlie for the time being."
The 110 cases reported Wednesday raised South Korea's total to 23,216, with 388 deaths.
USFK has reported 193 cases, but most of those were among troops and other personnel who tested positive after traveling to South Korea from the United States.
gamel.kim@stripes.com Twitter: @kimgamel