DODEA schools in Korea to remain closed another week as outbreak of new coronavirus worsens
---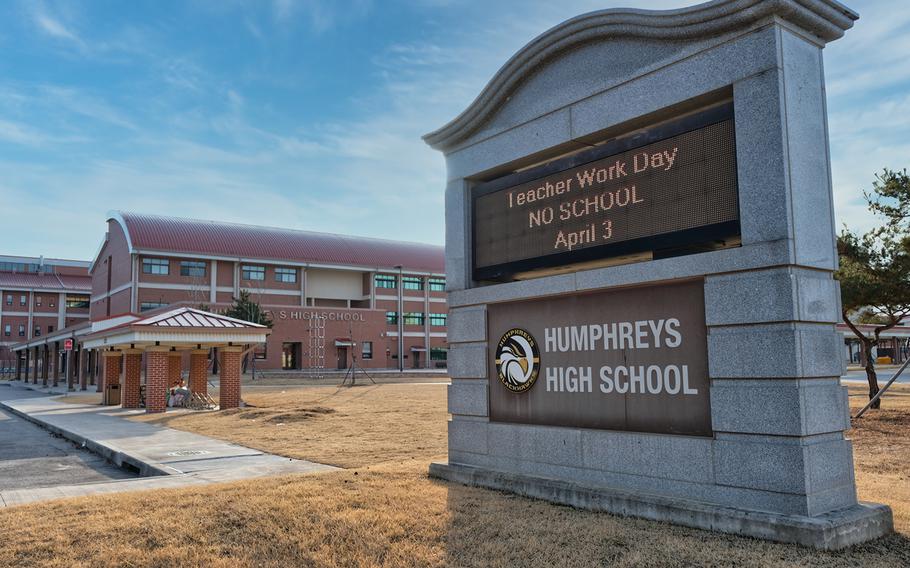 Defense Department schools in Korea will remain closed through March 13 due to continuing concerns over COVID-19 in that country.
Students from Camp Humphreys, Daegu garrison and Osan Air Base will continue with online instruction in the interim, said officials with Department of Defense Education Activity's Korea district on Friday.
When the schools reopen, new guidelines will be in place to ensure they are ready for the students' safe return, according to a statement by Korea district superintendent Jeff Arrington, a copy of which was obtained by Stars and Stripes.
Those guidelines include:
Screening students for signs of the virus prior to boarding school buses or entering schools Placing hand sanitizer stations in each classroom Wiping down classrooms frequently with sanitizing wipes Increasing distance between students by spacing their desks appropriately Daily sanitation of hallways, large rooms and locker exteriors Developing a protocol for handling those who displays COVID-19 symptoms at schoolThe guidelines were put in place following meetings between U.S. Forces Korea and DODEA Korea district officials, DODEA-Pacific chief of staff Todd Schlitz told Stars and Stripes on Friday.
"Our school principals, in concert with command and medical officials, are working hard to return students to a safe zone in schools that satisfies the mitigation criteria that has been established," Arrington wrote in the statement.
He expects another update on school closings on March 13, according to the message.
"Schools will reopen when we are satisfied with the mitigation efforts put in place," the letter said.
In the meantime, online classes that began Feb. 26 will continue for a second full week.
"We will continue to work in close cooperation and partnership with USFK and continue to monitor the situation," Schlitz said.
DODEA schools in Japan remain open and after-school tryouts and practices for spring sports are proceeding as normal, said Schlitz and DODEA-Pacific athletics coordinator Tom McKinney.
However, no games or athletic competitions are scheduled through the end of March, according to a letter sent to parents and teachers March 1 by DODEA-Pacific director Lois Rapp, a copy of which was obtained by Stars and Stripes.
"We will revisit the option of continuing activities starting in April," Rapp's letter said.
DODEA-Pacific's regional junior science and humanities symposium is still scheduled for March 16-17, but as an online event. A decision whether to allow the Far East Honor Music Festival April 20-23 at Yokota High School in Japan and the Creative Expressions Festival April 27-30 at Temple University in Tokyo will be made March 18, Schlitz said.
All Far East spring sports tournaments — baseball, track and field, softball and soccer — are still scheduled for May 22-24, McKinney said. A date for a final go or no-go decision has not been established yet, he said.
ornauer.dave@stripes.com Twitter: @DaveOrnauer
---
---
---
---