DODEA-Pacific cancels more events in Korea and Japan over coronavirus concerns
by
James Bolinger Dave Ornauer
February 21, 2020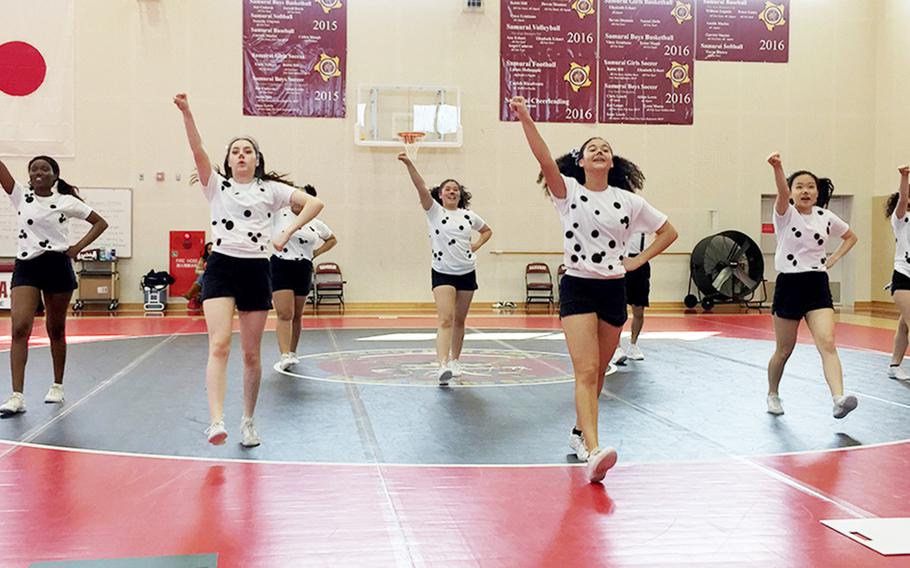 YONGSAN GARRISON, South Korea — Pacific area Defense Department schools canceled more events Friday, a day after pulling the plug on Far East winter sports tournaments due to concerns over potential exposure to the new coronavirus.
Two school-sponsored events in Japan in the coming week are canceled, according to a statement Friday from Department of Defense Education Activity-Pacific.
The first, the Far East Drama and Performing Arts Festival, was scheduled Monday and Tuesday at Matthew C. Perry High School at Marine Corps Air Station Iwakuni. It's now off.
The second, the Far East Culinary Arts Festival, was scheduled Wednesday and Thursday at Yokota High School at Yokota Air Base. It, too, is canceled.
A third, unofficial event called the Tomodachi Bowl — a friendship football game slated for March 8 at Naval Air Facility Atsugi — was also canceled, Yokota athletics director Tim Pujol said in an email Friday.
Spring sports expected to start Feb. 29 and season-ending tournaments in May are still on schedule, including soccer, baseball, track and field and softball.
However, that schedule could change. "This is an evolving situation and the well-being of our students and families is our top priority," according to the DODEA-Pacific statement.
The arts and culinary festivals were canceled a day after the Far East boys and girls' basketball and cheerleading tournaments in Japan and South Korea were halted due to coronavirus concerns.
The virus, first detected in December in Wuhan city, China, has spread to at least 30 countries since then. More than 2,100 people, mostly in China, have died and more than 75,000 people have tested positive worldwide, according to The Associated Press.
The South Korean city of Daegu, 200 miles southeast of Seoul, reported its first virus-linked death Thursday and the military tightened travel restrictions there.
No cases of coronavirus were reported among DODEA-Pacific student-athletes, according to the statement from DODEA-Pacific area director Lois Rapp. Cheerleaders and basketball players from Daegu Middle-High School were present at the basketball and cheerleading tournaments, but none were reported to have fallen ill with the virus.
"We will continue to work closely with the military commands to ensure we are taking all proper measures to mitigate the risks to our students and employees," the statement said.
Far East cheer and basketball tournaments began Thursday but were called off hours later due to coronavirus concerns. Many involved with the events expressed disappointment. Many family members traveled with their players to see them compete in the Far East girls basketball tournament at Kadena Air Base, Okinawa, the boys tourney at Camp Humphreys, South Korea, and the cheer competition at Marine Corps Air Station Iwakuni.
Harvey Inouye, 78, a retired master sergeant from San Antonio, saw his grandson Dylan Tomas hit the game-winning shot to lift Misawa Air Base's Robert D. Edgren High School over Yokota 47-45 in an opening match.
"I would like to have seen the team play a lot more, but I guess for the safety of everyone, it's a good decision," he said.
DODEA-Pacific struggled Friday to reissue tickets for players' and coaches' travel back to their home bases, officials said. Some teams had to wait until the weekend to travel.
Cheerleaders from the three DODEA Korea schools were stuck at Iwakuni until Saturday, the day the competition was scheduled to end. Some wondered why the competition wasn't held Friday.
"I get that they didn't want us in the school, but we were already there Thursday," said Osan sophomore cheerleader Ahnyana Mills.
Football players destined for the ninth Tomodachi Bowl were also disappointed.
"I'm lost for words," said Humphreys senior David Key, who returned an interception 99 yards for a touchdown in last year's Tomodachi Bowl, a 23-3 win for Team USA. "I can't believe this is happening (in) my senior year. It's disappointing. I couldn't wait to be back on the field one more time."
Other events sanctioned but not sponsored by DODEA-Pacific are safe for the moment, organizers said.
The Perry Cup boys soccer tournament scheduled for March 21-22 at Iwakuni is still a go, said tournament founder Mark Lange.
The 15th annual Mike Petty Memorial track and field meet April 6 at Kubasaki also remains on "for now," said school athletics director Jon Fick.
ornauer.dave@stripes.com Twitter: @daveornauer
bolinger.james@stripes.com Twitter: @bolingerj2004