DODEA grads wrap up 'memorable' year with unique ceremonies in Japan and Guam
by
Dave Ornauer
June 7, 2020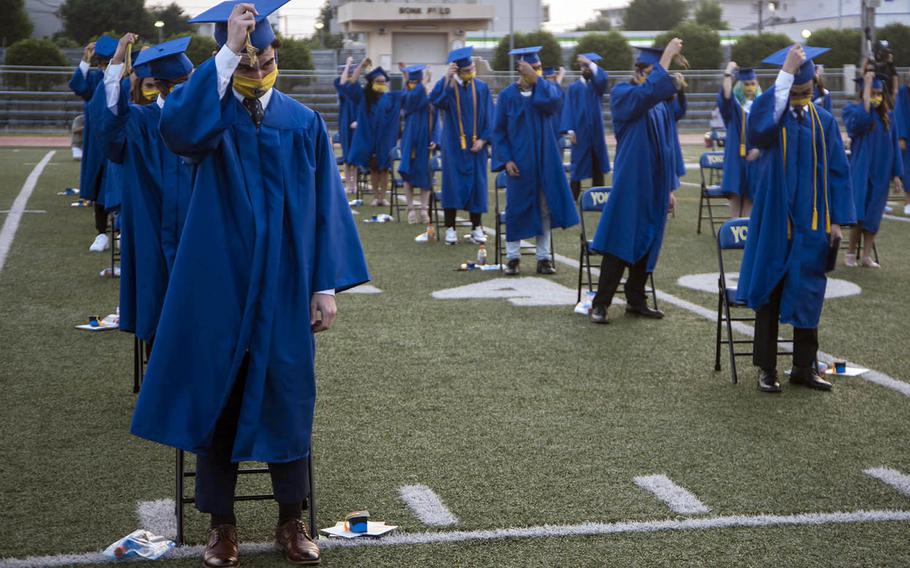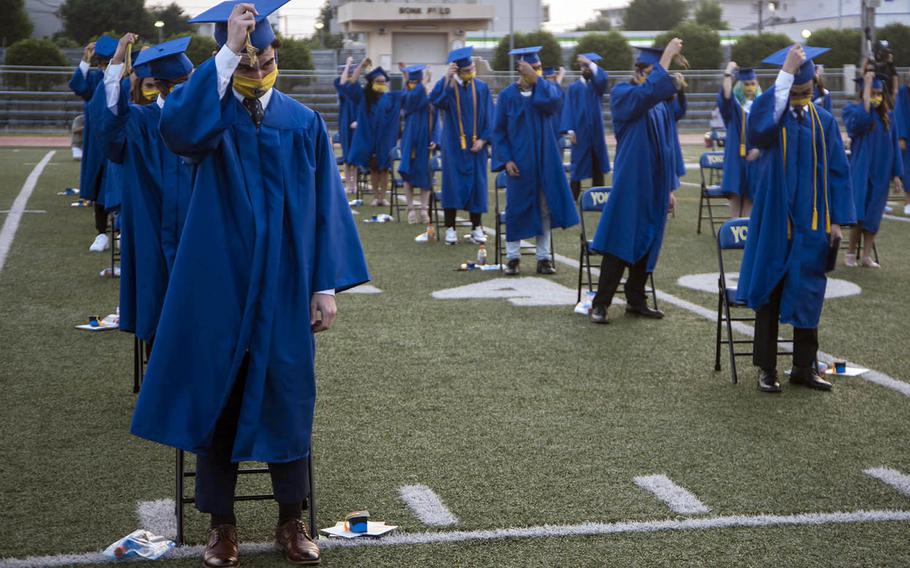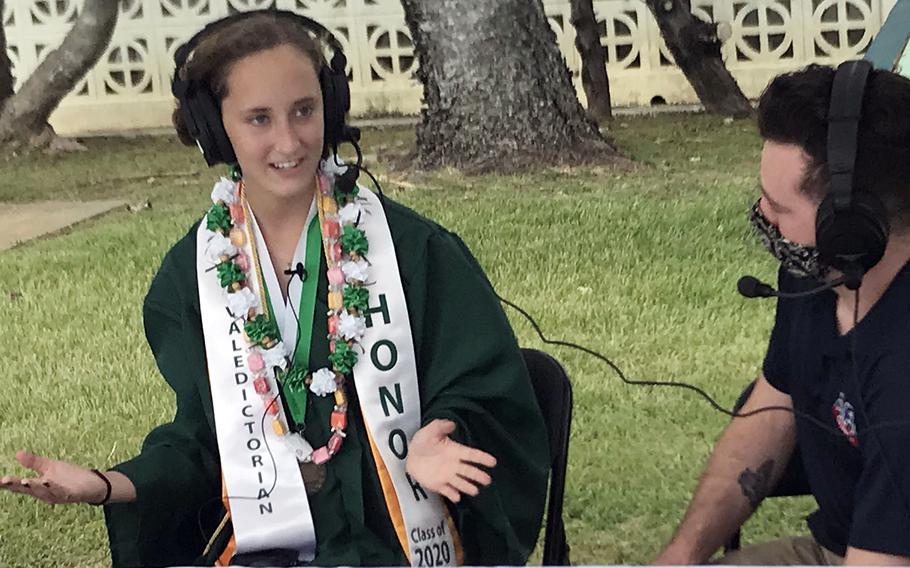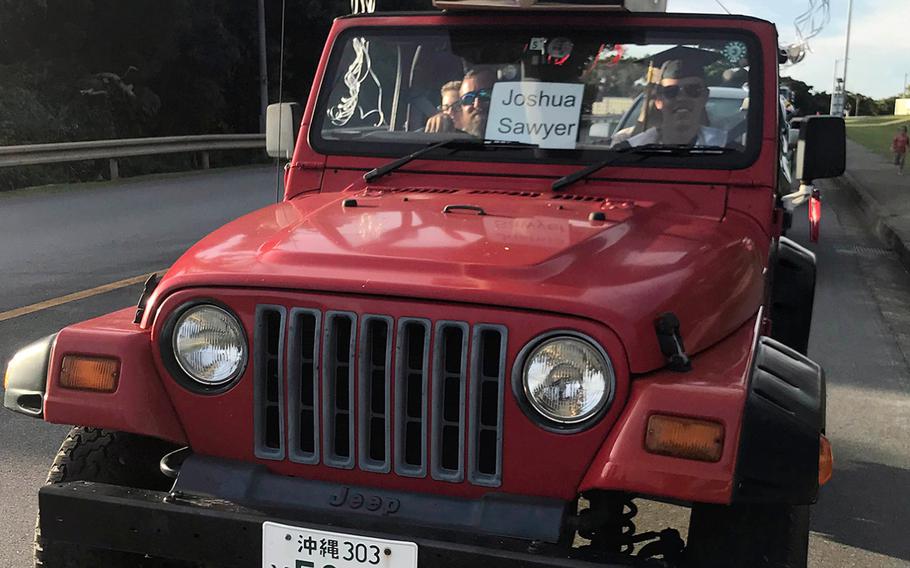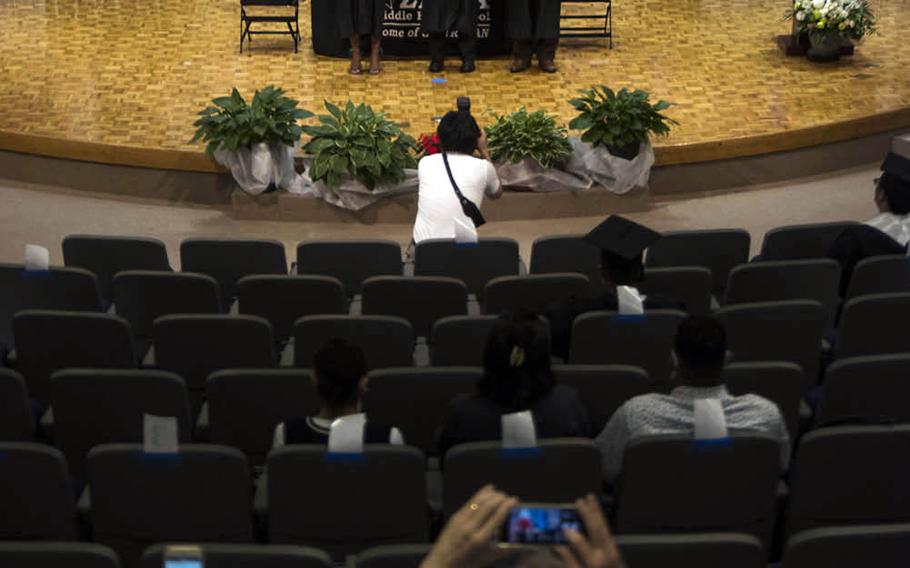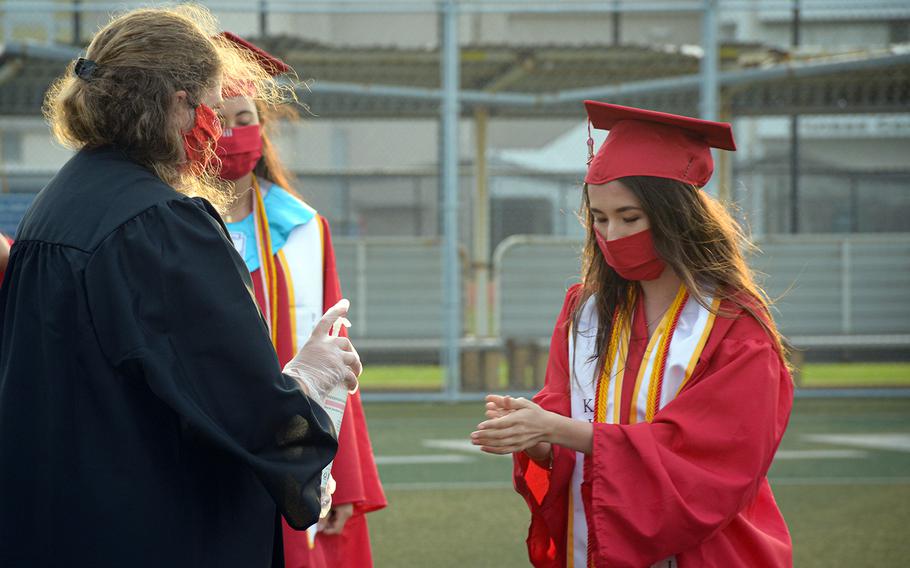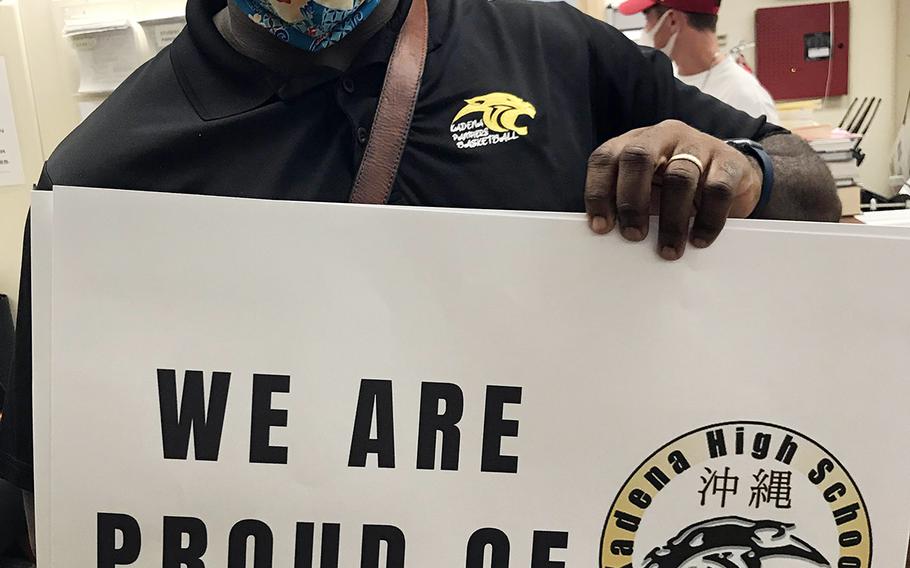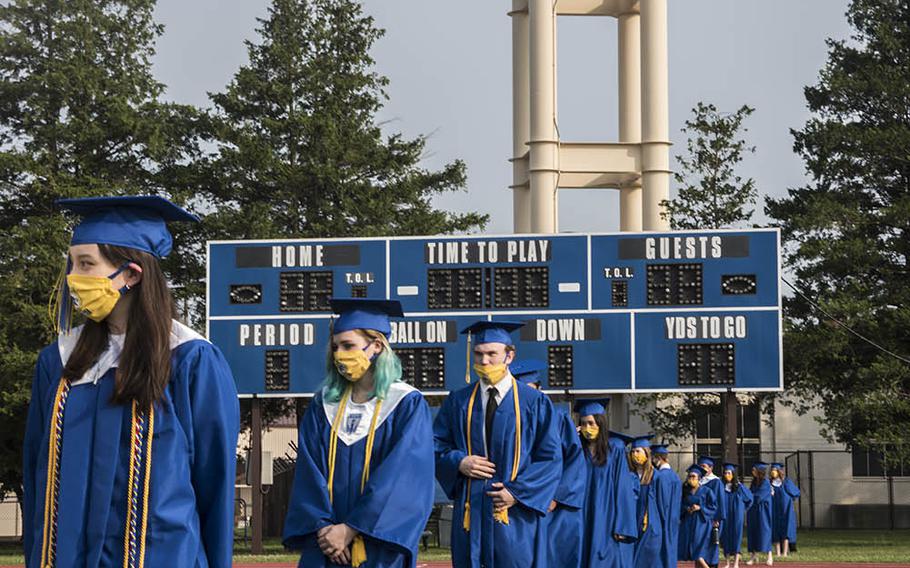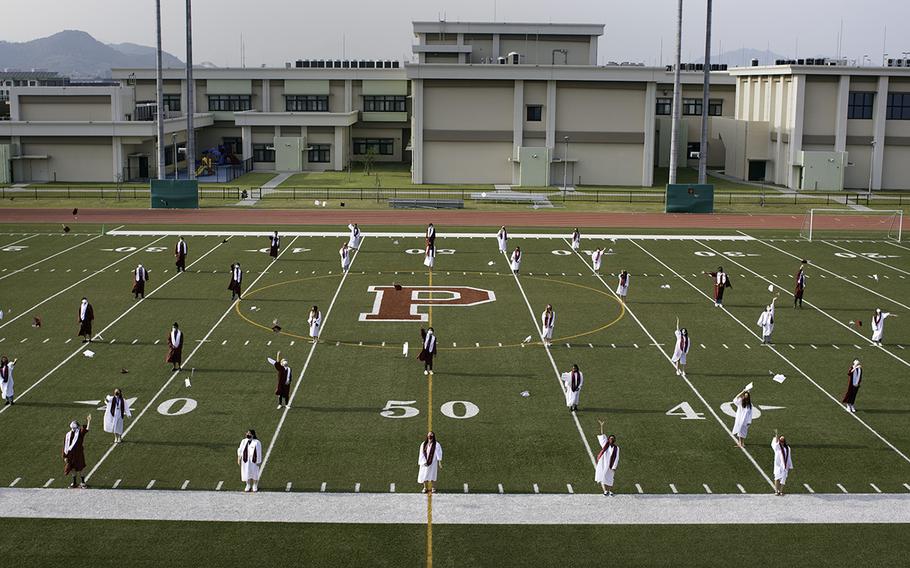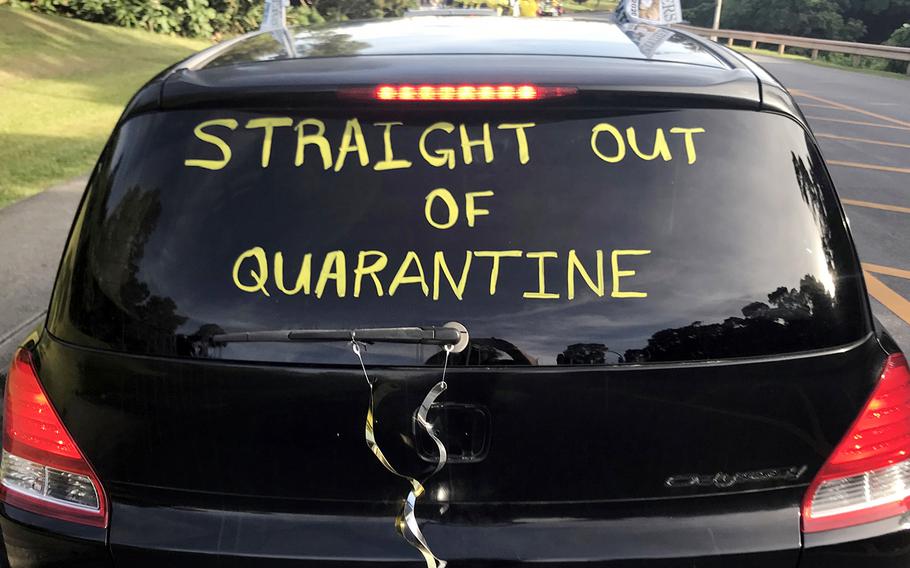 Stars and Stripes is making stories on the coronavirus pandemic available free of charge. See other free reports here. Sign up for our daily coronavirus newsletter here. Please support our journalism with a subscription.
CAMP FOSTER, Okinawa — Jimmy Journey didn't hesitate when asked if he could think of one word to sum up this year's graduations for Defense Department high schools in the Pacific.
"Memorable," said Journey, the superintendent for Department of Defense Education Activity's Pacific South District. "It's been 40 years since I graduated. I don't remember a thing about it. I'm willing to bet these kids will remember."
Commencement ceremonies at schools in Japan, South Korea and Guam took place Wednesday through Saturday, closing out an atypical school year marked by a global coronavirus pandemic that turned DODEA classrooms into virtual experiences.
Many DODEA schools conducted some form of virtual, online graduation that was live-streamed on each school's Facebook page.
But where possible, after conferring with commanders at their respective bases, some schools hosted in-person graduations in one form or another. Graduates wore masks along with caps and gowns and everyone, including families, where allowed, were seated at least six feet apart.
"It was a process that didn't happen overnight," said Principal Priscilla Hill of Yokota High School in western Tokyo. "We have an amazing community here at Yokota … they found a way for us to have this because they knew it was important to the families here."
Yokota sent its 64 graduates on their way Thursday on the school football field. Nile C. Kinnick High School at Yokosuka Naval Base hosted a similar ceremony Friday for 124 seniors.
"I'd like to thank all those who worked to ensure [our class] could have a graduation," Kinnick valedictorian Daniel Posthumus said during the commencement.
On Okinawa, 166 graduates at Kadena High School and 111 at Kubasaki High School followed their virtual graduations with drive-thru parades at Kadena Air Base on Friday and Camp Foster on Saturday in which students picked up their diplomas. The same held true for 88 graduates at Guam High School in Hagatna, which held a drive-u ceremony on Friday.
On the main island of Japan, 60 graduates at Zama American at Camp Zama and Matthew C. Perry High School's largest graduating class ever — 42 seniors — at Marine Corps Air Station Iwakuni supplemented their virtual graduations by crossing the schools' auditorium stages, in groups of six at Zama and family by family at Perry, on Wednesday and Thursday.
Robert D. Edgren at Misawa Air Base held a traditional ceremony Friday for its 42 graduates in one of the base aircraft hangars with two F-16s — the 35th Fighter Wing's signature aircraft — behind the stage.
E.J. King High School at Sasebo Naval Base hosted a ceremony for its 40 graduates Saturday at Nimitz Park.
Most students said they were happy to have graduations of any sort, after schools closed March 26 and learning was moved online. The spring sports season was also canceled and all Far East activities were called off.
"After everything that's been going on, I honestly didn't think we would be walking today," Kinnick senior Erica Advincula said Friday.
Graduates at Kinnick and Kubasaki walked on a red carpet under a traditional Marine sabre arch usually reserved for weddings. At Kadena and Kubasaki, the exchange and USO pitched tents and gave students graduation goodies. American Forces Network radio interviewed graduates during live broadcasts at Kadena and Foster.
"It's really nice despite the circumstances," Kadena graduate Sabrina Wrachford said Friday. "They made it really nice for us."
Not all students said they were happy with the process but were still glad that they could graduate and were looking ahead to the future.
"There's so much more we will accomplish in life," Perry senior Jalynn Kaufmann said Thursday. "We have future education, jobs, families and even more friends than we've made these past 12 years. So for that, I'm grateful."
Stars and Stripes reporters James Bolinger at Marine Corps Air Station Iwakuni; Theron Godbold at Camp Zama and Yokota Air Base; and Christian Lopez at Yokosuka Naval Base contributed to this report.
ornauer.dave@stripes.com Twitter: @DaveOrnauer