Disaster relief efforts push Japan public sentiment toward U.S. military to all-time high
by
Chiyomi Sumida Wyatt Olson
December 7, 2011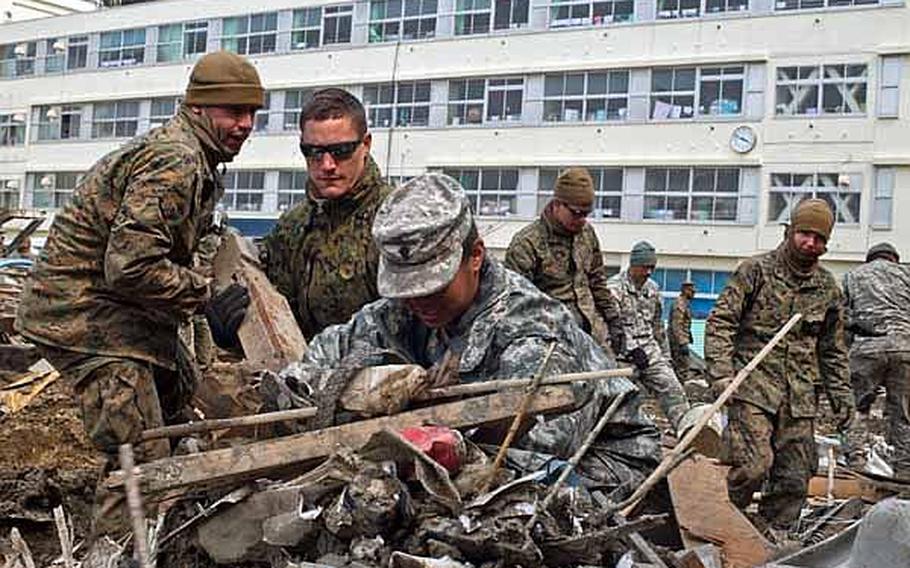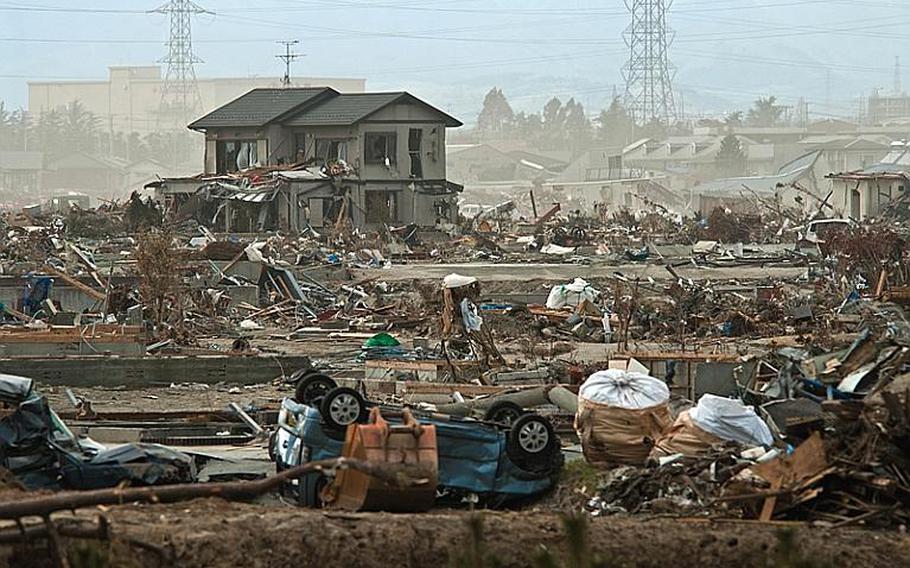 CAMP FOSTER, Okinawa – Japanese goodwill toward America has hit an all-time high, according to a new poll, mostly likely because of the U.S. military's earthquake and tsunami relief efforts this spring.
An annual government survey found that 82 percent of the 3,000 Japanese randomly polled felt "close" to the United States, up two percentage points from 2010. That is the highest positive rating since this type survey began in 1975, according to the Cabinet Office, which conducted the survey and announced the results over the weekend.
Meanwhile, 15.5 percent of respondents didn't feel close to America, an all-time low level of negativity since polling began.
The poll was broken down by 10 regions, with two showing particularly high positive attitudes toward America – Hokkaido at 86.2 percent and Kanto at 85.5 percent.
Kazuya Sakamoto, a professor at the Graduate School of Law and Politics of Osaka University and an expert in U.S.-Japan relations, said he had no doubt that the bounce in public opinion was a result of Operation Tomodachi. "Through the joint disaster operation, people were reminded of who the most reliable close friend is," he said.
Under Operation Tomodachi, more than 20,000 U.S. troops were involved in rescue, humanitarian aid and clean-up, working together with Japan's Self-Defense forces after a magnitude 9 earthquake hit Japan's northeastern coast March 11.
USFJ spokesman Maj. Neal Fisher said the command was pleased with the increased measure of goodwill, but pointed out that the U.S. has been working with its Japanese partners for decades. As to whether this favorable swing will last, Fisher said, "I certainly hope so. The Japanese have very long memories, but we won't be resting on our laurels."
The Kyushu region, which includes Okinawa — where protests over the U.S. military are commonplace — posted a 77.4 percent approval rating.
U.S. humanitarian assistance apparently had much less effect on Okinawans, many of whom have long been unhappy with U.S. bases in their backyard, said Masaaki Gabe, a professor of international relations and director of the International Institute for Okinawan Studies at the University of the Ryukyus.
"The operation was directed at eastern Japan, not people here on Okinawa or in Kyushu," Gabe said. "Apparently, it did not serve as a factor to bring changes to the sentiment people already have toward the military."
Tosan, comprised of the prefectures of Yamanashi, Nagano and Gifu northwest of Tokyo, was the lowest region at 72.8 percent..
The lower ratings could be a result of the lack of interaction between the U.S. military and the Japanese people in those areas, according to Gabe.
"Their communities are located in the mountain side and have rare opportunities to interact with U.S. military," he said.
The survey, which did not break down responses by individual prefectures, revealed a converse public attitude toward China, with 71.4 percent saying they did not feel close to that rising regional power. Sakamoto said that attitudes about China's increasing power were likely increasing the public's desire for Japan and America to work more closely.