Despite Seoul's assurances, local governments testing for contamination near U.S. bases
by
Yoo Kyong Chang Ashley Rowland
June 10, 2011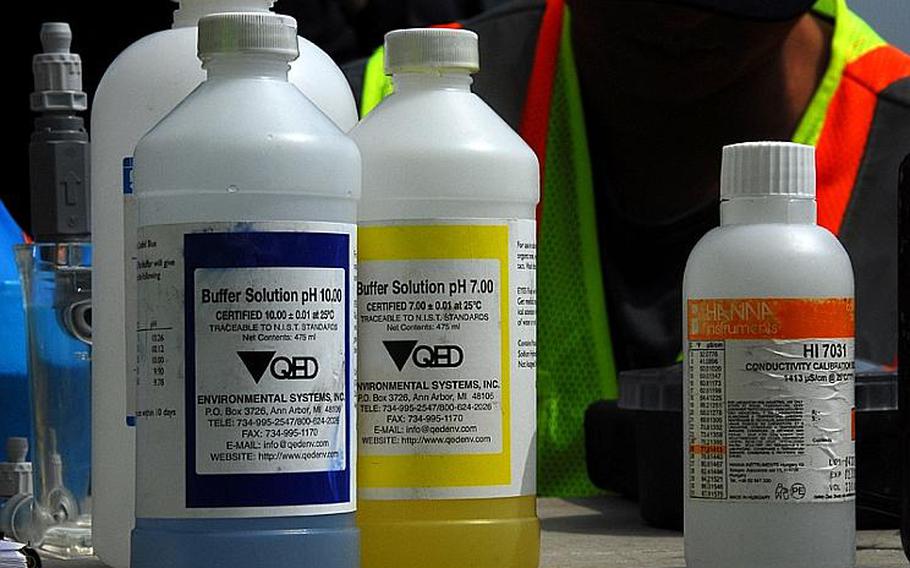 SEOUL — As fears over possible contamination at U.S. installations continue to grow, a number of local governments in South Korea have begun testing for chemicals around bases in an effort to dispel public concern about tainted soil and drinking water.
Seoul became the latest city to do so, testing underground water near U.S. Army Garrison-Yongsan this week for dioxin and other pollutants. The testing follows allegations made last month by three U.S. veterans who said they buried drums of Agent Orange at Camp Carroll in 1978.
South Korea's Ministry of Environment has no plans to check underground water for chemicals or oil near bases across the peninsula, though some local governments may decide to do so, a ministry official said.
"People are anxious," a Seoul official familiar with the testing said Thursday, adding that he did not expect to find chemicals in the samples but the city wanted to allay concerns about water quality. He spoke on the customary condition of anonymity. This testing is separate from ongoing testing for oil, and the soil and groundwater removal outside U.S. Army Garrison-Yongsan and Camp Kim, that have been going on for the past decade. Earlier this week, Seoul officials said that oil leakages at Yongsan and Camp Kim in 2001 and 2006 had contaminated groundwater outside the bases. The city has spent the equivalent of $3.4 million since 2001 to remove nearly 2,000 tons of groundwater near the two bases, and officials say tests continue to show oil contamination in the area.
Seoul officials collected water samples June 7-8 from 10 locations near Yongsan, the flagship U.S. base in South Korea, including the Hamilton Hotel, the Capital Hotel and the National Museum of Korea. Analysis of the samples is expected to be completed at the end of June, according to the head of the city's drinking water team, part of the Seoul Health and Environmental Institute.
The samples will be tested for chemicals including agricultural pesticides and dioxin. The Seoul official who spoke to Stars and Stripes said chemicals have not been detected in regular tests of the city's water supply that are conducted several times a year.
An official from the Gyeonggi province government said Thursday that the province's Health and Environmental Institution will begin collecting samples of underground water later this month near U.S. bases in Uijeongbu, Pyeongtaek, Paju and Dongducheon. The samples will be tested for dioxin, a component of Agent Orange, and other chemicals.
Incheon collected underground water and soil samples June 3-4 from the area around Camp Market, and Chilgok County is testing soil, underground and stream water samples near Camp Carroll for contamination from defoliants, officials said.
U.S. Army Garrison-Daegu spokesman Philip Molter said this week that water at Camp Carroll is tested every four years for dioxin and has never shown unhealthy levels. The water was last tested in 2009. "Obviously since it's our drinking water, we test it regularly and rigorously all the time," Molter said. "There's never been a problem with it."
Claims from other veterans who say they buried chemicals at bases across the peninsula have emerged since the initial allegations about Agent Orange, prompting South Korea to announce last week that it will conduct an environmental survey of 85 former U.S. bases that have been returned to South Korean control.
chang.yookyong@pstripes.osd.mil