Analysis
Despite agreement, conflict over new Marine air base will continue
by
Chiyomi Sumida Erik Slavin sumida.chiyomi@stripes.com slavin.erik@stripes.com
December 29, 2013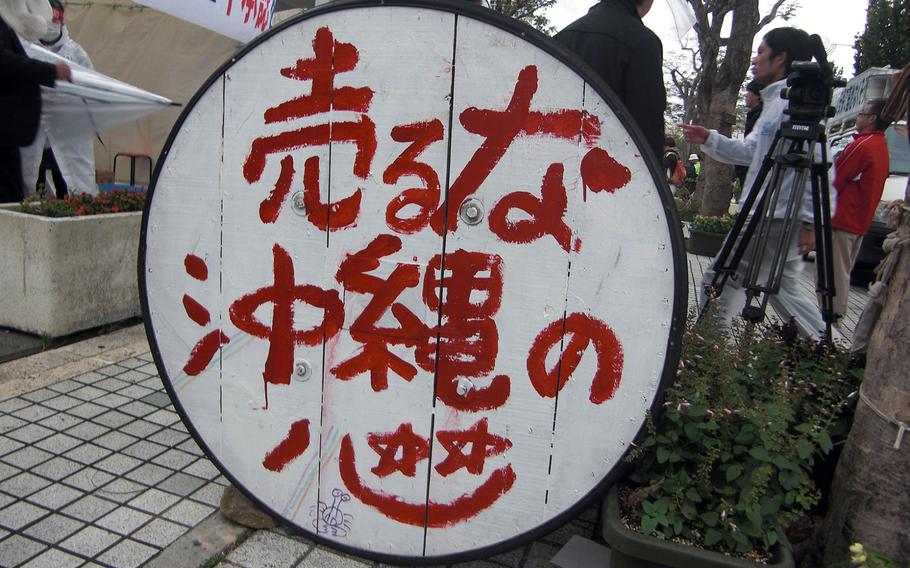 TOKYO — Okinawa's decision to allow landfill work on a new Marine air base jumpstarted a stagnant plan to shift U.S. military forces in the Pacific, but a clash of Japanese political will and the protest community's passion could ultimately determine how that plan moves ahead.
Okinawa Gov. Hirokazu Nakaima's issuance Friday of a permit to fill part of Oura Bay with about 4.7 billion gallons of soil for a runway represents a policy change that came after Tokyo flooded Okinawa with economic incentives and projects.
A new air base built in Okinawa's Henoko district would mean the U.S. could close Marine Corps Air Station Futenma, a deeply unpopular base among many Okinawans, located in a densely populated part of the island.
A senior Pentagon official called the base's replacement plan "the spine of the rebalance" of military forces in the Pacific. It is the first move in a plan that leads to several thousand Marines and their families eventually departing for Guam, among other planned shifts in personnel and equipment. Military officials have said the dispersal gives the U.S. more flexibility in a time of rising tensions in the region.
The moves would also reduce the military footprint on Okinawa. That will please many living on the island of 1.4 million people, where U.S. bases take up roughly 20 percent of the land.
The most popular option among many Okinawans was to close Futenma and move its functions off the island entirely. However, the military can't even find a place closer to mainland Japan to practice its carrier flight landings, let alone a community on the mainland volunteering to house a new military airport in its backyard.
Taking Futenma off island completely would also separate the Marines otherwise based on Okinawa from the aircraft that transport them.
The military persists with a large presence in Okinawa, despite protests and tensions, because it is within range of nearly every potential emergency in the region. An Air Force F-15 can be over Taiwan in minutes, if the U.S. must ever fulfill its promise to defend the island. The Marines and Navy are a relatively short cruise from Southeast Asia, where territorial disputes threaten freedom of navigation and nearly annual natural disasters have prompted U.S. humanitarian aid.
Okinawa's protest movement is a grab bag of opinions. Some peace activists say the U.S. is over-militarized and isn't needed in the region at all; others say it can do what it wants without burdening their island, or point to high-profile crimes committed by U.S. troops. Environmental activists decry the looming loss of habitat, in and around Oura bay.
It remains unclear what percentage of Okinawans opposed to Futenma's activities will support the move to Henoko, but demonstrators at the island's prefectural government office on Friday left no doubt that the protests will continue.
"We will never give up," said Yoko Yamaguchi, of Nago, reiterating a slogan painted and written on numerous signs.
The protest movement's defiance stems from their earlier success. Japan and the United States initially planned to build a runway a little over a mile offshore from the Marines' Camp Schwab, in Henoko, in 2004. The runway was to be connected by a bridge to the island.
Protestors obstructed the survey teams, sailing a flotilla of small craft into the bay. Geriatric Okinawans learned how to scuba dive to confront government divers. Japanese political leaders acquiesced and scrapped the project, then agreed to 2006 to the new plan, which uses reclaimed land attached to the island.
Tokyo should tread lightly in its treatment of the coming protests, said Masaaki Gabe, professor of international relations at University of the Ryukyus and a critic of the current plan. Any serious injuries or deaths among protesters obstructing construction work could enliven opposition on Okinawa, he said.
"If Tokyo takes a hardline stance to carry out the work, it will create complicated problems," Gabe said.
"Protest against the military is presently focused on a new airfield at Henoko. But it could spread to the entire military presence on Okinawa."
Unlike in 2005, Japan's government appears far less likely to abandon the air base project.
Following talks with Secretary of State John Kerry and Defense Secretary Chuck Hagel in October, Japan Foreign Minister Fumio Kishida said Tokyo would exert "strong will" in relocating Futenma.
"There should not be indefinite use of the Futenma air station, and this has to be avoided at any cost," Kishida said.
Although polls indicate his majority approval rating is based on his economic policies, Prime Minister Shinzo Abe has made it clear that national security issues – where several of his stances are unpopular – are equally his priority. On Dec. 22, Abe called revising Japan's pacifist constitution to allow its forces to defend its allies his "career goal."
Moving forward with the Futenma landfill permit shows Abe's commitment to Japan's security alliance with the U.S., said Kazuya Sakamoto, professor of international politics and Japan-U.S. relations at Osaka University.
"The Henoko issue has been a soft spot in the bilateral relations, a spot prone to be exploited," Sakamoto said.
To build approval among Okinawa's leaders, Abe's administration has lavished Okinawa – Japan's poorest prefecture on a per capita basis – with taxpayer dollars.
The projects include $324 million for turning Okinawa's Institute of Science and Technology into a world-class university; $285 million to give Naha International airport a second runway by 2021; millions to extend an Okinawan railway system beyond its very limited monorail; cost bearing for conversion of former U.S. bases to civilian use; and tax breaks for investments in Okinawa, beginning this year.
Even with landfill operations at Henoko ready to move ahead, the current plan calls for construction to finish by 2022. Nakaima wants Futenma closed within five years, which would please U.S. officials if it means Japan hastens construction on the new base. Whether that accelerated timetable is feasible may well depend on what obstructions the two governments face from its determined opposition.
Twitter:@eslavin_stripes