Deployment of Ospreys resumes on Okinawa
By
Travis Tritten tritten.travis@stripes.com
August 12, 2013
---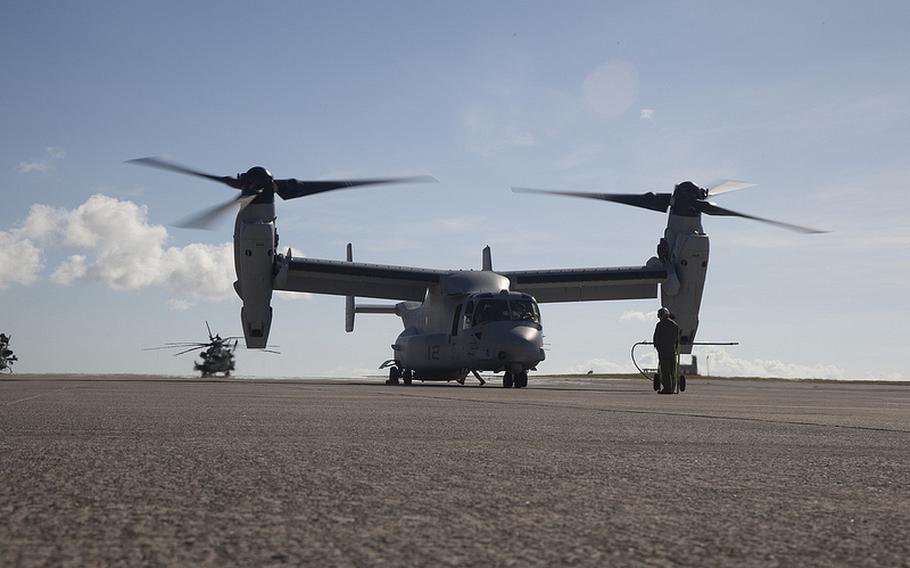 CAMP FOSTER, Okinawa – The Marine Corps resumed deployment of an MV-22 Osprey aircraft squadron to Okinawa Monday after halting the arrival last week due to a fatal Air Force helicopter crash on the island that stoked safety concerns among the Japanese.
Only two of 12 Osprey had arrived from mainland Japan when an HH-60 Pave Hawk went down Aug. 5 on Camp Hansen during rescue training, killing an airman assigned to Kadena Air Base and prompting calls from the Japanese government for military aircraft to be grounded.
The arrival of Osprey on Okinawa beginning last year is part of a U.S. plan to upgrade military fleets and increase capabilities in the Pacific. But it has caused widespread public outcry on the island and increased fears of U.S. military aircraft accidents in densely populated areas such as Ginowan city around the Futenma base.
On Monday, the Marine Corps said it worked closely with the Japanese government on the decision to resume deployment of the Marine Medium Helicopter Squadron 262, the Flying Tigers, after routine testing in July at an air station outside Hiroshima.
Okinawa Gov. Hirokazu Nakaima petitioned Tokyo to halt the deployment of an initial Osprey squadron last fall as well as the arrival of the second squadron this summer citing safety concerns after recent crashes. Last year, two Marines were killed in an Osprey crash in Africa, and Air Force crew members were injured in a Florida crash.
The fiery Air Force helicopter crash last week sent up a plume of smoke that could be seen for miles and underscored safety concerns for many Okinawans. It was the most serious helicopter incident on the island since a Marine Corps helicopter crashed on the campus of Okinawa International University outside Futenma in 2004.
The Marine Corps said the Osprey has an excellent safety record and claimed it is "among the safest of all U.S. military aircraft."
It also said the aircraft will be an improvement to the CH-46E dual-rotor Sea Knight helicopters, which routinely fly over the island and will eventually be replaced, because it will reduce noise with higher-altitude flying and more training off the island, according to the Marines.
"The MV-22B also flies higher and faster, spending less time over populated areas as compared to the CH-46E," the service said in a press release Monday. "Due to unique capabilities, MV-22B Ospreys deploy across the region and reducing the amount of time located and training in Okinawa."
Twitter: @Travis_Tritten
---
---
---
---