Defiant N. Korea rejects talks, says it might fire 4 test missiles at once to Guam's vicinity
by
Kim Gamel
August 10, 2017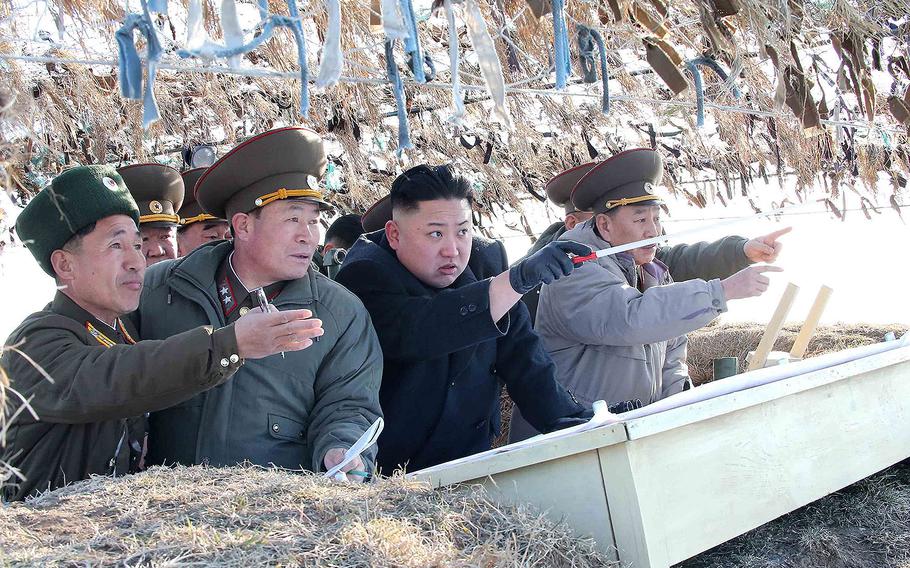 SEOUL, South Korea — North Korea on Thursday defiantly rejected President Donald Trump's "fire and fury" warning, unveiling a detailed plan to launch a salvo of missiles toward the U.S. Pacific territory of Guam.
Trump, meanwhile, refused to back down from his tough rhetoric, telling reporters Thursday in New Jersey that perhaps his "fire and fury" statement " wasn't tough enough. He said North Korea "better get its act together" or "things will happen to them like they never thought possible."
The verbal exchanges raised the stakes in the standoff over the North's nuclear and missile program, which has generated the most serious crisis on the divided Korean peninsula in years.
Trump said Tuesday in a televised statement from his New Jersey golf course that North Korean threats "will be met with fire and fury like the world has never seen."
He didn't elaborate or make clear whether he meant verbal threats or tangible steps that placed U.S. and South Korean interests at risk.
Brushing aside Trump's warning, North Korea said it was finalizing plans to fire four of its Hwasong-12 missiles into the waters off Guam, which hosts 7,000 U.S. military personnel and has a population of about 160,000.
Pyongyang said the plan, which will be sent to leader Kim Jong Un for approval in the next week or so, would call for the missiles to fly over Japan and strike into the Pacific about 10 to 25 miles from Guam.
Guam, which has an area of about 210 square miles, was ceded to the United States by Spain after the Spanish-American War. Its residents are American citizens by birth. Such a launch so close to American territory would force the United States to try to intercept the missiles, which could lead to further escalation.
The current crisis escalated following reports this week that the Defense Intelligence Agency believes North Korea may have cleared a major hurdle in its weapons program by miniaturizing a nuclear warhead that could be placed on missiles capable of striking the American mainland.
South Korean Defense Ministry spokesman Col. Lee Jin-woo told reporters that Seoul also believes the North has made "considerable" progress in miniaturizing nuclear warheads. He pointed out that a decade has passed since the North conducted its first of five nuclear tests in 2006.
The Hwasong-12, which was shown for the first time at a military parade last April, is believed to have a radius of more than 2,300 miles and can be fired from mobile launchers that are harder to detect and destroy on the ground.
North Korea's military said its threat to envelop Guam with fire was meant as a warning to Washington that its extensive military assets on the Pacific island were at risk, discouraging any notion of using precision strikes against Pyongyang's nuclear program.
"But the U.S. president at a gold [sic] links again let out a load of nonsense about 'fire and fury,' failing to grasp the on-going grave situation," the state-run Korean Central News Agency said Thursday.
"This is extremely getting on the nerves of the infuriated Hwasong artillerymen of the [North Korean army], it added.
North Korea also rejected the possibility of talks, days after Secretary of State Rex Tillerson said the door was open to dialogue if the North halted its missile tests.
Referring to Trump, the statement said "sound dialogue is not possible with such a guy bereft of reason and only absolute force can work on him."
It added that the strategic force would complete the plan to "envelop Guam" with missile strikes by mid-August, then wait for an order from leader Kim.
"We keep closely watching the speech and behavior of the U.S.," it said.
Guam officials have reassured residents that defenses are in place and they don't believe an attack is imminent.
The island is home to two major U.S. military installations — Andersen Air Force Base with its fleet of powerful bombers and Naval Base Guam. Both are managed under Joint Base Marianas.
North Korea has frequently threatened to target U.S. bases in the region as well as to turn the South Korean capital Seoul into a "sea of fire."
But rapid progress in its missile program has raised concerns. North Korea is believed to have missiles that could reach Guam, but it's unclear how reliable they are.
Experts also note that an attack against the U.S. territory would almost certainly provoke a massive backlash that would likely lead to the long-ruling regime's destruction.
South Korea's military warned on Thursday that the North would face "strong and resolute retaliation" if it attacks the South or its ally, the United States.
But Trump's comments sparked widespread unease, with many observers noting they sounded more like North Korea's trademark rhetoric than the usually cautious diplomatic language employed by U.S. presidents.
"President Trump's inflammatory rhetoric undermines our global credibility and is unlikely to de-escalate the situation," Sen. Mark Warner, a Virginia Democrat, said in a statement. "We need fewer fiery words and bombastic tweets … and more effort to work with our international partners to expand missile defense and deterrence and put forward a strategy to roll back North Korea's nuclear and ballistic missile programs."
Tillerson and other officials said Trump was trying to send a message in language Kim Jong Un could understand.
Defense Secretary Jim Mattis also said Wednesday in Washington that the State Department was "making every effort" toward a diplomatic solution to the Korean crisis.
But Mattis reminded the North that Pyongyang "would lose any arms race or conflict it initiates."
The heated exchanges underscored a dangerous turn in the long-running standoff with Pyongyang after it test-fired two ICBMs last month.
Those were the latest in dozens of missile launches and two underground nuclear tests last year.
NBC News reported that the Pentagon has prepared a plan for a pre-emptive strike by Guam-based B-1B bombers on North Korean missile sites if ordered.
The Air Force has sent the Lancers on 11 practice runs since the end of May, according to NBC. A pair of bombers flew over the Korean Peninsula Monday in a joint mission with South Korean fighter jets.
Citing multiple sources, the network said the target would be about 24 missile launch sites, testing grounds and support facilities. While critics express concern about the increased pace of North Korean missile tests, NBC's sources said the launches have helped them refine their understanding of the communist state's missile facilities.
The Associated Press contributed to this report.
gamel.kim@stripes.com Twitter: @kimgamel