Defense Department schools in Japan shed light on their coronavirus precautions
by
Caitlin Doornbos
July 31, 2020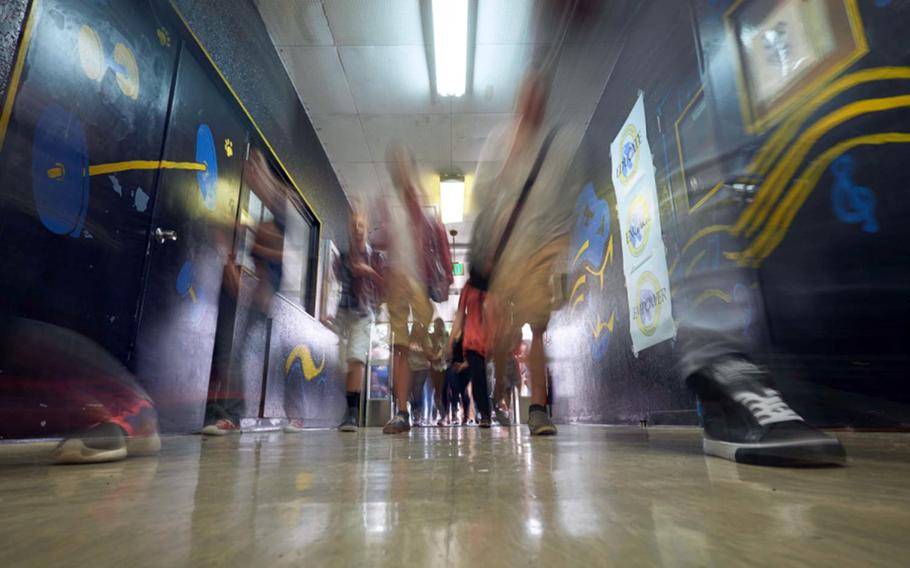 Stars and Stripes is making stories on the coronavirus pandemic available free of charge. See other free reports here. Sign up for our daily coronavirus newsletter here. Please support our journalism with a subscription.
YOKOSUKA NAVAL BASE, Japan — With coronavirus on the rise again in Japan, 93% of the 8,300 students at Defense Department schools in mainland Japan will be taught in classrooms when school starts Aug. 24, a district superintendent said Friday.
Administrators with the Department of Defense Education Activity Pacific East District held a virtual town hall Friday afternoon to explain their plan to keep those students safe.
"I think that's very assuring that they have confidence that we know what to do – that we will take care of our students," Pacific East Superintendent Judy Allen said during the livestreamed town hall.
Families in the school district had the option of sending their children to schools or keeping them home to learn online and avoid exposure to the coronavirus. The decision window closed nine hours before the town hall went live.
The district had extended that deadline once, but several parents during the town hall asked for more time. They complained, in written comments during the livestream, that the town hall should have come before the deadline, so they could learn more about the environment their children are entering.
Allen said the deadline could not be extended again because it would affect the ability to start school on time.
"To set up all those procedures and processes, it takes a lot of time," she said. "We needed to have a cut-off point at some point in time because teachers have to be hired, they have to be put in place, the school has to be set up and we start on the 24th of August."
The Federal Education Association, a Washington, D.C.-based teachers union, recently urged parents to select DODEA's virtual school option, saying that the planned precautions would not keep teachers and students safe from the coronavirus.
Some precautions such as social distancing and regular handwashing were previously publicized, but Allen and others used the town hall to provide further details.
Desks for students in kindergarten through third grade will have plastic barriers to curb the virus' spread, Allen said. Upper grades will not be provided desk guards, because older students "have more self-control," she said, and will rely instead on social distancing.
All students will be required to wear masks when social distancing is not possible. Children do not have to wear masks during recess but will wash their hands before recess and be told to avoid touching each other, Ronald Knight, the community superintendent based at Yokosuka, said during the live event.
He said cafeteria lunches will be "grab and go," and suggested students could bring sack lunches "to make sure you have a good, clean lunch to eat." Glass partitions will be also installed in cafeterias, and custodians will clean the cafeterias after each group of students rotates through.
Some schools will adjust school dismissal schedules differently "so we don't have as much traffic in the hallways," Knight said. Items that are difficult to clean will be removed from common areas and masks will be required when students and staff are moving through hallways.
Students riding school buses must social distance themselves at bus stops and wear masks while on the bus. Riders will also disembark in an order that promotes social distancing, Knight said.
Most sports are canceled, but schools will still offer the low-contact sports of cross country, tennis, cheer and golf this year, Allen said. Other activities, such as dance or outdoor volleyball, may be offered as after-school clubs.
Until the 2020 school year, DODEA offered the virtual option only to high school students; the kindergarten through eighth-grade version "is being designed as we speak," Allen said.
doornbos.caitlin@stripes.com Twitter: @CaitlinDoornbos