Defense Department schools across Japan starting new year with new buses
by
Joseph Ditzler
August 23, 2019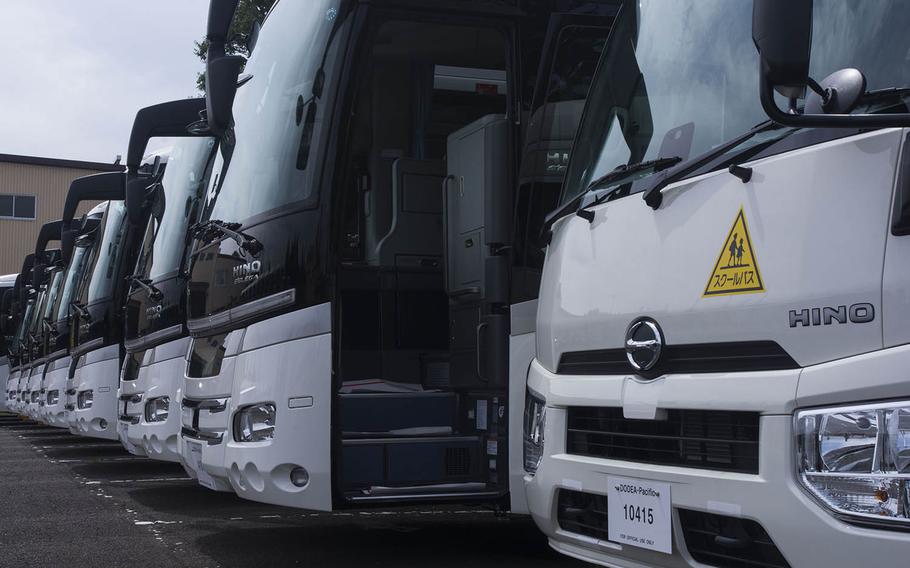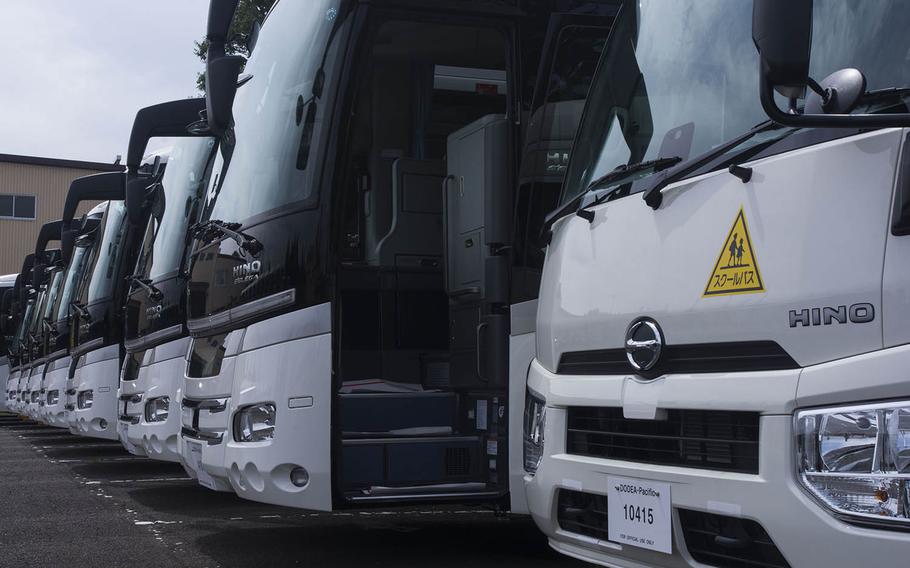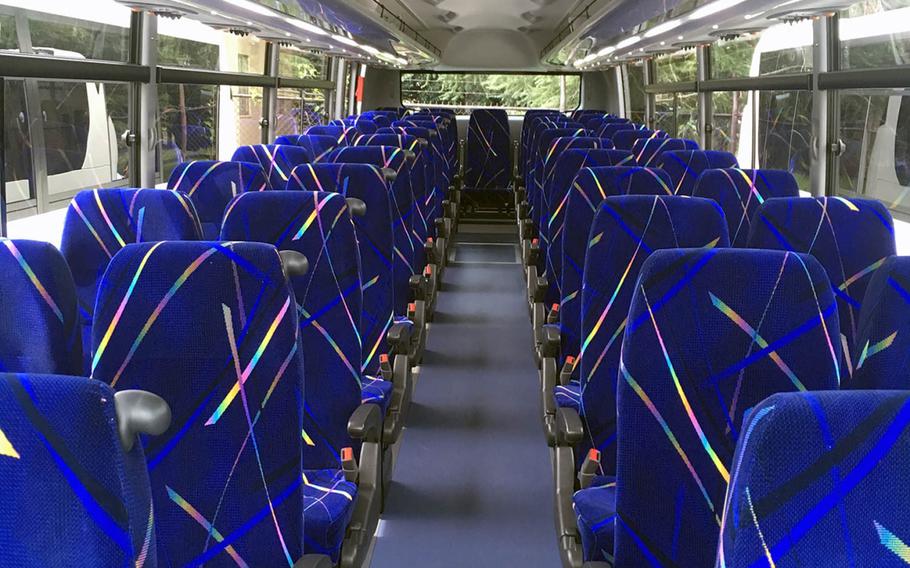 YOKOTA AIR BASE, Japan — The familiar yellow school bus that carries the children of servicemembers to school and back is getting an upgrade, an official with the Department of Defense Education Activity in Japan said recently.
DODEA is replacing its fleet of about 120 Fuso buses on the main islands with new Hino-brand touring-style buses.
The new buses will be white in color, not yellow, and will display a yellow triangle with two silhouettes of children inside, said Kevin Hassin, DODEA Pacific East transportation supervisor.
The new white buses come with collision-avoidance technology, essentially a radar linked to the brakes that slows or stops the bus based on what it senses in traffic ahead, he said. They also come equipped with seat belts, including three-point belts in the front row.
"Our grandfathers used to say they had to walk two miles through snow to get to school," Hassin said in an email to Stars and Stripes. "Our students today may tell their grandchildren they used to ride the old-style school buses."
The new buses will conform with roadworthy requirements in the status of forces agreement between the U.S. and Japan, he said. The full-sized buses have 43 seats each, fewer than the old Fuso buses, but still enough to accommodate each school run, Hassin said. DODEA in Japan also will field a smaller bus with 18 seats for school-sponsored trips and other uses.
DODEA runs some school bus routes in Japan to pick up students who live off-base. Plus, the schools use those buses to carry sports teams to other venues and to carry students on field trips and other activities.
DODEA schools at Marine Corps Air Station Iwakuni, Misawa Air Base, Sasebo Naval Base, Yokosuka Naval Base, Yokota Air Base, Naval Air Facility Atsugi and the Army's Camp Zama will all receive new buses.
DODEA school buses on Okinawa will be replaced in the next six months to a year, Hassin said.
The new buses have more leg room and reclining seats. They also come with the same storage area on the undercarriage familiar to anyone who's traveled on a base-sponsored trip or on a commercial Japanese touring bus.
Storage will be available for sports teams hauling their equipment, for example, but not for students on routine, daily trips to and from school, Hassin said. Regulations prohibit bus drivers from stopping to place or remove gear in the storage area.
The new buses will bear the same scrolling, light-emitting diode, or LED, message display on front and rear.
Even though drivers on the streets of Japan need not stop for school buses loading and unloading, that rule is still in effect on U.S. military bases, Hassin said.
ditzler.joseph@stripes.com Twitter: @JosephDitzler