'Days like this humble you': Okinawa Marines memorialize their fallen during Warrior Challenge
by
Carlos M. Vazquez II
March 13, 2019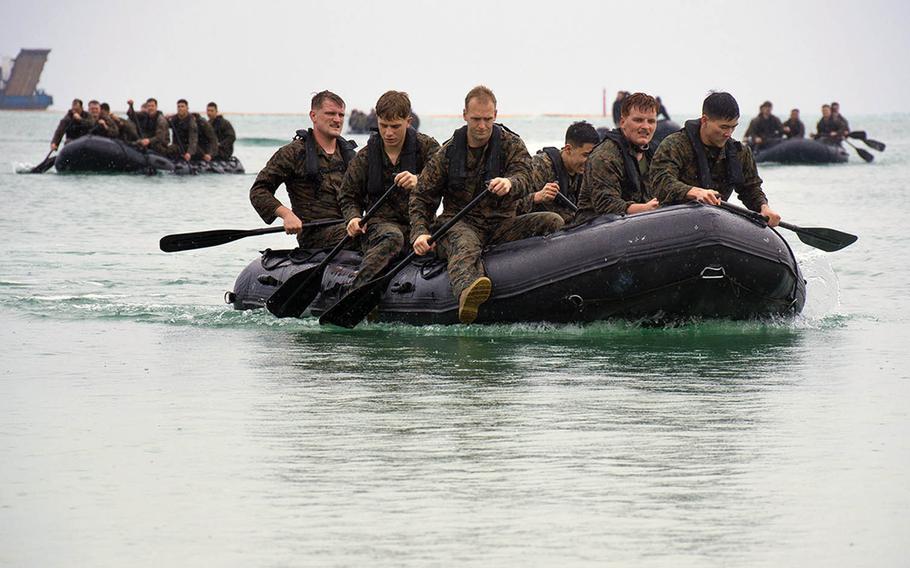 CAMP SCHWAB, Okinawa — Marines of 3rd Reconnaissance Battalion recently honored fallen members of their unit, some of whom they knew personally, during an annual Warrior Challenge competition.
In teams of six to eight men each, reconnaissance Marines, battalion support troops and Navy corpsmen formed up in the rain at 5:30 a.m. Friday.
Ahead lay 6 miles and eight stations where the teams faced tasks familiar to reconnaissance Marines: intelligence gathering, medical evacuation, weapon assembly and establishing communications, all while running and lugging their 50-pound rucksacks.
Each of the eight teams' rucksacks bore a piece of bright, orange fabric with the name of a fallen Marine stenciled across it in bold, black letters. Some teams carried more than one name.
"The entire event that we are doing is centered around these individuals," said Staff Sgt. Brandon Escochea, an assistant team leader, to Stars and Stripes. "So that whoever looks at us, we don't draw the attention; the name that is on our rucksack is what's drawing the attention."
Marines at the challenge knew some of the fallen whose names the Warrior Challenge teams carried.
Battalion commander Lt. Col. Sean Barnes served in Iraq with Sgt. Gary S. Johnston, who was killed in action there in 2007. Barnes still has the pamphlet from Johnston's memorial service in his office.
"Today for me is a big deal," Barnes said. "Days like this humble you."
Likewise, Capt. Ryan Rullman, commander of 1st Platoon, Alpha Company, had served with Cpl. Alejandro Romero, who died last year in a parachute training accident in Coolidge, Arizona.
"It was awesome to honor him in this way," Rullman said. "The guys are living every day for the guys who went before us."
Staff Sgt. Daniel Mormino, the battalion communications maintenance chief, previously served with Sgt. Michael Ferschke, who died in 2008 in Iraq.
"These men gave their lives for America, so we carry their name on," Mormino said. "Knowing that you are doing it for the fallen makes you push a little bit harder and endure the pain a little bit more."
At one station, teams had to complete 321 repetitions of seven exercises — push-ups and sit-ups, for example. The military occupational specialty, a four-digit code, for reconnaissance Marine is 0321.
"This is an example of something we like to take a little bit above and beyond," said Maj. Andrew A. MacDougall, battalion executive officer. "Marines don't like to admit they are special Marines, but there's something pretty special about recon Marines."
At the final station, teams jumped into rubber combat raiding boats, paddled to an ocean buoy, flipped the boat over — demonstrating how to empty the craft in case of flooding — and returned to shore to finish the course.
As the teams crossed the finish line at 3rd Battalion headquarters at Camp Schwab, each team member placed a hand on a monument to Sgt. William Dibblee and Cpl. Jose Hernandez. The two Marines drowned in a deep stream on Okinawa while training with 3rd Battalion on Oct. 26, 1982.
The challenge complete, the Marines, in utility uniforms drenched with sweat and seawater, gathered for photographs with their banners held high. The winning team members' names are etched into a paddle that's displayed at battalion headquarters.
"It's important that we do these events because the guys in the battalion never forget the men who went before them," said Rullman. "It's nice to have this event every single year to give us a reality check and bring us back to why we do this job, who we're doing it for and remembering those Marines for what they have done for us and for their country."
vazquez.carlos@stripes.com Twitter: @StripesCarlos