Daegu Army base restricts access, imposes self-quarantine after South Korean church linked to coronavirus
by
Kim Gamel
February 19, 2020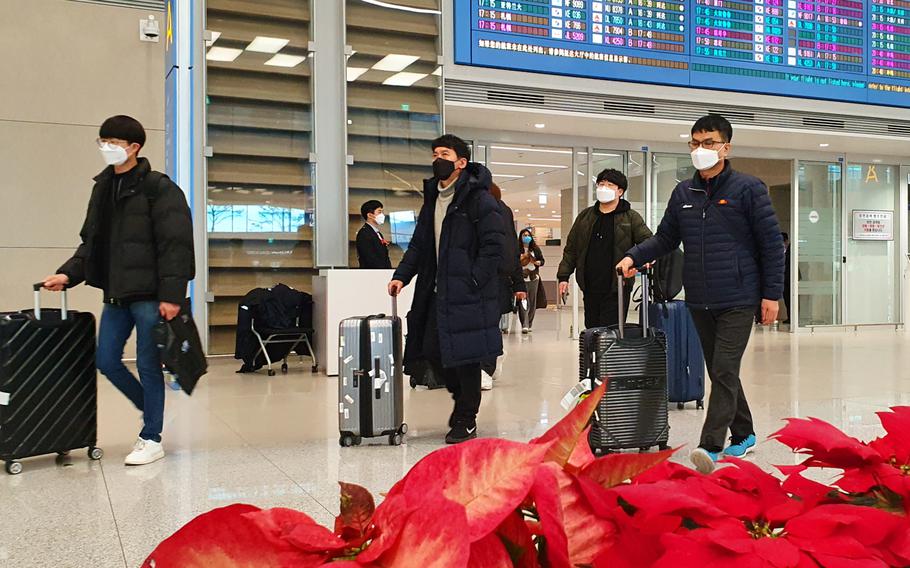 SEOUL, South Korea — The Daegu Army garrison restricted access and imposed self-quarantine for any U.S. troops who recently attended a local church linked to a cluster of new coronavirus infections as South Korea's infection toll surpassed 80.
The top U.S. commander in South Korea also raised the risk level for the military community on the divided peninsula to moderate.
U.S. Army Garrison Daegu, about 200 miles southeast of Seoul, also recommended that members of the military community avoid public places and transportation in the city, including stores, restaurants and other heavily congested areas until a trace investigation is completed.
Schools on the base and several other activities were to be closed on Thursday, the garrison said, adding that conditions would be assessed the next day as South Korean authorities work to determine who has come in contact with infected patients.
"Travel to and from Daegu will be limited to mission essential only for service members. Families and (Defense Department) civilians are discouraged from traveling to and from Daegu," the garrison said Wednesday in a Facebook post.
"All visitors who are not performing mission essential or official business will be denied access to USAG Daegu military installation for the next 24 hours. This directive will be reassessed daily."
The garrison also warned people to expect delays at the gates due to a health screening questionnaire.
The measures were implemented after health authorities said that at least 15 South Koreans confirmed to have been infected with COVID-19 had attended the same church.
"All service members who've attended the New World Church … since Feb. 9 will undergo a mandatory self-quarantine — and is highly recommended for family members, civilians and contractors — until KCDC completes their contact trace procedures to determine who has been exposed to COVID-19," USFK commander Gen. Robert Abrams said in a separate statement.
The pneumonia-like disease has killed nearly 2,000 people — nearly all in mainland China — and infected tens of thousands more in nearly 30 countries, including South Korea and the United States.
The infection toll in South Korea has spiked in recent days with dozens of new cases reported in Daegu, where a 61-year-old woman was believed to have been a carrier.
The Daegu garrison, which includes Camp Walker and Camp Henry, said the nearby New World Church was off-limits until further notice for U.S. troops.
The woman dubbed "patient 31" reportedly frequented the church, which is a branch of a religious movement known as the Shincheonji Church of Jesus the Temple of the Tabernacle of the Testimony.
The garrison's leadership urged self-quarantine for all community members in the area "to include our local national friends and base-support personnel" who attended the church in the last couple of weeks.
"So far we don't know of any Americans that attended that church," garrison commander Col. Edward Ballanco said Thursday during an online town hall.
He also highly encouraged Americans in the area to avoid a local hospital where the woman was treated.
The garrison added that anybody feeling sick should contact the U.S. Forces Korea novel coronavirus 24-hour hotline (050-3337-2556 or DSN 737-2556) at the main military hospital at Camp Humphreys, the main U.S. military base in South Korea.
USFK also has implemented self-quarantine measures for service members who recently have traveled to mainland China. However, the military has reported no confirmed cases and stressed the measures were "out of an abundance of caution."
The quarantine lasts for two weeks, which is believed to be the incubation period for the virus.
"So far, 65 persons within USFK populations have been self-quarantined with 61 medically cleared for duty," USFK spokesman Col. Lee Peters said Thursday in an email.
"I'd like to emphasize that USFK has experienced zero resistance or non-compliance from anyone who is sick or feeling ill," he added.
The military also urged people to exercise good hygiene, including thoroughly and frequently washing hands and avoiding contact with people who are sick, or staying home if ill themselves.
COVID-19 is caused by a member of the coronavirus family that is similar to the SARS and MERS viruses that have caused outbreaks in the past.
gamel.kim@stripes.com Twitter: @kimgamel
---
---
---