VIDEO
Crew remains from 2 WWII crash sites repatriated from India
---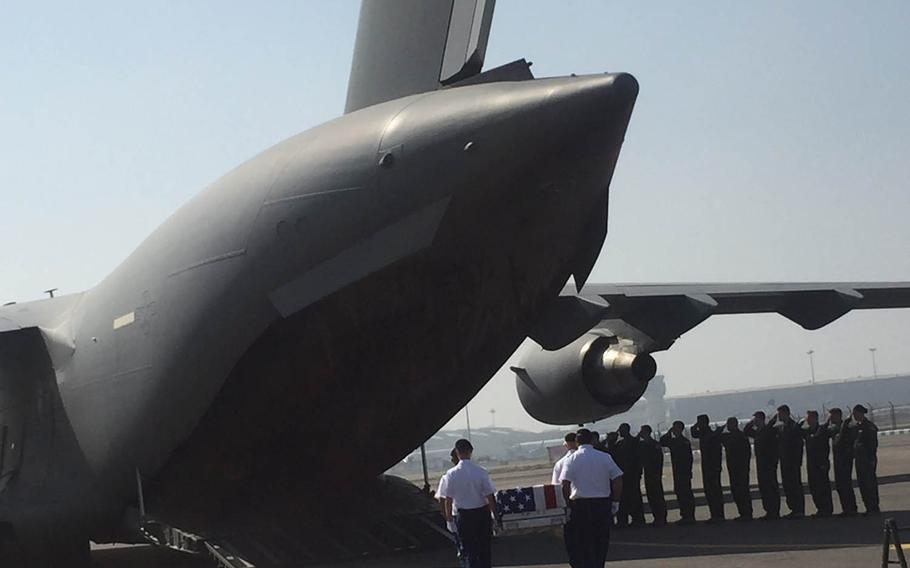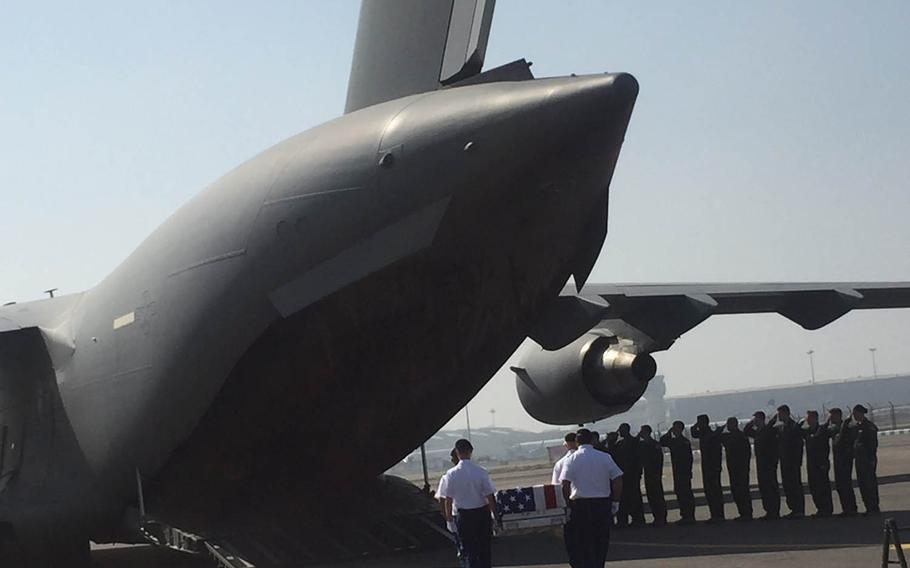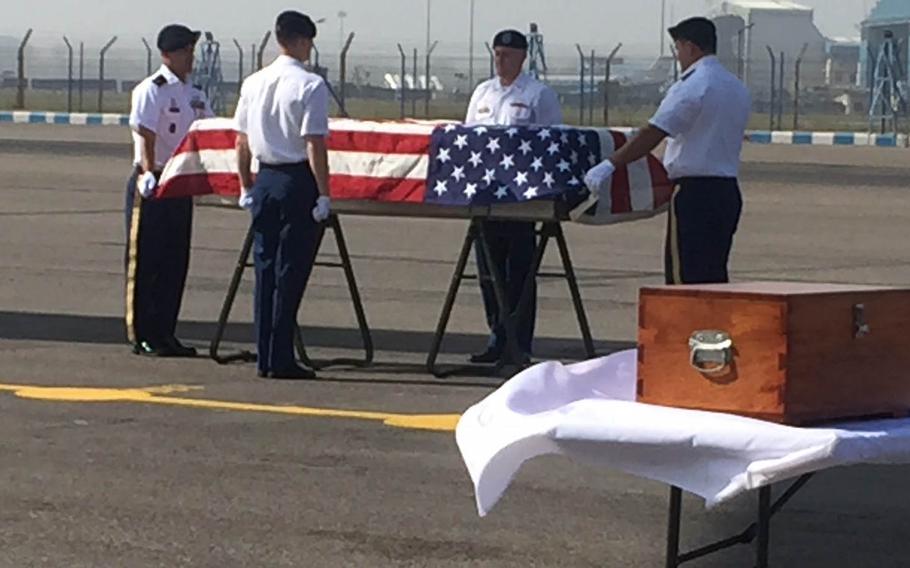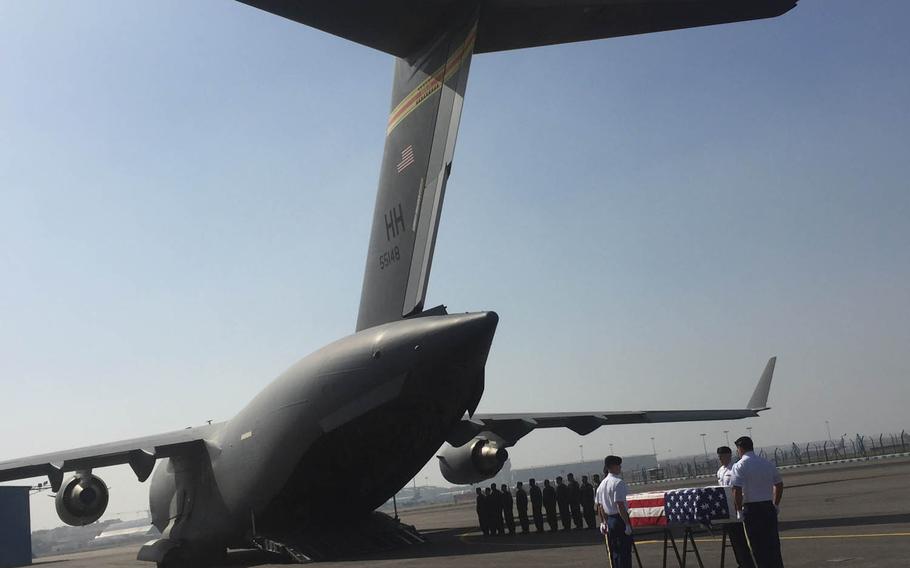 NEW DELHI, India — Seventy-two years after eight airmen in the B-24 Liberator Hot as Hell crashed in violent weather over India, part of the crew has begun the final journey home.
U.S. Defense Secretary Ash Carter, along with a delegation of Indian and U.S. Defense Department officials, was on hand Wednesday for a full honors military ceremony, where an Air Force crew carefully carried a ceremonial box holding bone fragments recovered from the crash site and placed it in a transfer case. The honor guard draped a U.S. flag over the case, then carried it onto a waiting C-17 transport plane at New Delhi's airport.
"Now that we have them in our possession, we want to provide them with the respect that they deserve," said Marine Capt. Greg Lynch, who led the repatriation team.
A second set of remains also was turned over Wednesday, "possibly related to a C-109 that crashed July 17, 1945, with a four-man Army Air Force crew," the Department of Defense said in a statement late Tuesday. DOD provided no other details on that second set of remains.
Both sets will be flown for DNA analysis at the Defense POW/MIA Accounting Agency laboratory in Hawaii.
This repatriation was the first from India, said Carter, who added that the willingness of the Indian government to allow U.S. search teams to come in and begin bringing lost crews home "means a lot to us."
"This is a sad duty, but it means a great deal," he said. "To troops serving in the here and now — it shows you the trouble that we would go to for somebody who perished serving their country today."
The Hot as Hell crew was part of a formation of five B-24s from the 308th Bomb Group, 425th Bomb Squadron, flying a supply run from China to India on Jan. 25, 1944, when the group encountered extreme weather.
The route took the group over the Hump, a treacherous eastern stretch of tall peaks in the Himalayas. It was considered a highly dangerous mission — more than 600 aircraft crashed and more than 1,000 airmen were killed among the 15,000-foot mountains and frequent violent weather.
All five bombers crashed during the run. The crews in two of the aircraft were able to survive by parachuting out. In the third plane, two airmen survived. The last two bombers — Hot as Hell and sister plane Haley's Comet — went missing and would not be discovered for decades.
The effort to bring Hot as Hell's crew home began in 2006, when the crash site was reported by Clayton Kuhles, a mountain climber from Arizona.
He also found the C-109 crash site from 1945. The C-109 was also lost on the Hump during a flight from Jorhat, India, to Chengtu, China, Kuhles said.
Kuhles was able to identify the C-109 crash through a serial number he found in a panel from the plane's nose cone. Kuhles also found human remains in the crash. He gathered all he could and shipped them to DPAA for identification. An assistant returned to the location and delivered more of the remains to U.S. officials in India.
But human remains are not to be removed from India without the notification and permission of the host government, so U.S. officials returned the remains to the Indian government.
On Wednesday, the additional remains believed to be from the C-109 were flown home with the Hot as Hell crew remains.
Attempts to execute a recovery effort at the Hot as Hell site were initially hampered by political sensitivities with India, but in late 2015, New Delhi approved a DPAA team to visit the crash site.
About 30 people — including explosives experts, military personnel, medics, Indian government representatives and archaeologists — combed parts of the crash site for about a month. They carried soil and roots to a screening area to sift through, looking for possible remains. The effort resulted in two bone fragments — pieces so small they could fit in a sandwich bag, DPAA India Desk Officer Gary Stark said. Those remains could be from one or two Hot as Hell crewmembers, he said, but DOD won't know for certain until DNA analysis is completed.
It is not unusual to find few crew remains at a World War II site, as the crashes usually involved bombers impacting the ground at speeds of several hundred miles per hour, with their fuel loads then exploding in massive fireballs.
But the effort to find even the smallest evidence of a lost life is worth it, Stark said, as it gives surviving family members — often the grandchildren of lost crews — the chance to "have something to put in a casket … to bring to a cemetery and bury with military honors."
Hot as Hell family members have questioned why recovery crews did not excavate the whole crash site, and they wonder if more remains could be found.Stark said an initial search of the remaining sections revealed that under a shallow layer of soil there was shale on a steep slope that would have placed too high a risk on the recovery team members.
Photos taken by Kuhles of the Haley's Comet crash site show large bone fragments and personal effects such as shoes and clothing. That crew's family members wonder how long it will be before they receive the same type of closure.
There are an estimated 83,000 military personnel still missing from World War II; remains from about 350 are along the Hump, Stark said.
DPAA is tasked to make 200 personnel recoveries a year. Several years ago, the agency came under fire after it was revealed it was reaching only about 72 sites per year. DPAA spokesman Jessie Romero said the agency has made improvements since then and DPAA is getting to about 95 sites a year, a number he said would continue to rise.
No India recoveries are planned for fiscal year 2016, and the agency has not finalized its 2017 recovery plan, Romero said.
Twitter: @TaraCopp
---
---
---
---