Cousin pursues promise to 'bring Joseph home' from Koh Tang
by
Matthew M. Burke
June 29, 2015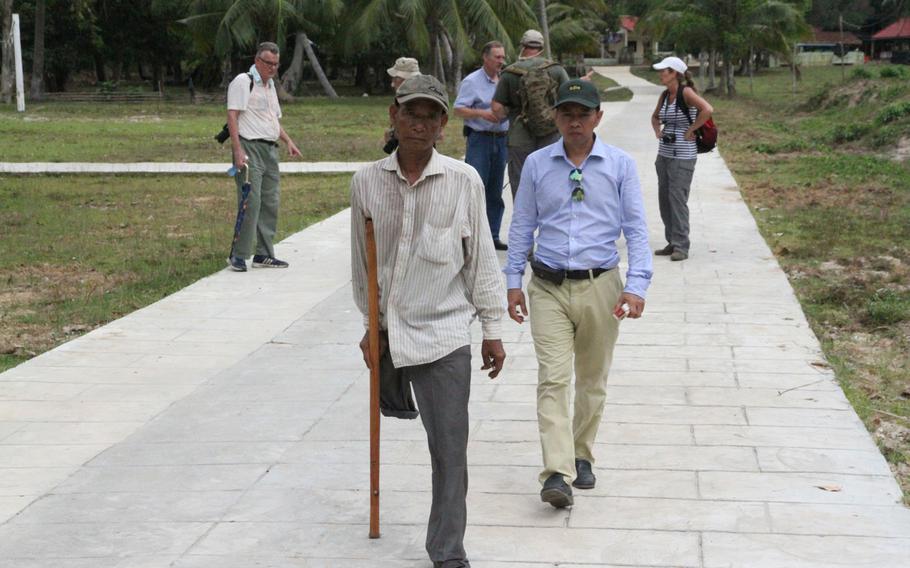 KOH TANG, Cambodia — Cary Turner sank ankle deep into the fine white sand wherehe believes his cousin's body was buried, accompanied by the man who says he was behind the Marine's execution.
Lance Cpl. Joseph Hargrove was a member of a three-man machine-gun team that was left behind and believed to have been executed by Khmer Rouge forces after the last battle of the Vietnam War on May 15, 1975, an operation referred to as the "Mayaguez Incident."
When Turner arrived in Cambodia to commemorate the battle's 40th anniversary, he met with Em Son, the former Khmer Rouge commander of Koh Tang during the battle. Son accompanied Turner and the other veterans to the island.
Son claims he executed Hargrove after catching him after the battle.
"It's really good that for the first time, I'm here with Em Son," Turner said upon arriving at Koh Tang. "I have received some answers to some of my questions that I failed to get from the government, and it's a shame I have to go to the enemy's side to get answers, where I can't get any from my own government. That's disappointing and frustrating."
In a 2010 trip to the island, Son indicated that POW/MIA accounting officials had dug the site where he had ordered Hargrove buried, and a body had been removed. Defense officials said that while remains have been recovered at the sites Son reported, none has produced remains of those missing.
Turner collected sand from the burial pit in clear plastic water bottles; he believed it was the closest he would get to his cousin's remains. Stakes at the bottom of the depression indicate the spot where a body had been unearthed by the Defense POW/MIA Accounting Agency's predecessor organization, the Joint POW/MIA Accounting Command.
Cambodian military officials said the body unearthed at the site in 2008 was about 6 feet tall, and the bones were long, which is inconsistent with Southeast Asian remains. They also said they had a reddish-orange hue to them, which was consistent with the other American remains found on the island.
"These were big bones and long, long bones," the Cambodian official said through a translator.
Cambodian officials said the remains were found with two other sets, but was separate from them. The hands were bound behind the back.
Turner said U.S. government officials told him that no American remains were unearthed on the dig, yet he saw a picture of a flag-draped coffin during a repatriation ceremony at Phnom Penh's airport that appeared in a local newspaper. Similar photos taken by The Associated Press and Reuters can be found on the Internet.
Former Ambassador to Cambodia and former Deputy Assistant Secretary of Defense for POW/Missing Personnel Affairs Charles Ray told Stars and Stripes that a set of remains was unearthed and identified on-site as Caucasian. In addition, declassified documents given to Stars and Stripes indicate that "multiple" sets of remains — not just one — were recovered during the dig.
But defense officials said Hargrove has not been accounted for and they continue to dig for signs of him and the others.
They have declined to discuss their investigations, saying the process is complicated and that they don't want to get relatives' hopes up unnecessarily.
Turner said he promised Hargrove's dying mother, Charlotte, in 2009 that he would "bring Joseph home." He has enlisted the help of members of Congress to lobby for answers.
Students from Hargrove's hometown of North Duplin, N.C., recently started a letterwriting campaign to Secretary of Defense Ash Carter to demand results.
DPAA officials were back digging on the island in January-March, according to documents obtained by Stars and Stripes. One vast area was on west beach, where battle veteran Fred Morris said Marine Lance Cpl. Ashton Loney's body was left.
Cambodian military officials said they unearthed two sets of remains there, determined on-site to be Southeast Asian. They were buried on the beach under mounds of rocks. The officials said DPAA investigators also unearthed a Marine flak jacket but they could not recall whose name was written on the inside. A Marine radio was also found.
"The sites we excavated in Koh Tang are closed, but additional information was obtained during these missions, keeping the case open," spokeswoman Lt. Col. Melinda Morgan said.
The search for Air Force Staff Sgt. Elwood Rumbaugh, who was lost at sea, is more complicated. He was lost near a downed helicopter. Although the helicopter has been located and a dive on the wreck was planned, according to JPAC documents, it was not explored due to weather. No other recovery operations have been announced.
Clark Hale, who was a 27-year-old Marine platoon sergeant in May 1975, said he spoke to DPAA officials during a ceremony at the U.S. Embassy in Phnom Penh. He said they told him they had identified one of the five missing men but couldn't announce it until the family had been notified.
"I'm encouraged that somebody's coming home soon," he said. "Wherever I am, I'll be there for them when they're laid to rest, to make up for not being there when we left."
After returning to Cambodia, Turner and the battle veterans went to a site in modern-day Sihanoukville, where Son claims to have seen the body of Pvt. Danny Marshall. He claims his body was thrown into the sea but kept washing up on shore, so they tied it off between some rocks by the beach. Hale said seeing Marshall's final resting place was cathartic.
"If he could see where his remains were, he'd be happy," Hale said. "It is a beautiful, peaceful place.