Coronavirus cases surge in parts of Japan with heavy US military presence
by
Joseph Ditzler
August 7, 2020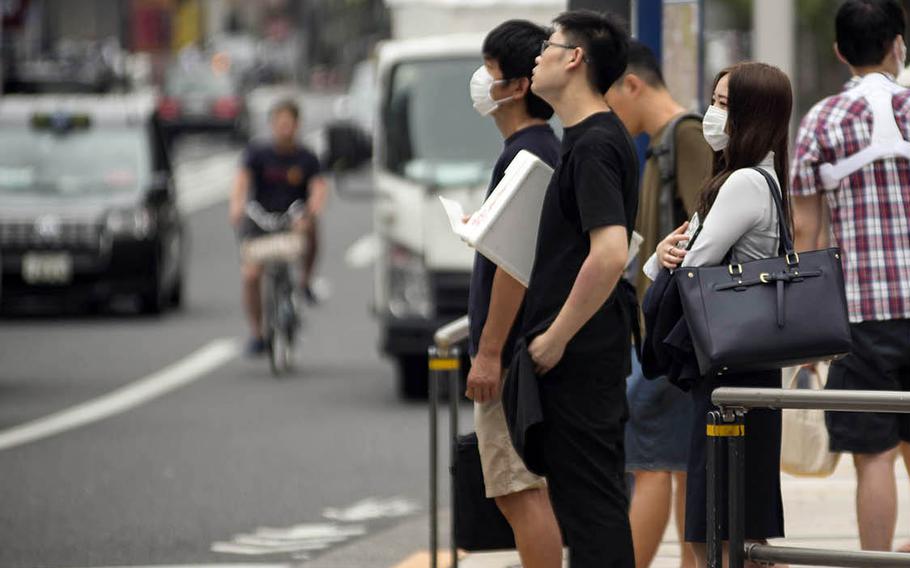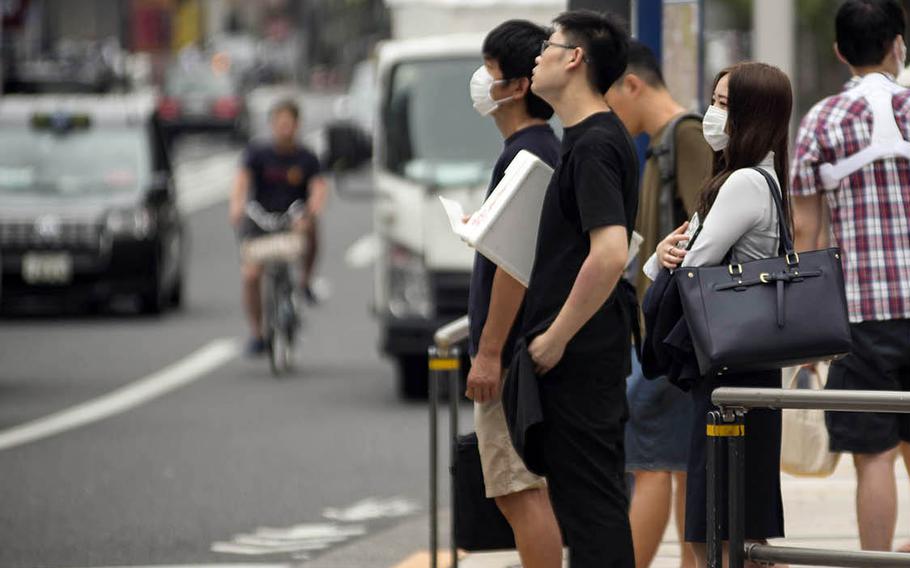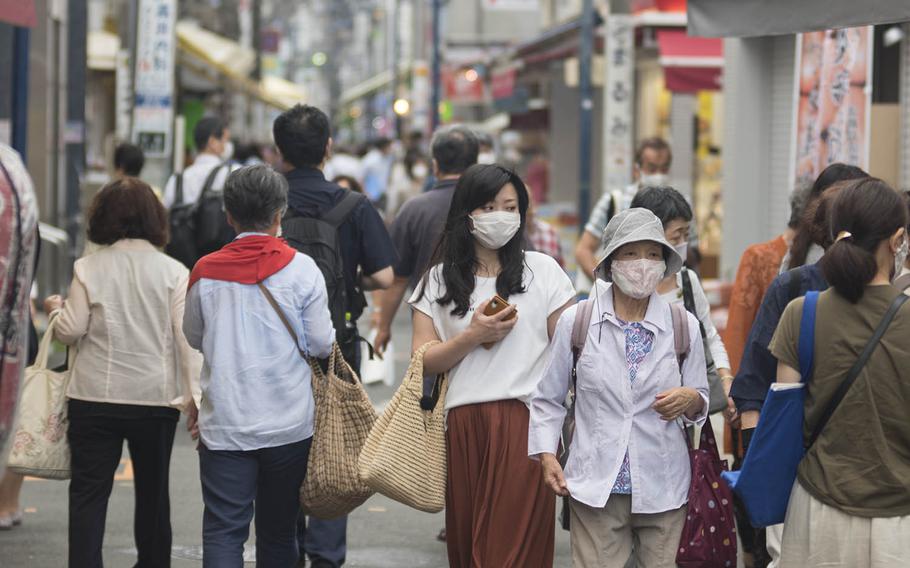 Stars and Stripes is making stories on the coronavirus pandemic available free of charge. See other free reports here. Sign up for our daily coronavirus newsletter here. Please support our journalism with a subscription.
TOKYO — The U.S. military in Japan tallied another 13 coronavirus cases Friday as the nation coped with a surge in new infections in Tokyo and on Okinawa — areas with a significant military presence.
U.S. Army Japan announced three new cases, Yokota Air Base and Yokosuka Naval Base both reported two and Marine Corps Air Station Iwakuni reported one. On Okinawa, the Marine Corps announced three new infections at Camp Courtney and the Air Force reported two at Kadena Air Base.
Many of those patients were already in quarantine as new arrivals or because they'd had contact with another infected person.
The virus continued to spread in the capital city, where the Tokyo Metropolitan Government reported 462 new cases on Friday, according to public broadcaster NHK. The previous daily high for the city, 472, was reported Aug. 1, according to the metro government.
Tokyo Gov. Yuriko Koike during a televised news conference Friday called this "a special summer" and urged city residents not to travel outside of Tokyo.
"We request that residents refrain from vacationing, traveling far from home and eating out at night," she said, "in order to go back to a safe and secure life as early as possible."
Okinawa prefecture on Friday reported a new daily high of 100 new cases, many discovered in 2,000 tests administered among employees in the Matsuyama district of Naha city, according to a prefectural public health official. The bars and cabarets of the district, a popular nightlife and entertainment area, are off-limits to service members under military health restrictions.
Five Okinawa cases are in critical condition, meaning they require a respirator, the official said.
The prefecture set a previous record of 83 new cases on Tuesday and has reported 885 in total since the pandemic began.
Japan as a whole announced 1,588 new cases on Friday, according to the Nippon News Network.
US cases near Tokyo Several major U.S. military installations are within Tokyo or the surrounding metro area. These include Yokota Air Base, the home of U.S. Forces Japan in western Tokyo; Camp Zama, headquarter for U.S. Army Japan; and Yokosuka, home of the Navy's 7th Fleet.
Travel restrictions imposed by base commanders prohibit U.S. personnel, including civilian employees and family members, from visiting central Tokyo.
Yokosuka on Friday reported two new cases, both of whom had contact with infected individuals not associated with the military. Another four people were cleared of the virus, according to a base post on Facebook.
Yokota also announced two new patients on Friday evening. All other positive cases at the air base have fully recovered, an Air Force statement said.
U.S. Army Japan reported three cases, one who arrived July 24 at Haneda International Airport and tested positive Thursday after a mandatory two-week stay in quarantine, according to an Army press release Thursday. Two other cases discovered Thursday have been quarantined since July 30 after contact with another person with the virus, according to a release Friday.
Those three must pass two tests before leaving isolation, according to the Army.
In western Japan, MCAS Iwakuni discovered one new case Thursday, the result of testing at the end of a mandatory two-week isolation period for new arrivals in Japan, according to a base news release Friday. The patient arrived July 24 and is showing no symptoms, according to the release, and will remain quarantined for at least another two weeks.
In a separate case at the air station, three people who arrived in mid-July were released Thursday after 24 days in quarantine, during which they developed no symptoms, according to the release.
The base never referred to the three as a family; however, Japanese Defense Minister Taro Kono singled out a U.S. military family of three that entered Japan over the weekend of July 11-12 and were tested by Japanese authorities at Haneda in metro Tokyo.
The family provided false information about their travel plans and, rather than driving to MCAS Iwakuni, took a commercial flight on July 13, Kono said. New arrivals to Japan are prohibited from using public transportation.
Their results came back positive for the virus after they arrived at the air station.
However, contact tracing on and off the base found no reported cases of the coronavirus within Japan tied to the three, according to Friday's statement.
"The investigation into this incident is ongoing," the air station's release said.
Island infections On Okinawa, the Marines reported three new cases Friday at Camp Courtney, according to a post on the Marine Corps Installations Pacific Facebook page. The camp reported its first seven cases on Wednesday.
At Kadena, two individuals, one a new arrival and the other a contact case, tested positive during mandated testing in quarantine, according to a post Friday on the base's Facebook page.
Also on the island, a Japanese security guard for the airfield construction site at the Marines' Camp Schwab tested positive Thursday, a spokesman for the Okinawa Defense Bureau told Stars and Stripes by phone Friday. The spokesman said contact tracing led to another five guards being quarantined at home.
The spokesman said tracing found no close contacts with U.S. personnel. He said construction at the airfield, halted for nearly two months for an earlier coronavirus case, will proceed.
Some government officials in Japan customarily speak to the media on condition of anonymity.
Of all the active cases among the Marines on Okinawa, about a third are experiencing symptoms and none are hospitalized, according to an email from installations spokesman Maj. Ken Kunze.
The Marines also reported Friday that six people had recovered from their infections.
The bulk of coronavirus cases on Okinawa, more than 260, stemmed from two clusters at Marine Corps Air Station Futenma and the Marines' Camp Hansen that broke out after the July Fourth weekend.
"Aggressive quarantine and test procedures are working to control the spread and protect everyone," Kunze wrote Friday. "Our ability to contain the original outbreaks is a testament to the effectiveness of these procedures."
None of the military branches specified whether the new cases were service members, Defense Department civilian employees or family members.
Stars and Stripes reporters Caitlin Doornbos, Hana Kusumoto, Matthew M. Burke, Aya Ichihashi and James Bolinger contributed to this report.
ditzler.joseph@stripes.com Twitter: @JosephDitzler