Coronavirus cases associated with Marine base clusters have climbed to 94, Okinawa prefecture says
By
Aya Ichihashi Matthew M. Burke
July 13, 2020
---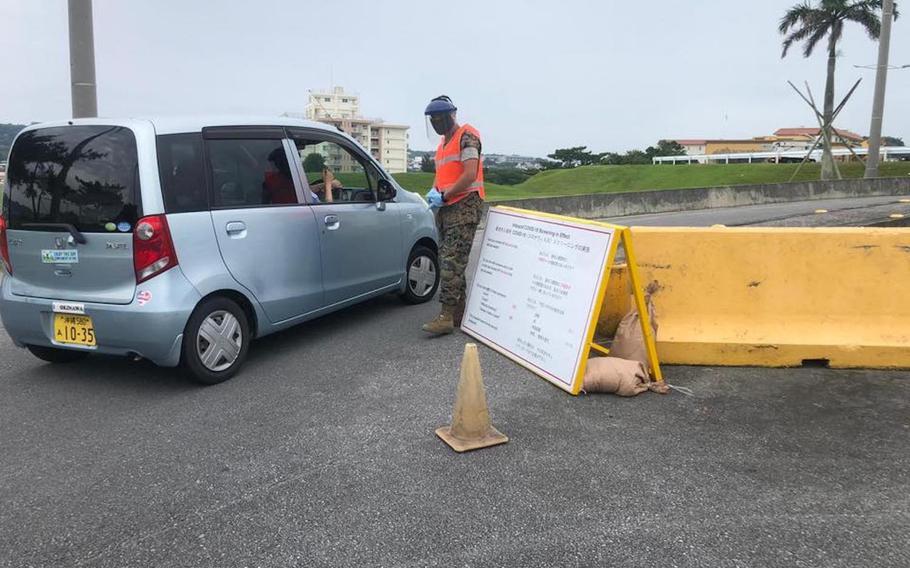 Stars and Stripes is making stories on the coronavirus pandemic available free of charge. See other free reports here. Sign up for our daily coronavirus newsletter here. Please support our journalism with a subscription.
CAMP FOSTER, Okinawa – Dozens more people have tested positive for the coronavirus at a Marine base where a cluster outbreak surfaced last week, bringing the number of cases associated with that surge to 94, an Okinawa health department spokeswoman said Monday.
An additional 32 individuals from Marine Corps Air Station Futenma were reported to have the virus on Monday, she told Stars and Stripes. Earlier in the day, a spokesman for Okinawa prefecture confirmed a case had surfaced at Camp Kinser, another Marine base approximately four miles north of Okinawa's capital, Naha.
It's customary in Japan for some government officials to speak to the media on condition of anonymity.
The latest infections came after two clusters were discovered last week at MCAS Futenma and nearby Camp Hansen. MCAS Futenma had reported 39 cases and Camp Hansen reported 22, the prefectural spokesman said.
The Marines, citing operational security, have declined to publicly announce case numbers, but they have reported them to the prefectural government, the spokesman said.
During a teleconference with Okinawa Gov. Denny Tamaki on Saturday evening, III Marine Expeditionary Force commander Lt. Gen. H. Stacy Clardy III said the U.S. military would not "hinder" the prefecture from releasing those numbers to the public, the spokesman said.
"Lt. Gen. Clardy promised Gov. Tamaki to keep sharing the numbers even if the Okinawa prefectural government decides to release the number to the public," he said.
The spokesman said Okinawa officials were concerned about jeopardizing their relationship with officials at U.S. Naval Hospital Okinawa but decided to release the numbers after receiving assurances from Clardy.
Word of the clusters emerged July 7 when MCAS Futenma announced "several" positive tests and ordered personnel to shelter in place for several hours. Camp Hansen went into overnight lockdown the following day.
A Marine spokesman said Monday that speculating on the origins of the clusters would be "inappropriate" while their investigation is ongoing.
They are looking into reports posted to social media of large gatherings over the July Fourth weekend, where social distancing and other prevention procedures were not followed.
"Medical staff and other officials are investigating the origin of these clusters to effectively trace and contain the spread," Marine Corps Installations Pacific spokesman Maj. Ken Kunze wrote Monday in an email to Stars and Stripes.
"We are also looking into reports of gatherings and directing individuals to quarantine per guidelines from medical staff," he said. "Leadership in Okinawa is working non-stop to curtail the spread and protect families and the local community."
The Marine Corps and Air Force on Okinawa re-imposed strict limits on personnel movements and activities Thursday, three weeks after restrictions were eased. On Friday, Marine Forces Japan heightened its health protection condition from a moderate to a substantial risk of the virus' spread. In military terms, the level moved from Bravo to Charlie.
Meanwhile, U.S. Forces Japan extended a public health emergency through Aug. 13 that had been slated to expire Monday.
Late Saturday, Marine Forces Japan imposed further restrictions. Most off-base activities, including doctor visits, now require approval from a lieutenant colonel in the Marines, a commander in the Navy or higher, according to the guidance. Only travel to and from an off-base residence and an installation is allowed. The rules apply to all Marine service members, civilians, family members and contractors on the island.
Kadena Air Base, home to the 18th Wing, has restricted travel to MCAS Futenma and Camps Hansen and Kinser to official business only, according to a post Sunday on the base's Facebook page. Trips to other Marine bases on Okinawa should be minimized to the greatest extent possible, the post said.
Kunze said the Marines will continue to process personnel arriving from the United States for a permanent change of duty station, or PCS, per Defense Department guidelines.
Okinawa began testing locals who work in bars and nightclubs in Chatan for the virus Sunday because "many" customers who look like U.S. military visited these establishments over the July 4th weekend, a prefectural health official told Stars and Stripes on Monday. Bars and nightclubs have been off limits to Marine personnel in Okinawa since March 27.
burke.matt@stripes.com Twitter: @MatthewMBurke1
ichihashi.aya@stripes.com Twitter: @AyaIchihashi
---
---
---
---