GALLERY
Cornish takes over as commander of Kadena's 18th Wing
by
Matthew M. Burke
April 2, 2015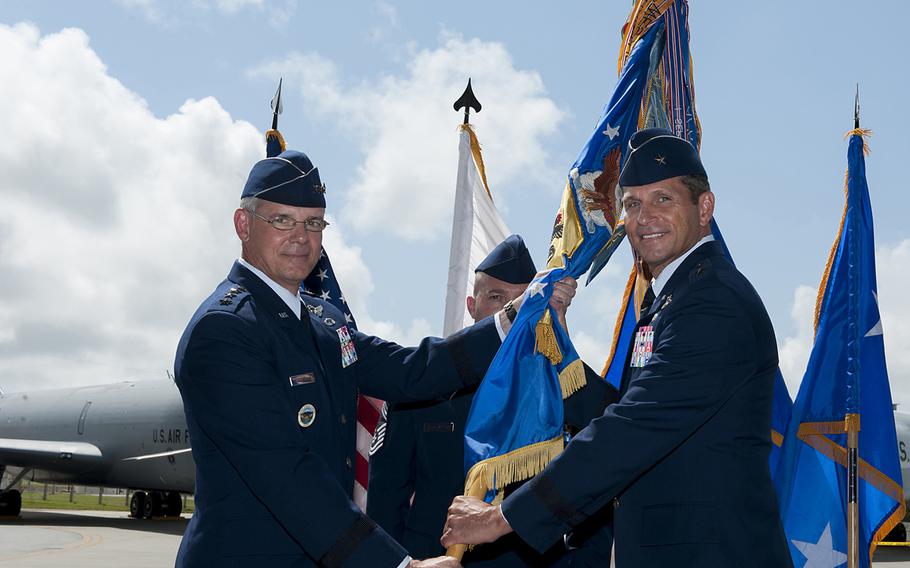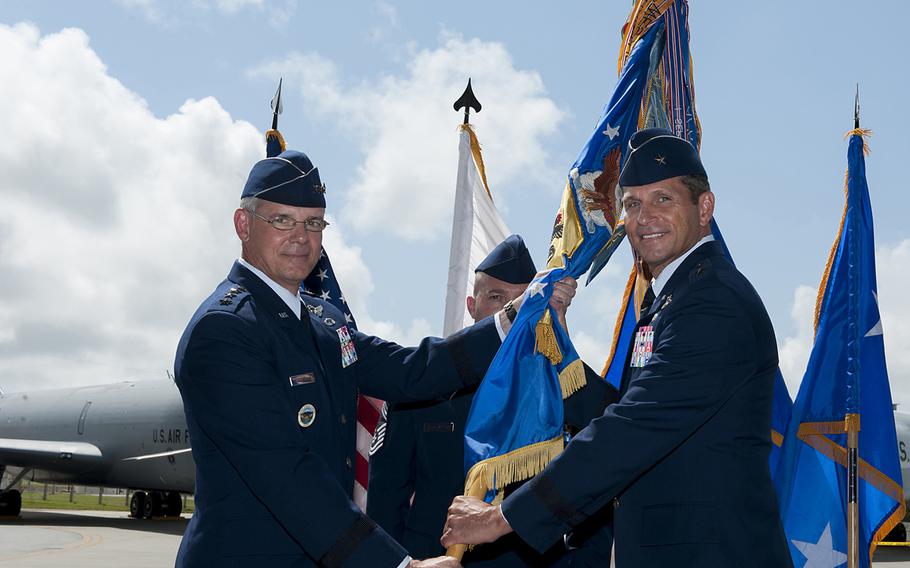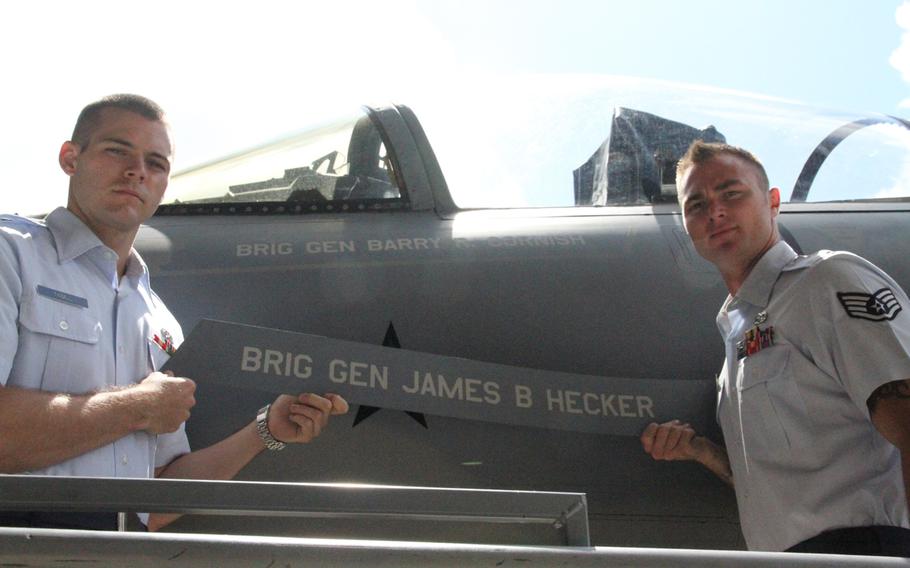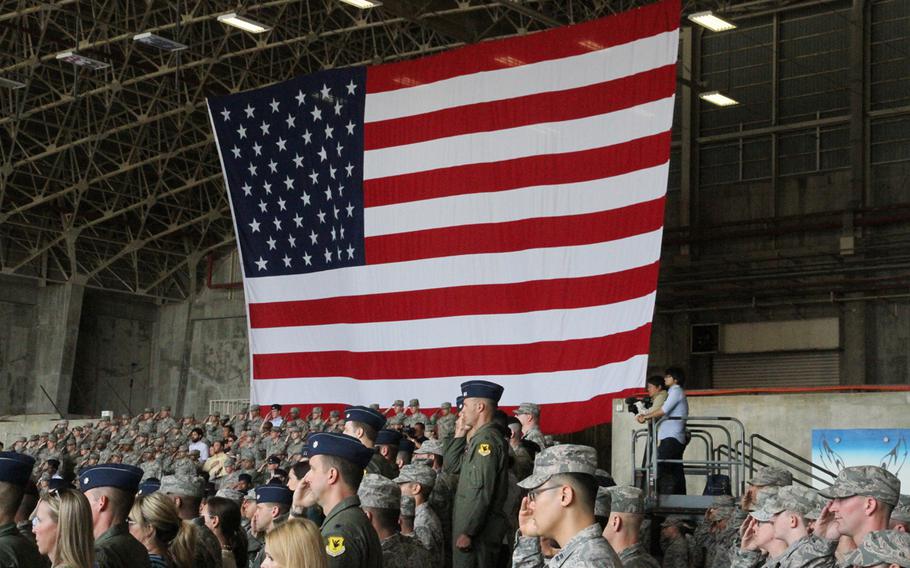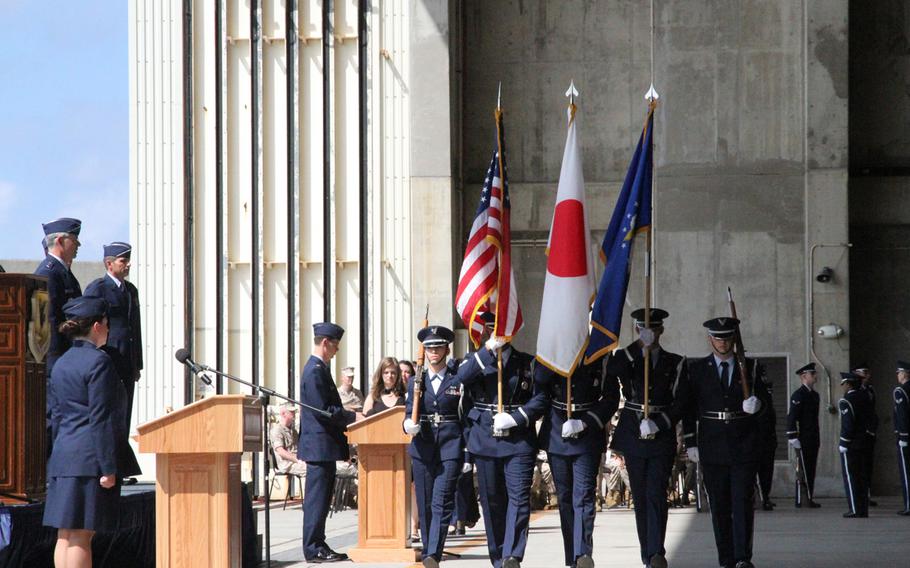 CAMP FOSTER, Okinawa — The Air Force's largest combat air wing got a new leader Thursday at Kadena Air Base.
Brig. Gen. Barry Cornish took command of the 18th Wing from soon-to-be Maj. Gen. James Hecker, the wing's commander for the past two years. Hecker — who coordinated both civilian and military disaster relief during Operation Tomodachi while at U.S. Forces Japan in 2011 — has been tapped as the next director of plans, programs and requirements at Air Combat Command headquarters at Joint Base Langley-Eustis, Va.
Cornish was selected for promotion to brigadier general in January while still executive officer of the Pacific Air Forces at Joint Base Pearl Harbor-Hickam, Hawaii. Nicknamed "Dawg," he earned his wings at the Euro-NATO Joint Jet Pilot Training Program at Sheppard Air Force Base, Texas, in 1991.
Since then, he has racked up more than 2,200 flying hours in the F-15 and other flight-training platforms. He has served as an instructor pilot, weapons officer, an operational test pilot and has commanded at the squadron and wing levels.
He took the reins from Hecker with the blessing of Lt. Gen. Sam Angelella, commander of U.S. Forces Japan, under a biting sun in one of Kadena's open hangars. Cornish thanked the Japanese officials in the audience for their continued support and partnership and told Hecker he would try and follow in his footsteps.
"I will work as hard as I can every day to help you execute our critical mission," Cornish told the airmen in the audience. "Countless lives depend on what you do each and every day, and the number grows when called to respond to a humanitarian crisis … or cast in the path of conflict should deterrents fail. My job is to help you get ready for this and also to emerge victorious and to bring everyone home."
The 18th Wing provides the Pacific Command combat, aeromedical evacuation, and search-and-rescue capabilities. Its pilots fly F-15C, KC-135, HH-60 and E-3 aircraft.