'Committed to connecting': Air Force chaplain stands by flight line to help airmen in western Tokyo
---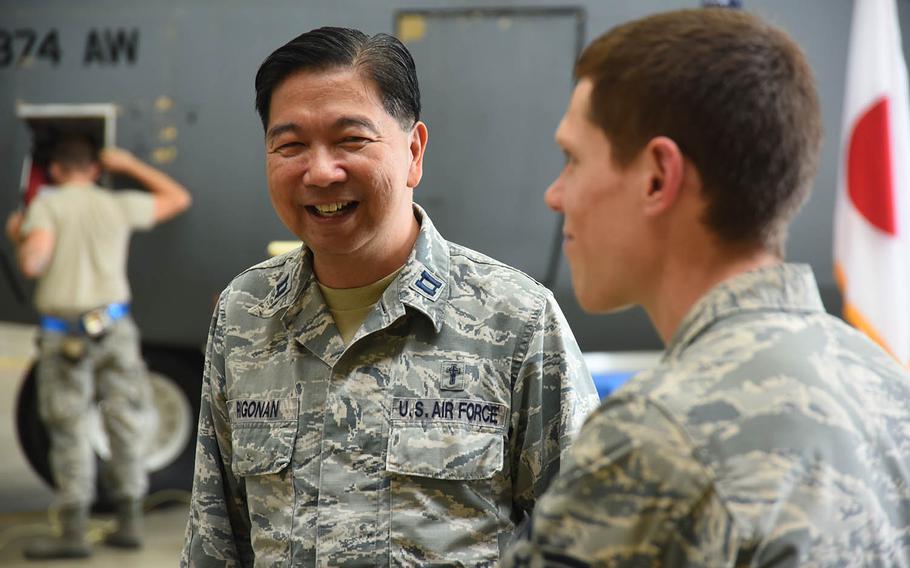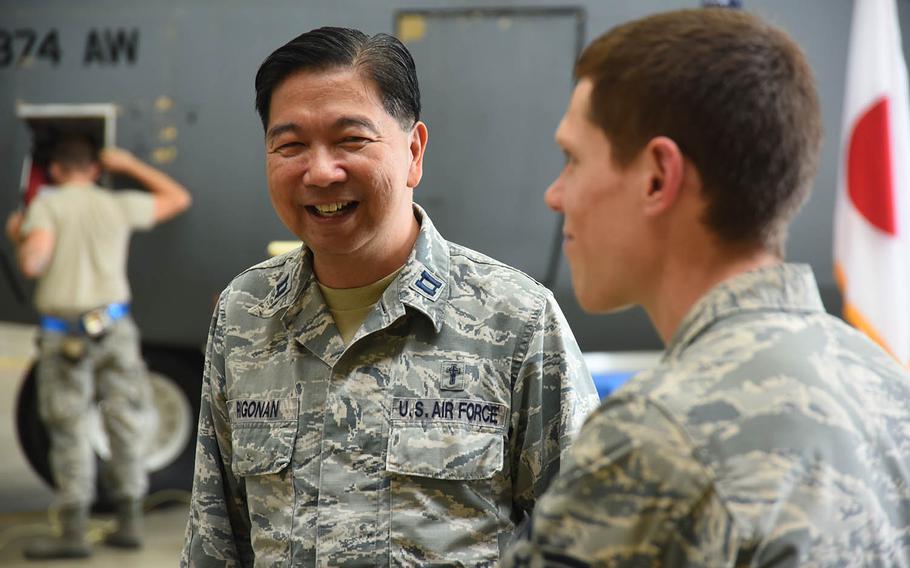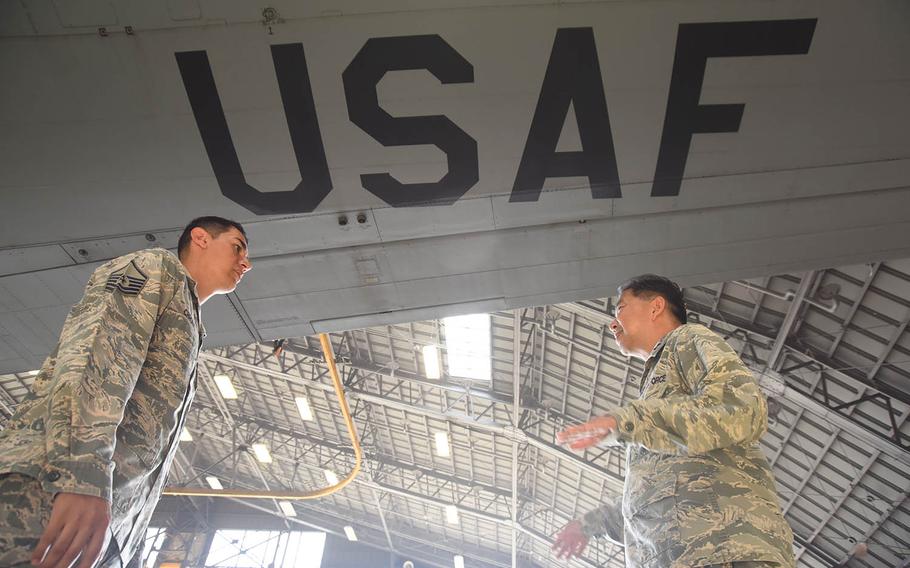 YOKOTA AIR BASE, Japan — When airmen from Yokota's 374th Maintenance Squadron want to see a chaplain, all they have to do is knock on an office door inside Hangar 15.
For the past year Chaplain (Capt.) Antonio Rigonan, 57, a Catholic priest from New York, has spent two days a week inside the largest hangar on this western Tokyo air base.
The idea is to get closer to the people who might need spiritual help or just a shoulder to lean on. The Air Force opened a chaplain's office near the flight line at the home of U.S. Forces Japan and 5th Air Force after three maintainers there killed themselves during a six-month span in 2016.
The move was one of several cited by the maintenance squadron's commander, Lt. Col. Kris Lamothe, during an interview Sept. 16 about things her unit is doing to prevent suicides in the ranks.
From his office window, Rigonan on Monday had a clear view of a C-130J Super Hercules parked nearby.
It's a short walk across the hangar to a workshop where, most days, young airmen are turning wrenches to keep the C-130Js ready for action.
"When you talk with them, they become more comfortable with you," Rigonan said. "They usually request a chaplain they know when they want counseling."
Airmen seek counseling when they've been through experiences or see something that violates a core value, according to Rigonan's boss, 374th Airlift Wing Chaplain (Lt. Col.) Dale Marlowe, 51, of New Castle, Pa.
"Most of chaplaincy is relationship issues and people trying to figure out life and stress," the Baptist minister said.
Like other Air Force units, the squadron halted its routine operations last month for a "Resilience Tactical Pause" ordered by Air Force Chief of Staff Gen. David Goldfein to try and understand why there have been so many recent suicides in the ranks.
An Air Force spokeswoman at the Pentagon, Ann Stefanek, said suicide figures for the service are released quarterly but that the number for 2019 has increased from the 78 reported before the tactical pause. A Defense Department report last month said 63 airmen took their own lives in 2018.
The deaths at Yokota in 2016 spurred base visits by a suicide prevention support team. That led to officials adjusting hours at recreation facilities and an on-base restaurant to cater to those on swing shifts.
However, maintenance squadron personnel said there had been other important changes, including office space for the chaplain and a counselor near their work areas.
For the past year, Rigonan has split his time between that office and Yokota's hospital. He usually shows up at work around 9 a.m. after his morning workout.
Counseling sessions can happen in the hangar or back at the chapel, he said.
Marlowe said the concept of putting chaplains with units isn't new.
"We've always been committed to connecting where people are," he said, adding that chaplains also spend time with other units at the base.
"Most of our counseling and care doesn't come out of people in the pews," Marlowe said. "They are in a healthy position in life just by being there. They are connected with people who have common values and perspectives."
Lamothe said she's focused on giving her airmen the tools they need to get help while maintaining military discipline.
"We make sure there is no stigma attached to mental health," she said.
If leaders want to change an airman's shift or make them work extra hours, Lamothe must sign off on it.
"It's not that it's never going to happen but there has to be a really good reason," she said.
Master Sgt. Eric Lundeen, 34, of Ipava, Ill., has been in the maintenance squadron since 2013. After the 2016 suicides, he said leaders spent more time talking to airmen.
Examples of things that can put stress on an airman include selling a home back in the U.S. or caring for a sick family member. Just being in Japan can be stressful for youngsters, Lundeen said.
"You are landing them in the middle of Tokyo. They don't speak the language. They are having to figure out this new metropolitan area and when you have the curfew (1 a.m. to 5 a.m. for lower enlisted troops), things like that kind of compound it and airmen chose to stay in their rooms," he said.
The squadron has organized trips, sports days and barbecues to build resiliency, Lundeen added.
The squadron's top enlisted airman, Chief Master Sgt. David Becraft, 45, of Dayton, Ohio, said solutions to airman suicides will come from airmen rather than leaders.
He's talked to airmen about his own challenges, including going through a divorce, during 24 years in the Air Force.
One of the airmen Becraft supervised tried to hang himself, he said.
"He cut himself down with a pocket knife," he recalled. "We got him in-patient care. We got him from being despondent and helpless to being hopeful and excited and ready to move on with his future."
robson.seth@stripes.com Twitter: @SethRobson1
---
---
---
---