CNO: Freedom of navigation critical in South China Sea
---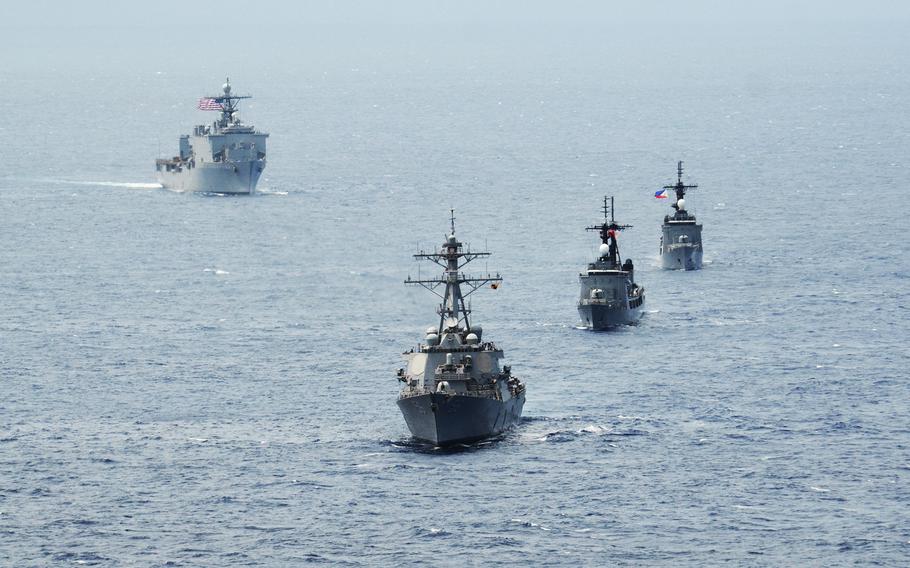 TOKYO — Naval patrols in the South China Sea are part of a multi-pronged approach to resolve tensions over the area's hotly contested territories, the Navy's top officer said Thursday.
Chief of Naval Operations Adm. John Richardson described the Navy's navigation in what the United States and several other countries consider international waters — but China considers its territory — as part of a strategy that includes diplomatic discussions with Beijing.
"We see these navigation operations as contributing to a peaceful resolution," said Richardson, who spoke with reporters before meeting with Prime Minister Shinzo Abe and top Japan defense officials.
The U.S. is considering transiting close to Chinese-occupied land within the Spratly Islands, a collection of islands, rocks and reefs claimed entirely by China, according to recent media reports.
Chinese officials have warned the U.S. against undertaking what Washington refers to as "freedom-of-navigation" operations in the area, but Richardson defended the Navy's right to do so.
"It should not be a surprise to anybody that we will exercise freedom of navigation wherever international law will allow," Richardson said. "We do this all over the world. We're present in the South China Sea routinely."
Richardson declined to address any details on prospective freedom-of-navigation operations, including whether the U.S would communicate with any of the nations with territorial disputes in the area of its operations.
Vietnam and Taiwan also claim the Spratlys, and the Philippines and Malaysia hold claims on individual islands.
China has been most assertive in its claims. Since 2014, it has moved thousands of acres of fill on top of land features that formerly consisted of little more than rocks and reefs barely breaking the ocean surface, according to U.S. officials.
At least three Chinese-occupied Spratly reefs show partially or fully constructed runways long enough for military aircraft, according to satellite imagery. In May, Secretary of Defense Ashton Carter said China has placed self-propelled artillery on at least one territory.
The U.S. maintains it takes no position on whether China — or any other nation — actually owns the islands.
However, U.S. leaders have emphasized that its ships should be able to transit, conduct surveillance and undertake any other operations outside of any nation's territorial waters, which normally extend 12 nautical miles from a shoreline.
China, and roughly 20 other nations, to some degree, argue that foreign militaries do not hold such a wide range of rights within 200 nautical miles of a shoreline, an area known as an exclusive economic zone.
However, it remains unresolved whether any nation could claim territorial waters around some of what China claims.
Land submerged at high-tide — even if it is artificially added — does not generate territorial waters under the United Nations Convention on the Law of the Sea, which China has signed and the U.S. abides by in practice.
Under such conditions, the Navy could transit as close as it wants to the Chinese emplacements without violating international law.
China has largely avoided the nuances of such arguments in international forums and instead relied on what it considers as its historical claims and "indisputable sovereignty."
China's rhetoric has also heated up in recent days over the dispute.
A freedom of navigation operation in the Spratlys would be perceived as "a slap in the face," wrote Rear Adm. Yang Yi in the Chinese-language version of the Global Times on Thursday. Yang added that the Chinese military retained the ability "to inflict pain on a foreign enemy."
The Chinese Foreign Ministry offered slightly more measured tones, but its officials remain adamant that cruising within 12 nautical miles of any of the Spratly Islands is unacceptable.
"There is no way for us to condone infringement of China's territorial sea and airspace by any country under the pretext of maintaining the freedom of navigation and overflight," Foreign Ministry spokeswoman Hua Chunying said last week.
Twitter: @eslavin_stripes
---
---
---
---