Chopper crews practice evacs from high-rise in Korea
---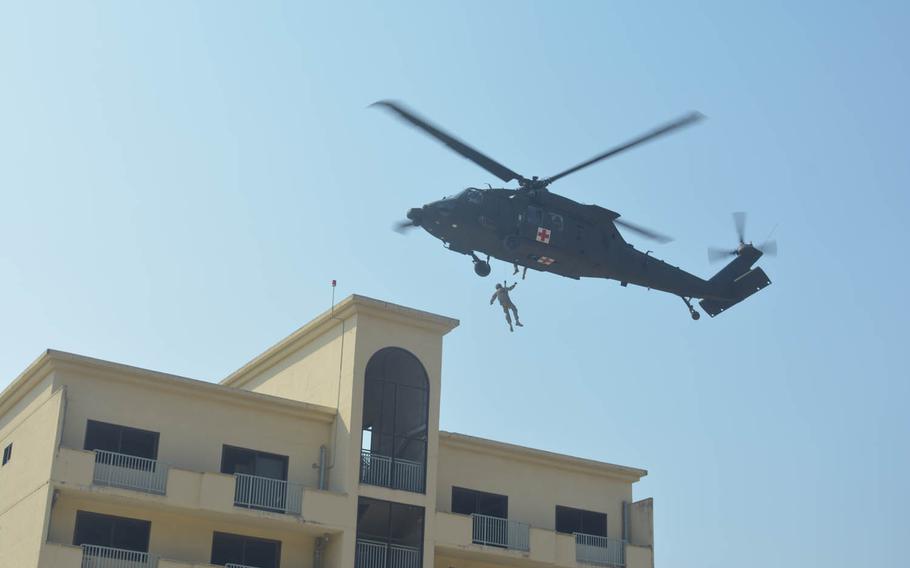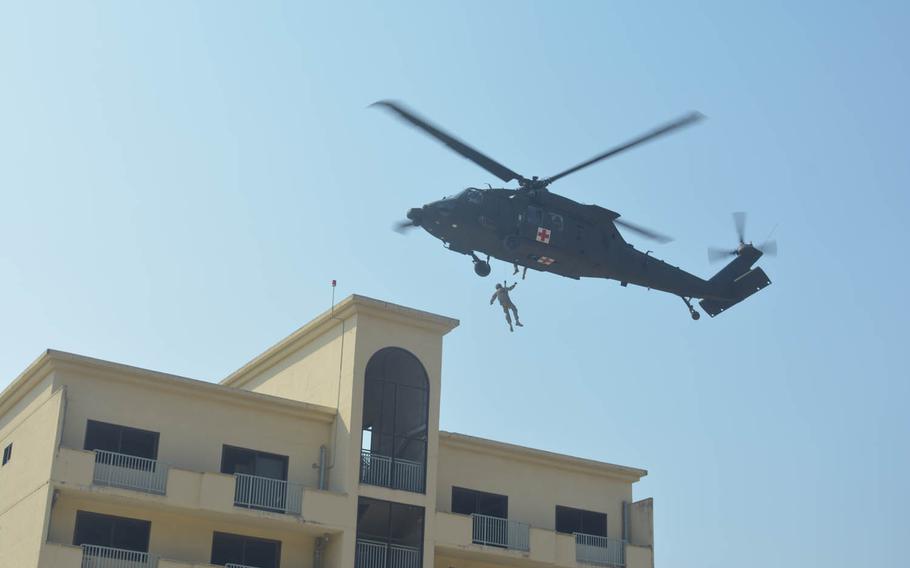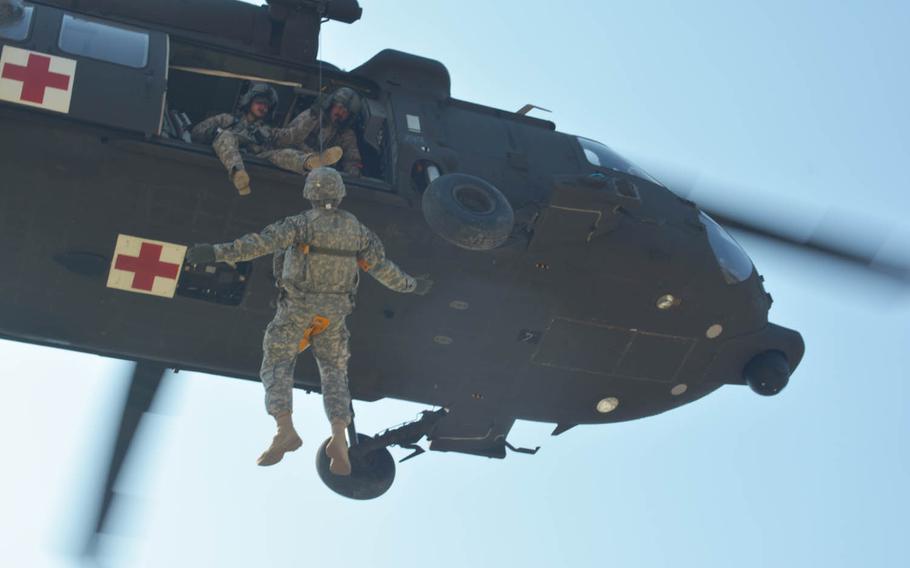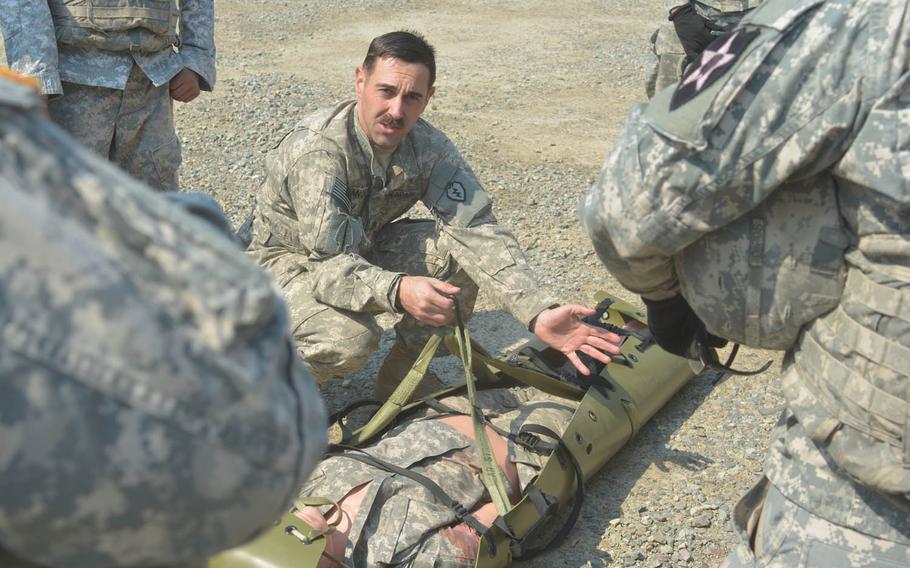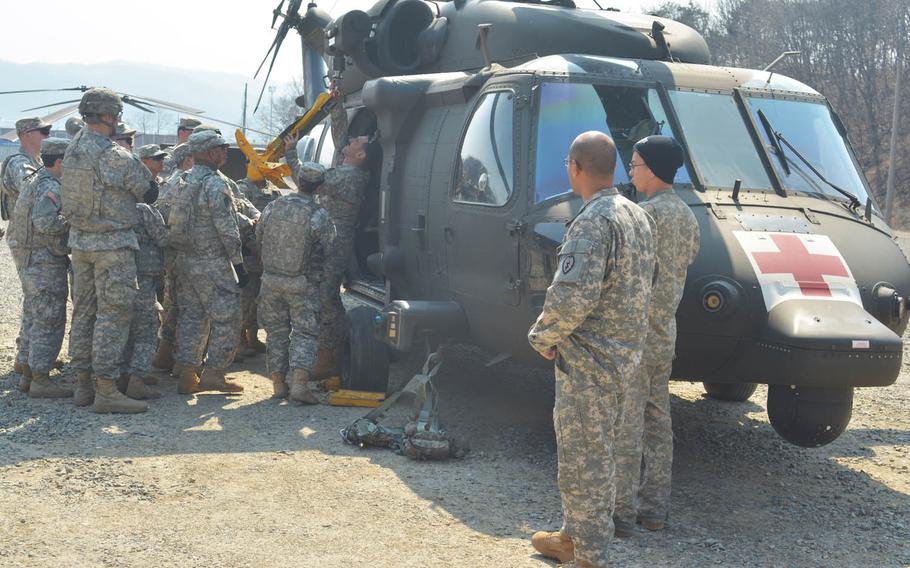 RODRIGUEZ LIVE FIRE RANGE, South Korea — If war breaks out on the Korean Peninsula, it could be waged in and around thousands of high-rise apartment blocks that fill valleys south of the Demilitarized Zone.
Aware of the challenging environment, the Army has acquired its own high-rise facility at Rodriguez Live Fire Range — a training area near the DMZ — where troops can hone their urban combat skills.
Medics participating in Foal Eagle exercises, underway this month in South Korea, gathered on the roof of the seven-story building Wednesday to learn how to hoist casualties onto a hovering Black Hawk helicopter.
Buffeted by wind from the aircraft's rotors, the medics took turns strapping into a yellow "jungle penetrator" — a heavy device designed to be dropped through jungle canopy to troops on the ground — and riding the hoist up to the Black Hawk and back down to the roof.
First Lt. Alexander Davila, 25, a Black Hawk pilot with Company C, 3rd Battalion, 25th Aviation Regiment out of Wheeler Army Airfield, Hawaii, has had a bird's eye view of Korea's urban jungle during missions over the past two weeks.
"A lot of the high rises around Seoul have helipads on them already," he said. "We look down and there are `H's on every building."
Two 3rd Battalion Black Hawks and 17 aviators are participating in Foal Eagle on the second leg of a Pacific Pathways deployment that took them to Thailand last month and will end in the Philippines next month, Davila said.
The aviators have been teaching soldiers from the 1-2 Stryker Brigade Combat Team along with Special Forces and South Korean army personnel to medevac casualties from the high-rise's roof.
The Black Hawk can hoist up to three people at a time with a maximum weight of 600 pounds, Davila said.
Staff Sgt. Nathan Sanchez, 37, of Pleasanton, Calif.,who is a 3rd Battalion flight medic, said his unit's Black Hawks are equipped with external hoists that can be operated by the pilot or other crewmembers.
Sanchez showed the medics how to strap a dummy patient securely onto a plastic stretcher and attach a rope that leads from near their feet to the ground to stop them from spinning.
"It has actually happened that people have spun so fast that they spun out," Sanchez said.
Twitter: @SethRobson1
---
---
---
---