Chinese warship drills in South China Sea after USS Ronald Reagan exits
by
Caitlin Doornbos 
August 18, 2020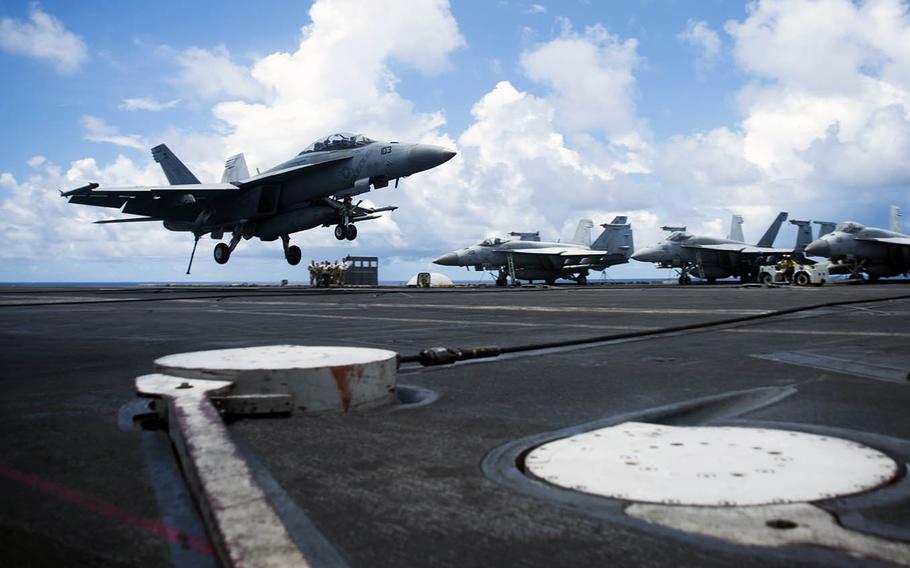 YOKOSUKA NAVAL BASE, Japan — China reportedly held live-fire drills in the South China Sea a day after the aircraft carrier USS Ronald Reagan conducted air defense exercises there over the weekend, according to published reports and the Navy.
China released a video of its corvette Huizhou, based in Hong Kong, firing deck guns and torpedoes on Sunday, according to the South China Morning Post. The training "focused on more than 10 subjects," including main-gun firing, light weapons and helicopter landing, the Chinese military said on its website Monday.
The Ronald Reagan and its strike group steamed into the South China Sea on Friday for a round of flight operations, according to a Navy press release Monday. The carrier returned to the Philippine Sea the next day, according to Navy photographs available online.
The Reagan, on patrol since leaving Yokosuka Naval Base in June, had been in the Philippine Sea since late July, according to a USNI report Monday.
The carrier ventured into the South China Sea twice in July for dual-carrier operations with the carrier USS Nimitz. That was the first time in eight years that two U.S. aircraft carriers had worked together in the South China Sea.
The U.S. disputes Chinese claims of sovereignty over the 1.4 million square miles of the South China Sea. The Navy and Air Force have stepped up their operations in the area this year in order, they said, to keep skies and sea lanes open.
Secretary of State Mike Pompeo on July 13 for the first time laid out the official U.S. stance rejecting China's claims in the South China Sea.  
Several other nations surrounding the sea also dispute China's claims to dozens of islands and reefs within it, including the Philippines and Vietnam.
In a statement Friday, the Navy said its "operations in the South China Sea continue to demonstrate enduring U.S. commitment to allies and partners, and a cooperative approach to regional stability and freedom of the seas." 
The Ronald Reagan Carrier Strike Group also includes the guided-missile cruiser USS Antietam, the guided-missile destroyer USS Mustin and Carrier Air Wing 5 aboard the Reagan.
doornbos.caitlin@stripes.com  Twitter: @CaitlinDoornbos