Chinese navy ship to make Pearl Harbor port visit
---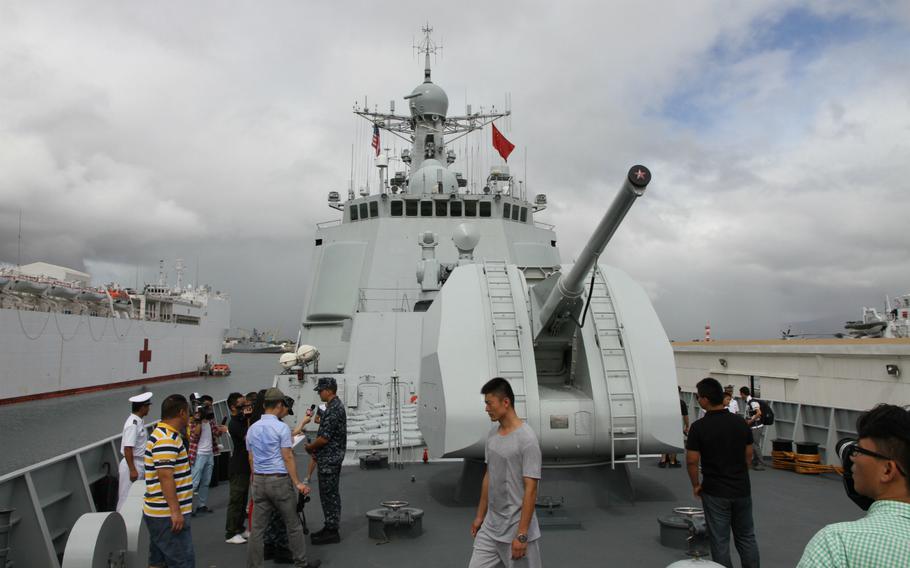 FORT SHAFTER, Hawaii — A Chinese military midshipman training ship is expected to arrive at Pearl Harbor on Monday for a five-day port call, the first since September 2013, according to a Navy news release.
The People's Liberation Army Navy's Zheng He is expected to visit Joint Base Pearl Harbor-Hickam Oct. 12 through 16.
It's a routine port visit that will give Chinese sailors an opportunity to interact with their U.S. counterparts, the Navy said.
Foreign naval ships regularly make scheduled port visits to Pearl Harbor-Hickam. Ships from the Japan Maritime Self-Defense Force have visited the base twice in recent months, the Navy said.
China's navy sent two ships to the base in the summer of 2014 for the biennial Rim of the Pacific naval exercise.
Tensions have been rising between the two countries, however, over China's claims of sovereignty over disputed islands in the South China Sea. China has been expanding small atolls of the Spratly Islands through sand dredging, and it has built several runways — all over U.S. objections to the militarization of the area.
Reports this week say that the Pentagon is considering "freedom of navigation" patrols by sea and air within the 12-mile boundaries of these reclaimed islands, which the U.S. has not entered for about three years.
The Zheng He will be hosted by the USS Chosin as part of a planned series of military-to-military exchanges between the two nations, the Navy said.
Chinese and U.S. naval officers will hold talks to build confidence and mutual understanding.
Capt. Eric Weilenman, who is chief of staff of the Naval Surface Group Middle Pacific, will meet Senior Capt. Yan Zhengming, superintendent of the Dalian Naval Academy; Senior Capt. Xu Ping, deputy political commissar of Dalian Naval Academy; and Senior Capt. You Dade, chief of training division of Dalian Naval Academy.
Among the activities planned for American and Chinese sailors are sporting events, such as soccer, tug-of-war and basketball.
Capt. Ye Kaihua is commanding officer of Zheng He, and Capt. Kevin Brand commands the Chosin.
olson.wyatt@stripes.com Twitter: @WyattWOlson
---
---
---
---