Chinese fighter jets spotted on tiny base in disputed South China Sea territory
by
Seth Robson
July 23, 2020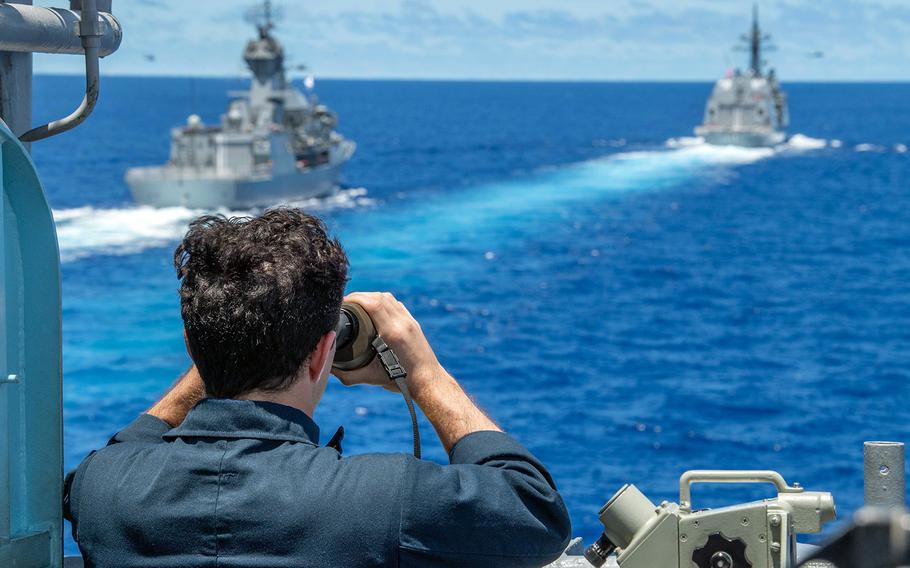 China deployed at least eight fighter jets this month to an artificial island in the South China Sea as the United States and its allies conducted large-scale drills in the area, satellite images show.
The aircraft, including four that appear to be J-11B fighters and four that have the same dimensions as the JH-7 anti-ship fighter bomber, are visible in the images from July 17, according a report that day by the U.S. government-funded Radio Free Asia.
The aircraft were on a runway at Woody Island, China's largest military base in the Paracels, a group of islets in the northern part of the South China Sea that is claimed by China, Taiwan and Vietnam.
Chinese fighters have refueled at the base in the past, according to Ian Chong, an assistant professor in the National University of Singapore's political science department.
"Whether this detachment stays we don't know, but it's not something that's without precedent," he said in a telephone interview Thursday.
Fortifying its South China Sea installations and having a permanent presence is among Beijing's goals, Chong said.
"I suppose operationally basing [the fighter jets] there could cow some other claimants," he said. "But the islands themselves are pretty vulnerable. If they don't have enough of a presence with enough range to keep planes and ships away having just a few aircraft might not be that feasible."
The deployment comes at a time of increasing friction in the region between Washington and Beijing. Secretary of State Mike Pompeo on July 13 put the United States on record as rejecting sweeping claims to territory in the sea, as well as its claims to control access to the region. Such claims are "completely unlawful," he said.
Two U.S. aircraft carriers — the USS Nimitz and USS Ronald Reagan — conducted drills in the South China Sea this month.
The carriers were joined July 17 by a pair of Air Force B1-B Lancer bombers making overflights from Guam.
This week, the Reagan and its strike group teamed up with naval forces from Japan and Australia for further maneuvers in the nearby Philippine Sea.
The Chinese fighter jets' deployment to Woody Island shows Beijing can move assets around the region, Chong said.
"China is ramping up the robustness of its presence and quite willing to show others it is a force to be reckoned with in these waters," he said.
robson.seth@stripes.com Twitter: @SethRobson1
---
---
---