China sends vessels into Japanese waters near Senkaku Islands a record 66 days in a row
by
Hana Kusumoto Matthew M. Burke
June 18, 2020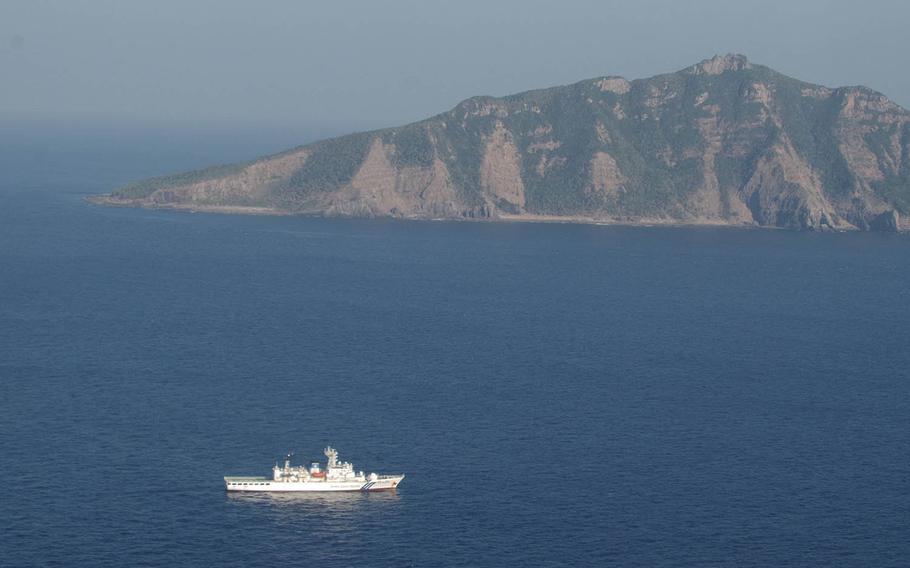 CAMP FOSTER, Okinawa — China set a new record Thursday for the number of consecutive days — 66 — its government vessels have been spotted in waters near the Japan-controlled Senkaku Islands in the East China Sea.
In the latest sighting, four Chinese coast guard vessels appeared around 9 a.m. about 18 miles north-northwest of Uotsuri Island, inside Japan's contiguous zone, and heading southwest, a spokesman for the Japan 11th Regional Coast Guard headquarters said Thursday.
Chinese vessels have been spotted in Japan's contiguous waters every day since April 14.
Nations may exert limited control in the contiguous zone, a maritime area that extends 12 nautical miles beyond the territorial limit. They may act there to prevent further intrusion or illegal activity in their territorial waters.
China's presence there is not an intrusion but is viewed by Japan as provocative.
Beijing also claims the barren group of rocks and islands that total 7 square miles and that it calls Diaoyu. The area surrounding them, however, is a rich fishing ground and may hold oil and natural gas deposits.
During a press conference Wednesday, Japanese Chief Cabinet Secretary Yoshihide Suga declined to speculate on the ships' purpose in the contiguous waters.
"The Senkaku islands are under our control and are unquestionably our territory historically and under international law," he said.
"We think it is extremely serious [matter] that these activities continue," he added. "We will respond firmly and calmly to the Chinese side."
Suga said the Japanese government had lodged a protest with Chinese diplomats over the incident.
The previous record for Chinese vessels in the contiguous zone was 64 days between April 12 and June 14, 2019, the Japan Coast Guard spokesman said.
Government spokespeople in Japan customarily speak on condition of anonymity as a condition of their employment.
The United States has long declined to take a position on the islands' sovereignty; however, Presidents Barack Obama and Donald Trump have both declared the Senkakus fall under the U.S-Japan security alliance.
burke.matt@stripes.com Twitter: @MatthewMBurke1
kusumoto.hana@stripes.com Twitter: @HanaKusumoto