China's territorial claims expected to be hot topic at Shangri-La Dialogue
---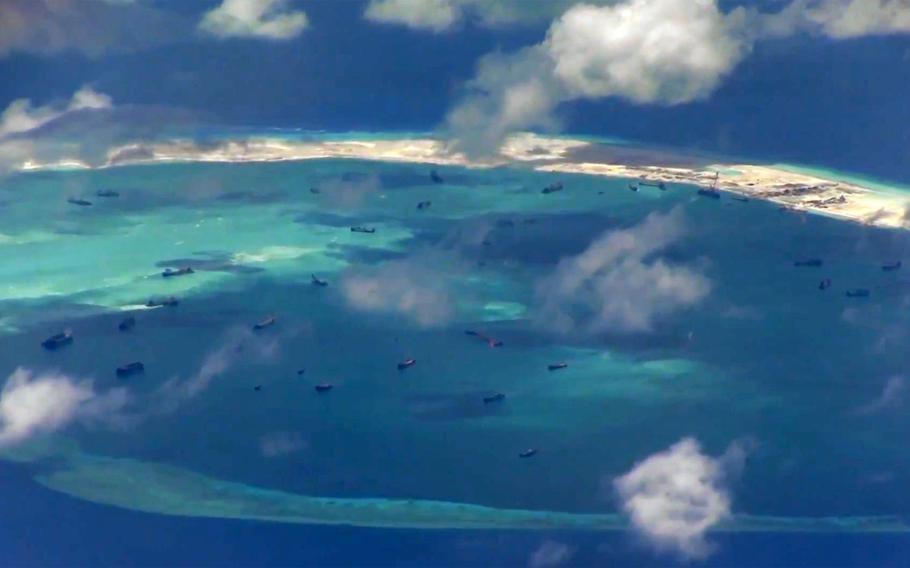 Defense Secretary Ash Carter's comments at a security summit this weekend could set the tenor for future relations between Washington and Beijing over tensions in the South China Sea.
China appears more ready to respond to criticism — unlike last year, when rebukes by world leaders over territorial disputes appeared to catch Chinese representatives off guard at the annual Shangri-La Dialogue.
Carter will join his counterparts from several of the largest militaries in Asia and Europe in Singapore at this year's summit, which begins Friday night and runs through Sunday.
Tensions have mounted for years in the South China Sea, where more than $5 trillion in global trade transits annually. China ambiguously claims more than 90 percent of the sea and nearly all of its tiny islands and reefs, several of which are alternately claimed by four other nations and Taiwan.
China also claims the right to regulate air and sea traffic over the territory, which the U.S. and most of the world consider international waters and airspace, and therefore open to surveillance.
On May 20, a Chinese radio dispatcher warned away a Navy P-8 surveillance plane flying over Fiery Cross Reef, which China has artificially built upon.
Navy officials have openly expressed concerns about China's construction of fortifications in the Spratly Islands and attempts to obstruct free navigation, said Alexander Neill, Shangri-La Dialogue senior fellow for Asia-Pacific security.
"Carter will almost certainly express those concerns and perhaps be a bit more explicit about what the U.S. expects in terms of de-escalation or avoiding hostilities," Neill said. "Whether or not Ashton Carter is going to offer a conciliatory tone on top of U.S. concerns or whether he'll be hard-nosed and provocative, we don't know."
China's claims were also the focus of last year's dialogue, which featured Japan Prime Minister Shinzo Abe as the keynote speaker. Abe, former Defense Secretary Chuck Hagel and others rebuked China for attempting to enforce its claims with force and coercion.
Chinese officials at the 2014 summit seemed unprepared for the critical onslaught. Chinese Lt. Gen. Wang Guanzhong made a note of telling the audience of government officials and academics that he was going "off the script" to respond.
However, Wang offered little legal justification for China's actions and instead pointed to U.S. and Japanese rhetoric as "full of words of threat and intimidation."
China is obviously preparing some kind of rebuttal for this year's summit, Neill said.
"The Chinese delegation this year is significantly stronger than the last few years put together," Neill said. "It's a pretty high-powered delegation."
This year's meeting is scheduled to include defense ministers from Australia, Japan, Britain, Germany, India, South Korea, Malaysia, Indonesia and other nations.
slavin.erik@stripes.com Twitter: @eslavin_stripes
---
---
---
---