China's actions mean larger role for P-8 Poseidon, 1 of Navy's newest planes
---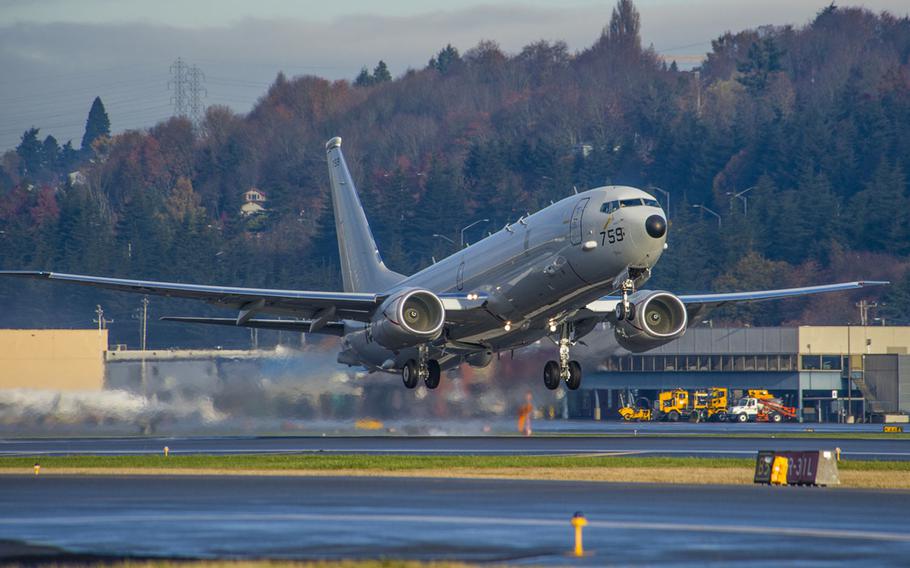 YOKOSUKA NAVAL BASE, Japan — The P-8A Poseidons that patrol over the South China Sea's disputed territory don't end up on many posters, nor are they likely to dethrone fighter planes as Hollywood's favorite military aircraft.
The P-8, modeled after the Boeing 737, looks from afar like an average commercial flight headed from Cleveland to Omaha.
That said, a commercial flight can't track and hunt submarines, fire anti-ship missiles, collect imagery, record surveillance data or work together with Triton drones.
Its versatility is among the reasons why the Poseidon was the type of plane flying over the contested Spratly Islands on May 20 when a ground dispatcher radioed its pilots with, "This is the Chinese navy ... You go!"
A CNN reporter was on board the flight over Fiery Cross Reef, a China-claimed territory about 650 miles from China's mainland and about 160 miles from Palawan, in the Philippines.
China has been rapidly building airstrips, moorings and other additions to reefs and rocks in the South China Sea during the past year, claiming them as sovereign territory.
It maintains an ambiguous claim to about 90 percent of the sea's territory. Beijing hasn't elaborated on whether that claim includes what the U.S., and most nations, consider international water and airspace.
The Navy maintains a daily watch over the area. More than $1.2 trillion in U.S. trade passes through the South China Sea annually, Adm. Samuel Locklear said at a security summit last year.
As tensions between China and its neighbors over territorial ownership and ocean access continue, it's likely that the P-8, which first arrived at U.S. bases 18 months ago, will be increasingly counted upon to patrol the South China Sea.
"We didn't understand how good that [P-8] platform was until it got out here last year for its first deployment," 7th Fleet commander Vice Adm. Robert Thomas said during a military technology exhibition May 13 in Yokohama, Japan. "It's become a workhorse."
The Navy had taken possession of 21 P-8s by January 2015, according to Boeing. The aircraft manufacturer is under contract for another 32 planes, but the Navy could eventually end up with as many as 117, according to the Naval Air System Command's website.
The P-8 was received with some skepticism in flying circles, largely because it replaced one of the most successful aircraft in history.
The P-3 Orion entered service in 1962 and still flies capably among the world's squadrons. However, the P-8 can fly up to 12,000 feet higher than the P-3, is faster and is considered more survivable in combat.
In the past, military officials rarely talked about maritime surveillance aircraft like the P-3 because of the sensitivity of their primary Cold War mission: Find Soviet submarines and be prepared to fight them in the event of a war.
The military has been far more open about the new P-8 in its surveillance role, though it restricts photos aboard the aircraft.
Although CNN happened to be the only news media on the May 20 flight, the Navy has invited Stars and Stripes, NHK and freelancers for national U.S. publications on P-8 familiarization flights in recent months.
slavin.erik@stripes.com Twitter: @eslavin_stripes
---
---
---
---