China outlines military expansion, opposes US 'meddling'
---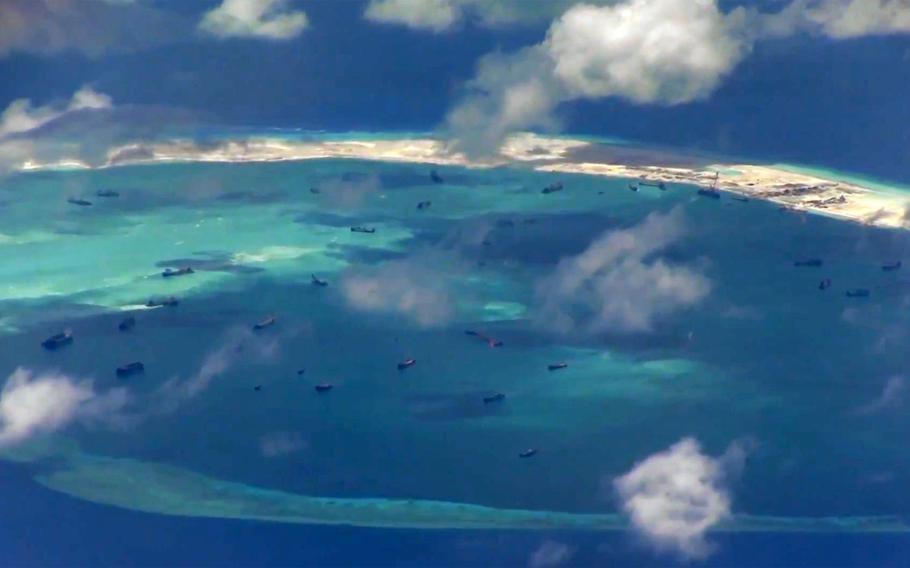 YOKOSUKA NAVAL BASE, Japan — China's new white paper on military strategy indirectly criticizes the United States for "meddling" in South China Sea affairs but also calls for a strengthened relationship to prevent crises from occurring.
The document, released Tuesday, outlined China's defense posture, which includes plans for a rapid expansion of the nation's cyberforce and offensive upgrades for its air forces.
The paper criticized other nations, without naming them, for "illegally occupying" reefs and islands and creating provocative situations at sea. China ambiguously claims about 90 percent of the South China Sea, where the Philippines, Malaysia, Brunei, Vietnam and Taiwan all claim territory. It also claims the Japan-administered Senkaku Islands in the East China Sea.
Shortly after noting the U.S. rebalance of military forces in Asia, it launched indirect criticism of U.S. air and sea patrols.
"Some external countries are also busy meddling in South China Sea affairs; a tiny few maintain constant close-in air and sea surveillance and reconnaissance against China," the paper stated. "It is thus a long-standing task for China to safeguard its maritime rights and interests."
On Monday, China rebuked the U.S. for a P-8A flight on May 20 over Fiery Cross Reef in the contested Spratly Islands. A CNN crew aboard the plane listened in as a Chinese dispatcher ordered the U.S. Navy plane to leave, while the pilots maintained their rights to fly over international airspace.
"China firmly opposes America's provocation, and has lodged solemn representations with the American side … We urge the U.S. side to correct its mistake, stay rational and cease irresponsible words and deeds," Chinese Foreign Ministry spokeswoman Hua Chunying said Monday.
Fiery Cross Reef was, until recent years, a small rock that barely peaked over the sea at high tide. During the past year, satellite photos show a long runway and other features added to what is now a sizable artificial island.
Under the U.N. Convention on the Law of the Sea, artificial islands, along with reefs and rocks — which cannot naturally support human habitation — do not generate territorial waters. Nor do they create Exclusive Economic Zones, which extend up to 200 nautical miles from shore.
There are a few habitable islands among the roughly 750 land features composing the Spratly Islands that could be used to claim an EEZ.
China argues that surveillance isn't allowed over EEZs — a view that 25 or so nations endorse to some extent.
The U.S. and most other nations consider EEZs, which compose about one-third of the Earth's oceans, to be international waters and therefore open to surveillance by both sea and air.
Despite those disagreements, China and the U.S. still managed to agree on procedures at sea for unplanned encounters last year. The new white paper called for continued exchanges with the U.S. military "to strengthen mutual trust, prevent risks and manage crises."
The white paper also addressed other areas where the Chinese military plans expansion.
"Being one of the major victims of hacker attacks, China is confronted with grave security threats to its cyber infrastructure," the paper stated. "As cyberspace weighs more in military security, China will expedite the development of a cyber force."
China's military is suspected of hacking into various U.S. private public networks, claims that Chinese officials have denied. In November, a Senate committee investigation accused China of hacking into the private databases of Pentagon contractors at least nine times, though little evidence was released in the unclassified version of the report.
The white paper also calls for China's air force "to endeavor to shift its focus from territorial air defense to both defense and offense, and build an air-space defense force structure that can meet the requirements of informationized operations."
In April, the U.S. and Japan agreed on new defense guidelines to address "emerging threats against space systems."
While China and the U.S. have each called for the peaceful use of space, attacks on satellite communications are considered by many strategic analysts as a first step in a hypothetical mass conflict between world powers.
---
---
---
---