China calls for restraint in dealing with N. Korea amid fears of new provocation
by
Kim Gamel
April 24, 2017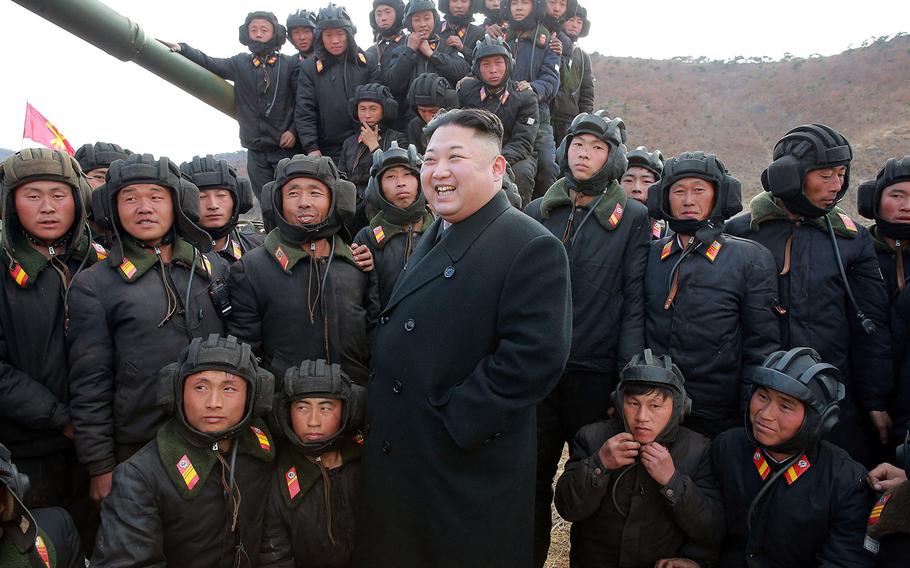 SEOUL, South Korea — Chinese President Xi Jinping called for restraint Monday, as North Korea threatened to sink a U.S. aircraft carrier headed toward the divided peninsula amid fears the communist state will conduct another nuclear or missile test to mark its army day.
President Donald Trump spoke with Xi and Japanese Prime Minister Shinzo Abe by telephone Monday to discuss the tense standoff over the North's nuclear weapons program.
Pyongyang frequently conducts what Washington and Seoul call provocations to mark major anniversaries, although it did not carry out a sixth nuclear test as many had expected last week during April 15 celebrations for its late founding father Kim Il Sung's birthday.
Instead, it staged a massive military parade on that occasion, then tried to launch a missile the following day. The test failed, but the United States and South Korea have been on alert for another effort on Tuesday, when Pyongyang will celebrate its military foundation day.
The USS Carl Vinson also was closer to the peninsula after confusion and misinformation about its whereabouts last week. The aircraft carrier strike group began joint drills with Japanese destroyers in the western Pacific Ocean this weekend and was expected to head north after that.
Vice President Mike Pence told reporters during a visit to Australia on Saturday that the aircraft carrier and its accompanying warships will be in the waters off the peninsula's east coast "in a matter of days, before the end of this month." He gave no other details.
The strike group has transferred from the San Diego-based 3rd Fleet's command to the Japan-headquartered 7th Fleet's command, Navy officials said Monday.
North Korea threatened to strike the carrier, saying it was ready to show its "military force" as well.
"Our revolutionary armed forces are fully ready for combat that could sink a U.S. nuclear aircraft carrier with a single strike," the official newspaper Rodong Sinmun said Sunday in a commentary.
That commentary was on the inside pages. Rodong Sinmun's front page featured photos and news of leader Kim Jong Un visiting a military-run pig farm.
China's Xi told Trump that Beijing strongly opposes North Korea's nuclear weapons program but hopes "all parties will exercise restraint and avoid aggravating the situation," Chinese state media reported.
Beijing is on edge because Trump has signaled he will take a hard line in dealing with North Korea and shown he isn't afraid to wield unilateral military action, after a cruise-missile strike against Syria and a massive bombing in Afghanistan.
The Trump administration also has pressed China to do more to persuade North Korea to abandon its nuclear ambitions.
China objects to North Korea's weapons program, which violates U.N. Security Council resolutions, but it also fears a regime collapse that could cause a humanitarian crisis on its border, as well as possibly increase U.S. military influence in the region.
North Korea has conducted five nuclear tests, including two last year, and test-fired nearly 30 missiles, stepping up its efforts despite U.N. Security Council sanctions and diplomatic pressure.
38 North, a website that tracks activities in the reclusive country, said commercial satellite imagery taken Wednesday showed what appeared to be trailers near the tunnel, which may be the focus of preparations for another nuclear test. It also noted mining carts near tracks leading to a spoil pile and a net canopy that could be used to hide equipment.
Experts have pointed out that the North knows it's being monitored and could use activity at its nuclear site as a bluff.
"Regardless, satellite imagery continues to indicate that the Punggye-ri nuclear test site appears able to conduct a sixth nuclear test at any time once the order is received from Pyongyang," said 38 North, which is run by the U.S.-Korea Institute at Johns Hopkins University.
Yang Mu-jin, a professor at the University of North Korean Studies in Seoul, said he didn't expect North Korea to do anything serious on Tuesday unless it feels provoked.
"Washington and Beijing seemingly have been pressuring Pyongyang more than at any other time, while trying in their own way to create an atmosphere for conversation or resuming negotiations," he said.
"But there's a slim chance it will act," he said Monday. "If high-level U.S. officials bother the North Korean system or its dignity, it might make an armed protest tomorrow."
gamel.kim@stripes.com Twitter: @kimgamel