Cavalry troops in South Korea get up close and personal with Russian battle tanks
by
Matthew Keeler
November 21, 2019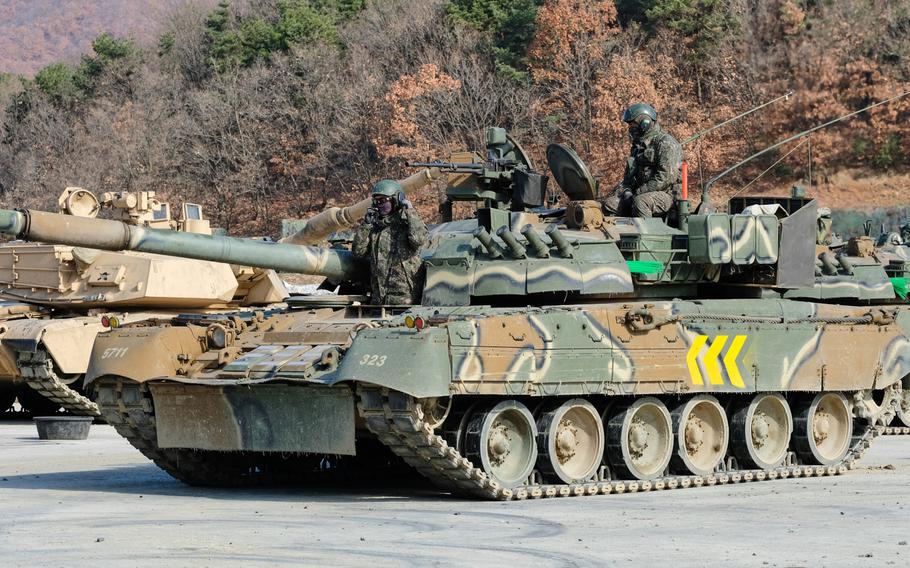 POCHEON, South Korea — Soldiers of the U.S. 3rd Armored Brigade Combat Team, nearly five months into a nine-month rotation in South Korea, peered this week inside a Cold War relic, one they may still encounter on the battlefield.
At the Rodriguez Live Fire Range, part of a training complex spread over more than 3,000 acres, troops of 3rd Battalion, 8th Cavalry Regiment out of Fort Hood, Texas, inspected Russian T-80 battle tanks courtesy of their South Korean army hosts. South Korea still fields the T-80 as part of its arsenal.
"This is an opportunity for my soldiers to take a look at a T-80U tank," Sgt. 1st Class Travis Husted, a platoon sergeant, told Stars and Stripes on Tuesday. "It gives the opportunity to crawl around, check out their capabilities, limitations and understanding, due to the fact that it's a type of tank that threat countries often use. It's an opportunity for them to understand what they are going to be up against, possibly."
South Korea's own 3rd Armored Brigade brought the tanks to the complex. It acquired dozens of T-80Us from Russia in the mid-1990s to satisfy debts left by the former Soviet Union. Introduced in 1976, the T-80 succeeded the mainstay T-64 and T-72 tanks of the Red Army.
South Korea also fields two newer battle tanks, the K1 Type-88 and the more recent K2 Black Panther.
U.S. forces employ the M1 Abrams battle tank and at the live fire range the tank crews from Fort Hood train as a single four-man team: tank commander, gunner, loader and driver.
Pvt. Christian Pelissier, a loader on an Abrams, said this was the first Korean tank he has seen since joining the brigade in July.
"You can tell the equipment is outdated, and it's actually pretty cool they're able to adapt to that and still use it in modern battlefields," he said. "I was able to hop in the gunner seat and the driver's seat and have a look around. I also didn't even know that it was auto-loading."
The two brigades held a battle drill involving two South Korean and four U.S. tanks and 16 soldiers on the range Tuesday, even after the U.S. and South Korea postponed a joint air drill over the weekend in the wake of complaints from North Korea. Another tank drill was scheduled Wednesday.
The North characterizes U.S.-South Korean military exercises as rehearsals for invasion. U.S. Defense Secretary Mark Esper postponed the air force drill as an "act of goodwill" meant to bring the North back to negotiations aimed at eliminating its nuclear arsenal. The North dismissed the gesture as insufficient.
For the U.S. tankers, working with an ally was a valuable experience, said Husted, the platoon sergeant.
"One of the most delicate tasks that we have as an armored force is coordinating with adjacent units — that's a task that we have a hard time mastering within our own army," he said. "Having the opportunity to go outside to a friendly nation and coordinate with their tank units and master it here is pretty unique."
As a major combat unit that is on the peninsula for only nine months, the rotational unit is disadvantaged from the day it arrives, compared to permanent units that have built a working relationship with the Korean allies.
"Each unit that comes in has to build that new local chemistry that is organic to them and their local counterparts," said platoon leader 1st Lt. Herman Hoffman. "Having events like this provides that opportunity for us to work together and continue to build that relationship."
keeler.matthew@stripes.com Twitter: @MattKeeler1231