Catholic military families in Japan attend papal Mass at Tokyo Dome
by
Caitlin Doornbos
November 26, 2019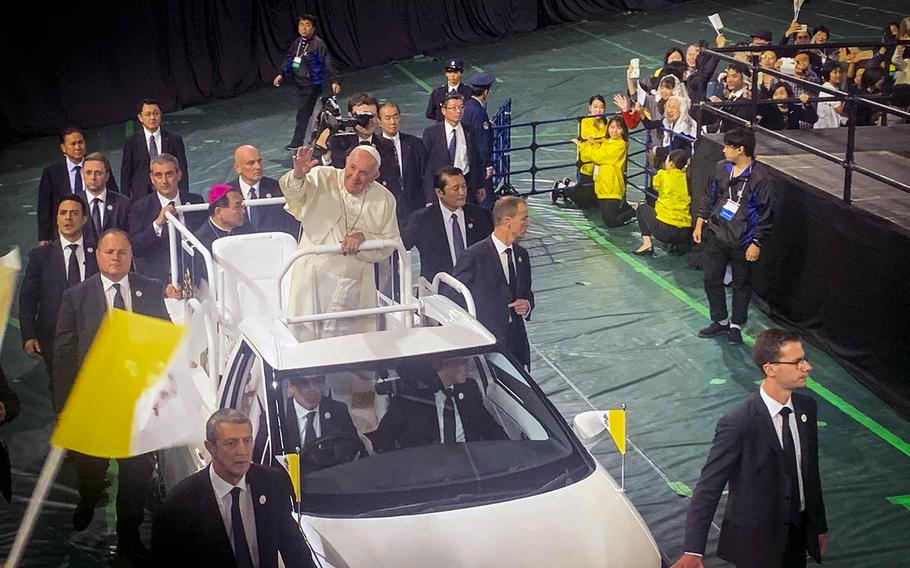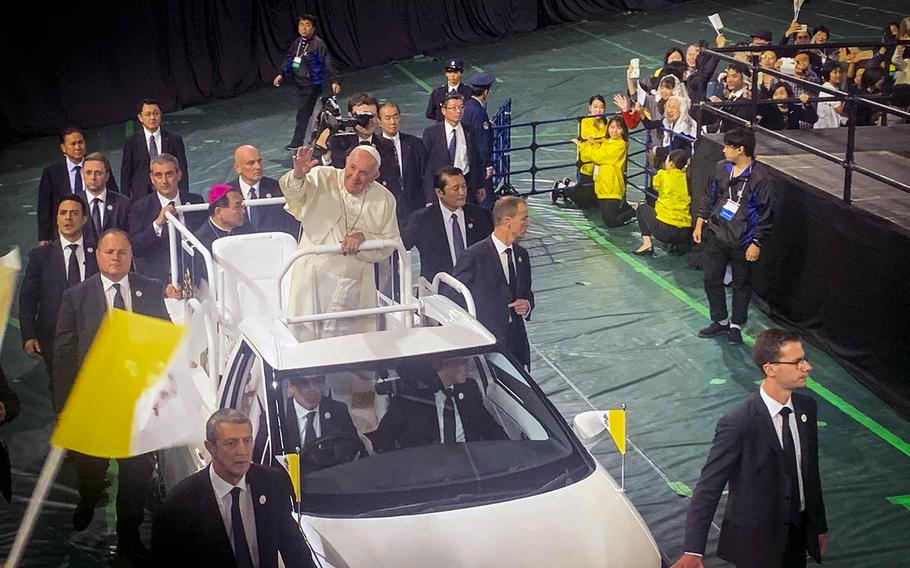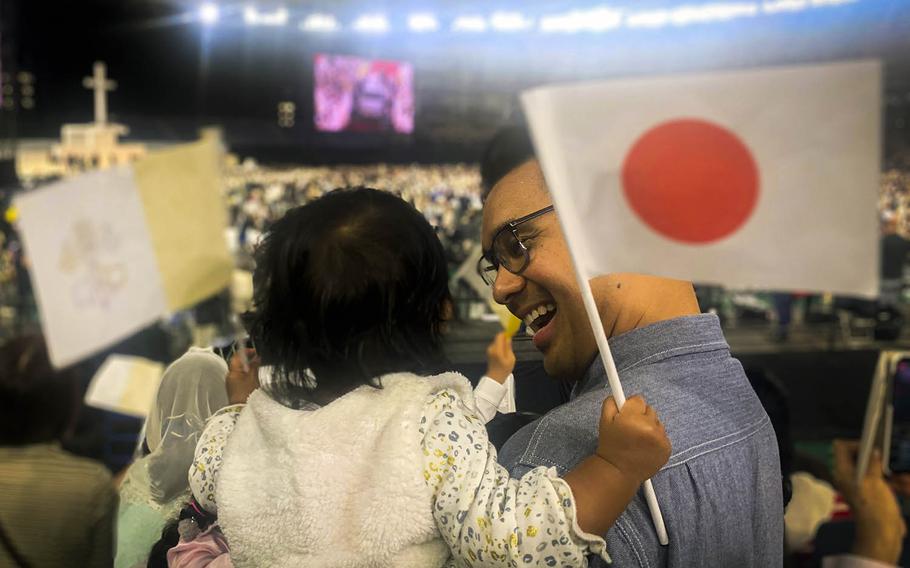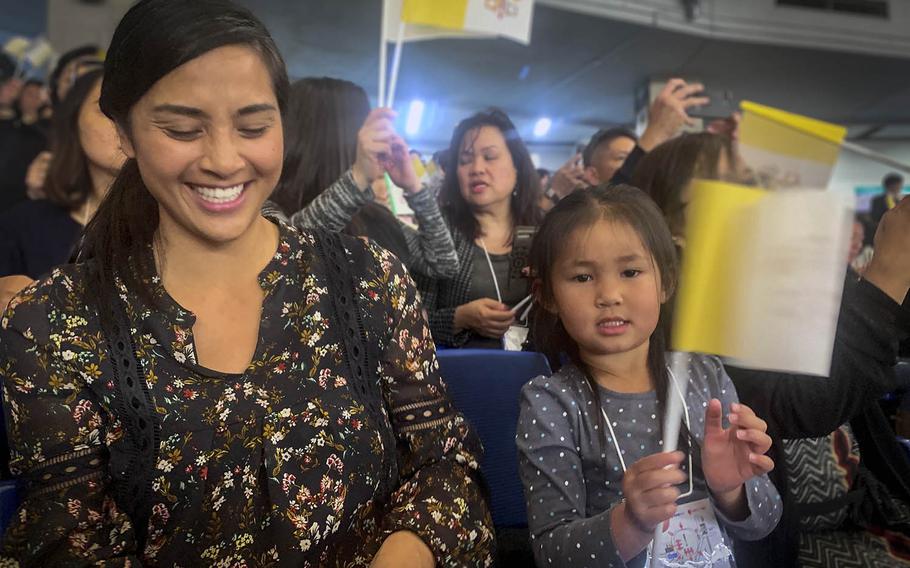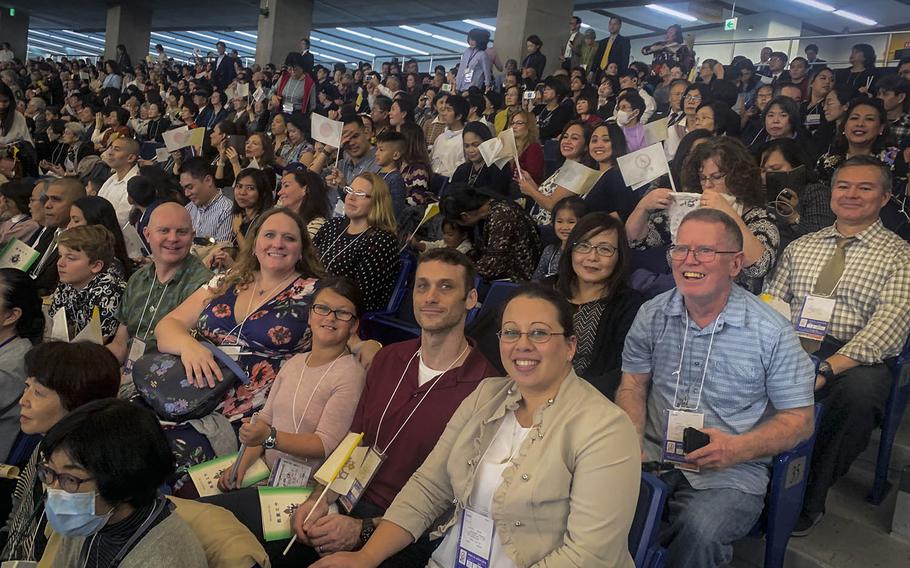 TOKYO — Pope Francis celebrated Mass before 55,000 people Monday afternoon in Tokyo Dome stadium, kissing babies and greeting the crowd in his "popemobile" before the service began.
A group of 49 Catholics from the Chapel of Hope at Yokosuka Naval Base, many of whom had never seen the Holy Father in person, chartered a bus to the service, organizer Mia Duhon said.
The Catholic community at Yokota Air Base in western Tokyo held a lottery for tickets and took 25 parishioners to the event, according to the Yokota Chapel. Two priests from Yokosuka, one from Misawa Air Base on northern Honshu island and three from Yokota also attended the Mass.
Lt. Cmdr. Ryan de Vera, a public affairs officer at Navy Public Affairs Support Element in Yokosuka, brought his family of five on the trip. As the pope approached his section in the stadium, de Vera took his 1-year-old daughter, Avery, to the edge of the pope's path to try to have the pontiff kiss her.
The pope passed by Avery but appeared to make eye contact with de Vera, 35, while smiling and waving to the crowd.
"He looked at us!" de Vera exclaimed.
De Vera's wife, Joy de Vera, said she had never before seen the head of the Catholic Church in person, and knew it would be "a great opportunity for our family to see him."
"I told my kids that this was a special opportunity to see him and that one day when they grow up, they can tell their kids that they were able to see him," de Vera said.
The theme of the Mass was "protect all life," with the first reading chosen from the book of Genesis to reflect the pope's message that God created life in his image.
"We are called to be a community that can learn and teach the importance of accepting 'things that are not perfect, pure or distilled, yet no less worthy of love,'" Pope Francis said in his homily, according to an official translation from Spanish. "Is a disabled or frail person not worthy of love? Someone who happens to be a foreigner, someone who made a mistake, someone ill or in prison: Is that person not worthy of love?"
His homily also addressed a Japanese culture notorious for overwork and exhaustion. He said he spoke with young people who reported feeling "socially isolated" and who "remain on the margins, unable to grasp the meaning of life and their own existence.
"Increasingly, the home, school and community, which are meant to be places where we support and help one another, are being eroded by excessive competition in the pursuit of profit and efficiency," the pope said. "The Lord's words act as a refreshing balm, when he tells us not to be troubled but to trust."
Over the weekend, the pontiff visited Hiroshima and Nagasaki, sites of nuclear bombings at the end of World War II. He advocated for denuclearization, a national priority of the government of Japan.
A group of 80 Catholics and a priest from Marine Corps Air Station Iwakuni attended the Mass at Hiroshima, and six families from the base went to Mass at Nagasaki, said Candice Wampler, the Catholic religious education director at Iwakuni, who said she saw the pope in person for the first time.
"It didn't feel real," Wampler said. "It was an amazing Mass. We were so close."
Less than 1% of Japan is Christian, about a third of whom are Catholic. Kagefumi Ueno, former Japanese ambassador to the Holy See, during a press conference Nov. 1 said Japan invited the pope to visit "not as a religious leader, but as a head of state."
This is the first time in nearly four decades that a pope has visited Japan, and Pope Francis is only the second pope to ever do so, according to the Vatican. The previous pontiff, Pope Benedict XVI, did not visit Asia during his eight years at the helm of the Catholic church.
Pope Francis wrote in his 2010 book, "El Jesuita," that he dreamed of serving as a missionary in Japan, where in 1597 at Nagasaki 26 Catholics were crucified for their faith.
"The Vatican is changing significantly these days," Ueno said. "The Vatican was very Europe-centric, so Asia was of little interest to the Vatican. Under Pope Francis, there has been change."
Before he left Japan for Rome on Tuesday, the pope gave a speech at Sophia University, a Jesuit college in Tokyo, according to the Vatican.
Naval Air Facility Atsugi did not arrange a group visit. Representatives from the Catholic communities at Camp Zama and Sasebo Naval Base could not be reached.
Reporter Christian Lopez contributed to this report.
doornbos.caitlin@stripes.com Twitter: @CaitlinDoornbos