Carter to visit Beijing, increase US-China security exercises
by
Tara Copp
June 4, 2016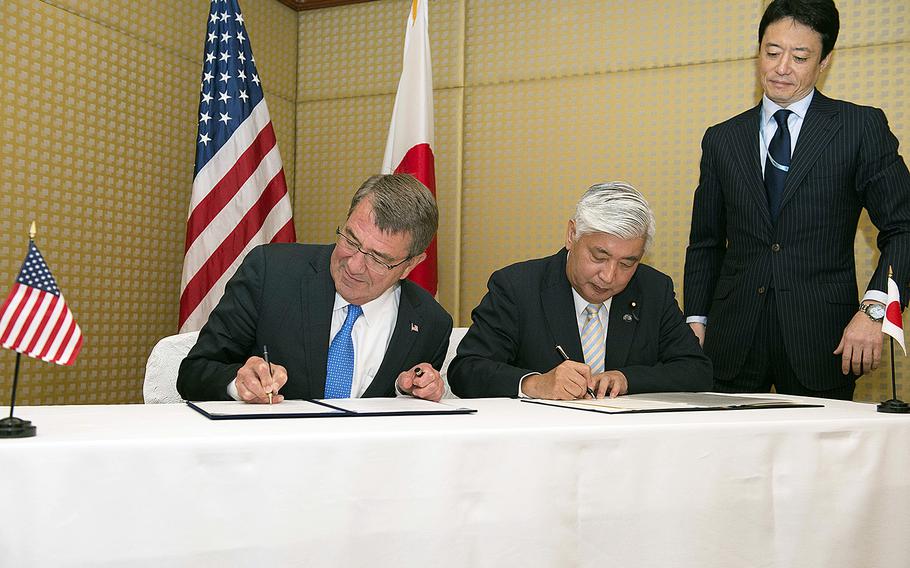 SINGAPORE — Secretary of Defense Ash Carter will visit Beijing later this year to build upon recent overtures on cooperation with China, even as the U.S. emphasizes that it will be the primary hedge against future aggression in the South China Sea.
Carter announced the trip during his speech at the annual Shangri-La Dialogue security conference in Singapore, where about 20 defense ministers are discussing security issues in Asia, including China's construction of airstrips and military features on top of reclaimed reefs and islets in the South China Sea that are also claimed by other countries.
"The United States remains committed to working with China to ensure a principled future," Carter said, noting that China will continue to participate in RIMPAC, the world's largest international maritime exercise with 27 countries involved this year, thereby increasing the two militaries' interactions. The exercises open June 30 in Hawaii and California,
"In fact, the United States and China will sail together from Guam to Hawaii for RIMPAC, conducting seven exercise events along the way, including an event to practice search-and-rescue," Carter announced.
The approach has been questioned by Republican U.S. senators also attending Shangri-La, who see the increased cooperation as a reward for China's aggression.
At a press briefing in Singapore, U.S. Pacific Commander Adm. Harry Harris said the exercises reflect a strategy of "cooperation where we can – but we have to confront [China] if we must," Harris said.
Harris said despite increased concern over China's militarization of the South China Sea, "We've seen positive behavior in the last several months with China. Every now and then … you'll see an incident in the air that we may judge to be unsafe – but those really over the course of time are rare."
"We want to cooperate with China in all domains as much as possible," Harris said.
As part of the White House's "Pacific pivot," Carter has visited the region five times in his 16 months in office, making it a top priority to shore up key alliances in response to a rising China.
During that time, the Pentagon has announced enhanced defense cooperation agreements with the Philippines and Singapore, in addition to emphasizing exercises with India and Malaysia. The Pentagon has also moved forward on Japan's revised defense policy, which allows its forces to helps allies under threat for the first time since the end of World War II — including the U.S. warships that have been the cornerstone of Tokyo's pacifist defense strategy for 70 years.
In a historic visit to Hanoi last month, President Barack Obama also announced the end of the arms embargo to Vietnam, allowing it access to the full range of U.S. exported weaponry.
"The United States will remain the most powerful military and main underwriter of security in the region for decades to come — and there should be no doubt about that," Carter said in his speech Saturday.
The emphasis on cooperation instead of direct confrontation is a theme that was frequently pushed by U.S. partners in the Asia-Pacific in the buildup to this year's conference.
"I believe that if we look at everything from the standpoint of conflict, we will never be a able to see a way out," Thailand Prime Minister Prayuth Chan-Ocha said. A vision of the U.S. remaining the primary architect of peace in the region is not shared by China. The country has accused the U.S. of enflaming regional tensions surrounding its construction on the Spratly, Woody and Paracel Islands in the South China Sea, primarily through the freedom of navigation sails and surveillance flights the U.S. has made within the area China claims as its sovereign territory.
China has recently responded by harassing patrolling U.S. aircraft and increasing the overtures it makes to traditional U.S. allies.
Late last month, Chinese President Ji Xinping reached out to the newly elected Philippine president, Rodrigo Duterte, to warm bilateral relations that have been chilled by China's aggressive buildup not far from the Philippine island of Palawan, which led to a new defense cooperation agreement between Manila and Washington. Duterte, a political maverick who began initiating a number of controversial internal reforms even before officially assuming the presidency, responded by suggesting the Philippines may seek a more independent role from the U.S. and negotiate bilaterally with China over its South China Sea disagreements.
China did not send its defense minister to the dialogue, instead dispatching Deputy Chief of the Joint Staff Department Adm. Sun Jianguo, as it did last year. In a question-and-answer session at the opening speech, a Chinese People's Liberation Army officer traveling with the official delegation questioned the U.S. vision of itself as the region's primary security architect.
"For half a century ASEAN [the Association of South East Asian Nations] has developed a way of dealing with disputes among member states in a peaceful way," said Maj. Gen. Yao Yunzhu, director of the Center for China-America Defense Relations at the People's Liberation Army's Academy of Military Science.
The U.S., Carter said, is committed to remaining part of the Asian security dialogue, emphasizing that it will continue to see its role as a primary enabler of the balance of power in the region.
"America wants to expand military-to-military agreements with China to focus not only on risk reduction, but also on practical cooperation," Carter said. "As the region changes and the rebalance is solidified, the United States is and will continue using its unique capabilities, experience and influence to enhance the region's security network — always contributing with commitment, strength, and inclusion."copp.tara@stripes.com Twitter: @TaraCopp