Carter calls Duterte's comments 'deeply troubling,' seeks cooperation in Pacific
---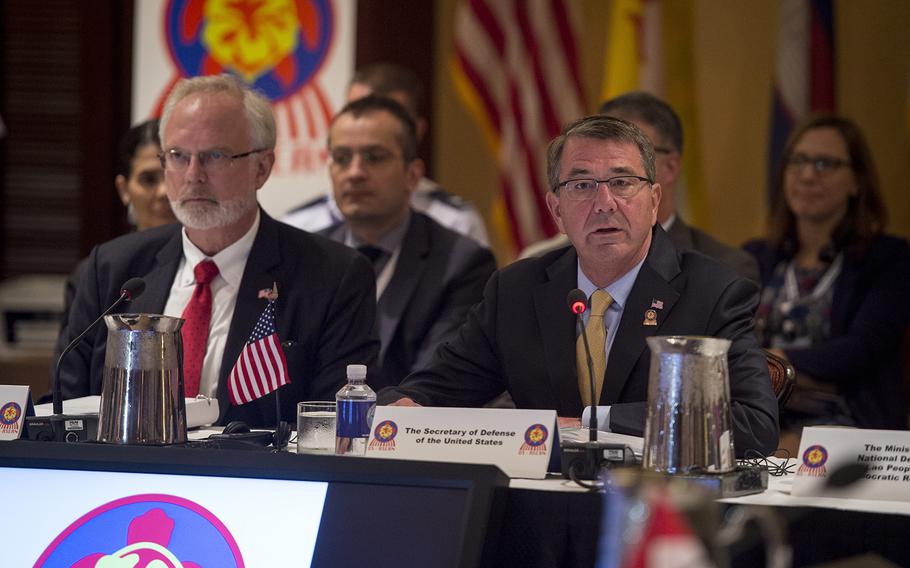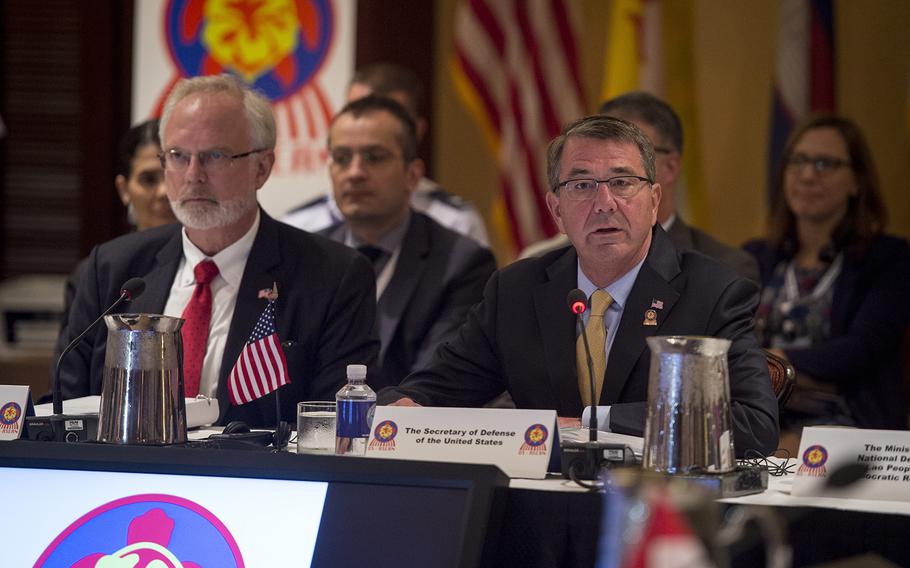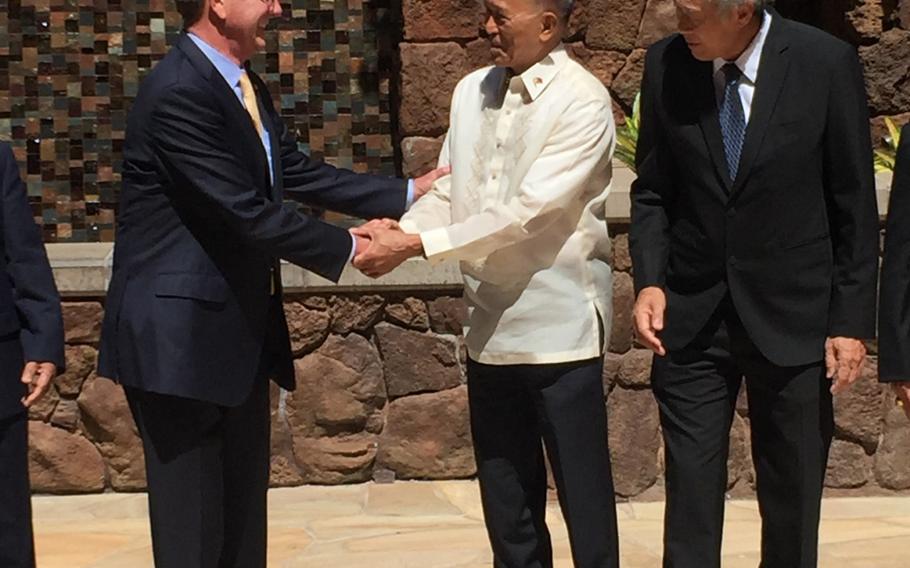 KO OLINA, Hawaii — Defense Secretary Ash Carter called comments by the Philippines president for a Holocaust-like solution to eliminate drug dealers "deeply troubling" but stopped short of saying they would impact the two nations' military ties.
Carter, attending a meeting Friday of defense ministers of the Association of Southeast Asian Nations, was referring to remarks made earlier in the day by President Rodrigo Duterte when he returned to the Philippines from Vietnam.
The outspoken Duterte noted that Nazi dictator Adolf Hitler had killed millions of Jews, adding that "there are three million drug addicts" in the Philippines.
"I'd be happy to slaughter them," Duterte said. "If Germany had Hitler, the Philippines would have ...." He paused and pointed to himself.
Carter said Duterte's comments were not discussed during the meeting with the Asian ministers, including Philippine Defense Secretary Delfin Lorenzana.
Instead, Carter told the gathering that Washington wants to encourage more regional cooperation in Asia and the Pacific on such issues as maritime security and fighting terrorism.
Maritime security has taken renewed importance because China is moving forward to reinforce territorial claims in the South China Sea, which the U.S. and other nations consider a threat to freedom of the seas.
Although Carter said Duterte's comments were not discussed, "I can tell you that just speaking personally for myself, I find those comments deeply troubling."
Nevertheless, Carter said the alliance between the Philippines, a former U.S. colony, and the United States "has been in existence and has served the interests of our nations for many years now."
On Thursday Carter told sailors on the USS Carl Vinson that ties between Manila and Washington were "ironclad."
Carter's carefully crafted remarks reflect concerns among U.S. officials on how to deal with Duterte, whose country had been a key component in American strategy for discouraging Chinese claims and fighting Islamist terrorism in the region.
Efforts to enhance regional security cooperation have been complicated because of a shaky relationship with the Philippines since Duterte took office June 30, promising to rid the country of drug abuse _ including through extrajudicial killings..
In early September, Duterte lashed out at President Barack Obama over U.S. concern over human rights abuses in his anti-drug campaign, using a Filipino expletive which translates as "son of a whore."
That prompted Obama to cancel a meeting with Duterte which was to have taken place on the sidelines of an international conference in Laos.
Under Duterte's predecessor, the U.S. had signed agreement allowing American forces access to five military bases in the Philippines and for deepening military ties.
However, Duterte, who took office in June, has announced an end to joint U.S.-Philippine military exercises. He has also called for U.S. special operators to leave Mindanao island, where they had been assisting Filipino troops in the fight against Muslim militants.
Duterte has also spoken of the need to maintain Philippine sovereignty against its former colonial ruler. Such comments have raised concern over the future of the bases access agreement.
That could threaten U.S. efforts to build security networks in East Asia, not only to deal with China but also threats from North Korea and the Islamic State.
A senior U.S. defense official who briefed reporters said that Washington estimates that several hundred Islamic State fighters have returned to Southeast Asia from the Middle East.
ASEAN, as the association is commonly known, is a partnership 10 nations – Laos, Vietnam, the Philippines, Indonesia, Cambodia, Brunei, Myanmar, Thailand, Singapore and Malaysia. The bloc is considered a key U.S. partner in America's effort to bolster its influence in the Pacific.copp.tara@stripes.com Twitter: @TaraCopp
---
---
---
---