Carrier Air Wing 5 to fly its first aerial demo at Iwakuni airshow
by
James Bolinger
April 12, 2019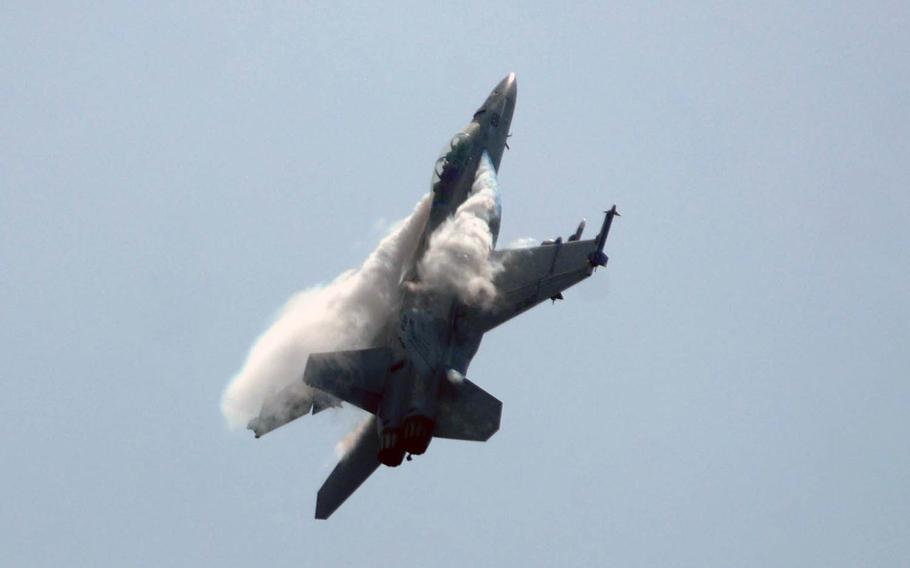 MARINE CORPS AIR STATION IWAKUNI, Japan — U.S. Navy F/A-18 Super Hornets from Carrier Air Wing 5 will perform an air demonstration at the 43rd annual Friendship Day on May 5, a first since the wing relocated here last year.
The last fixed-wing squadron from the carrier wing arrived at Iwakuni from Atsugi Naval Station near Tokyo before the 2018 air show, but the wing only provided static displays.
Carrier Air Wing 5 is assigned to the USS Ronald Reagan, the Navy's only permanently deployed aircraft carrier, homeported at Yokosuka Naval Station.
The crowd in 2018 exceeded 215,000 aviation enthusiasts from across Japan, and many of the acts seen last year will be on display again this year.
The Marine Corps' most advanced fighter, the fifth generation F-35B Lighting II, will show off its ability to hover in midair. It's expected to participate in the Marine Air-Ground Task Force demonstration, during which the jet will work with infantry Marines performing a tactical insertion.
Other military performances will include the Pacific Air Force's F-16 demonstration team, the Japan Air Self-Defense Force's Blue Impulse demonstration team, a Japan Ground Self-Defense Force airborne rappelling demonstration and the JASDF F-2 multirole fighter.
Civilian performances will include Team Fastrax, the largest professional parachute team in the world and a new addition to the event; Yoshihide Muroya, in 2009 the first Asian pilot in the Red Bull Air Race World Championship; and Masahiro Utsumi, call sign "Whiskey Papa," who is a 20-year veteran of international air shows.
"Friendship Day is just one of the ways we show our appreciation to the citizens of Japan and to also provide more transparency into the kind of operations we conduct here on MCAS Iwakuni," said Col. Richard Fuerst, the base commander, in a statement following last year's air show.
MCAS Iwakuni is home to Marine Air Group 12, Navy Carrier Air Wing 5 and Japan Maritime Self-Defense Force Fleet Air Wing 31.
Gates open at 7 p.m. and visitors from across Japan are welcome to attend, according to an April 12 press release from the MCAS Iwakuni Communication Strategy Office.
Military members and families are asked to refrain from wearing their uniforms for the event, unless they are on official business.
Many U.S. military bases across Japan host Friendship Day events including Yokosuka Naval Station, Yokota Air Base, Misawa Air Base and Kadena Air Base, Okinawa.
bolinger.james@stripes.com Twitter: @bolingerj2004