Can you catch the coronavirus on a plane? It's complicated
by
Kim Gamel
August 3, 2020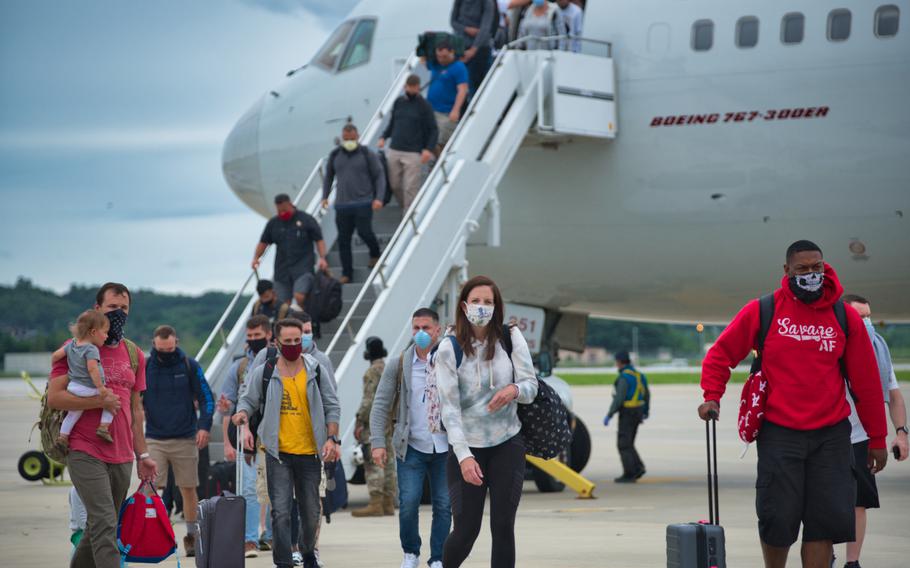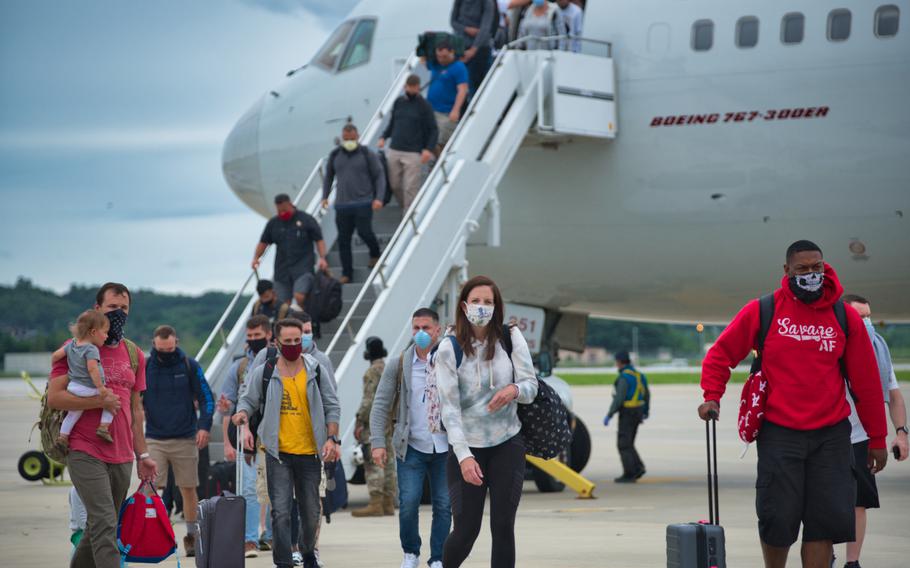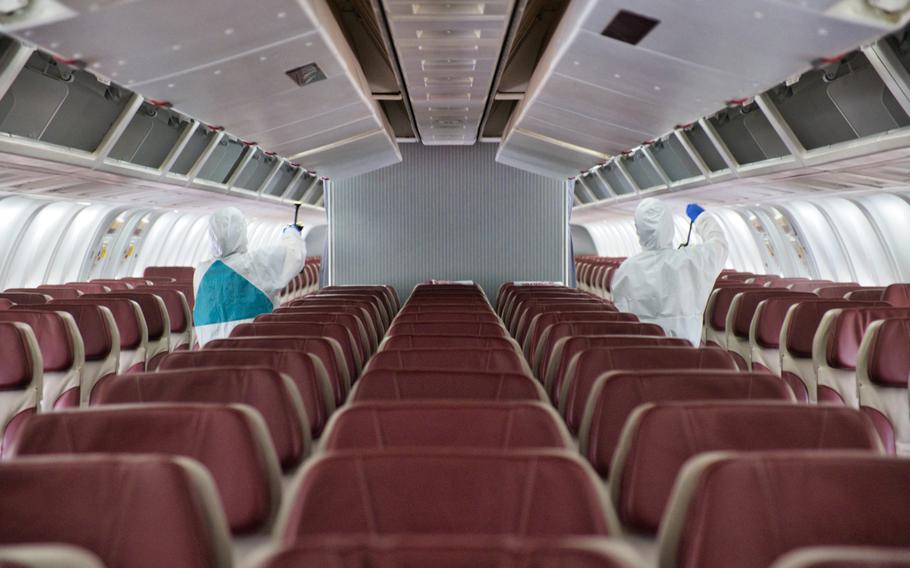 Stars and Stripes is making stories on the coronavirus pandemic available free of charge. See other free reports here. Sign up for our daily coronavirus newsletter here. Please support our journalism with a subscription.
SEOUL, South Korea — The influx of American troops testing positive for the coronavirus after flying to South Korea and other U.S. bases highlights the dangers of air travel during the pandemic.
Nearly 82% of the 133 confirmed cases affiliated with U.S. Forces Korea have been service members or dependents moving to the peninsula for new assignments or returning from a trip abroad.
The overall USFK number is relatively low considering the Pentagon has reported that more than 27,000 troops globally have contracted the virus since the outbreak began earlier this year.
Still, the fact that all but 24 patients had traveled to the divided peninsula — mainly from the U.S. — warrants a look at the risks of flying and the best ways to mitigate them.
Can you catch it on a plane?Airlines have measures in place to reduce the risk of in-flight germ transmission, including filtration systems that remove most airborne particles and a rapid turnover of air in the cabin.
Many also have implemented new coronavirus-specific rules including mandatory masks, limited interaction with flight attendants and reduced capacity.
"So far there's no evidence that anybody definitely got it from the airplane," said Qingyan Chen, an engineering professor at Purdue University who has researched disease transmission aboard aircraft.
Nor has it been ruled out since much remains to be studied about the virus, which first appeared in China late last year and has proven highly contagious.
"I don't think there's any virus in the air conditioning system supplied into the cabin," Chen said in a recent telephone interview.
"But the infection doesn't occur because of the air conditioning system. The infection occurs when your neighboring passenger coughs, talks or breathes," he added.
Travelers also may be exposed to the virus during other parts of the transportation process starting with their ride to the airport.
"The whole United States now has rampant community transmissions," said Paloma Beamer, president of the International Society of Exposure Science. "It could be in their communities before leaving. It could be on the flight. It could be at the airport."
With little control over most aspects of travel, the best way for people to minimize the risk is to protect their personal space as much as possible, she said in a recent telephone interview.
Beamer, an associate professor of environmental health sciences at the University of Arizona, recommends multiple, shorter flights to decrease the need to use the lavatory and to lessen time spent on the same flight as somebody who may be infected.
"Duration is really important because the longer you're breathing the air, the larger viral dose you would get," she said.
Other suggestions:
• Avoid crowded lines for security and maintain distance from other people while waiting for the flight and boarding.
• Use plastic bags for tickets and passports that often need to change hands.
• Choose a window seat to minimize the number of people nearby.
• Bring sanitizing hand wipes to clean unavoidable surfaces such as seats, armrests and trays.
• Turn the ventilation above the seat to the highest level you can tolerate.
Quarantine requirementsThe Atlanta-based Centers for Disease Control and Prevention agrees that the risk of in-flight transmission is low but has recommended that Americans avoid all international travel during the pandemic.
"Most viruses and other germs do not spread easily on flights because of how air circulates and is filtered on airplanes," the CDC says.
"However, social distancing is difficult on crowded flights," according to the agency. "This may increase your risk for exposure to the virus that causes COVID-19."
The Defense Department halted military moves in March but recently lifted restrictions for many locations, including South Korea, that have had success in slowing the virus' spread.
Anticipating a surge of newcomers during the summer, USFK implemented a two-week quarantine process that begins the moment passengers get off the plane. Everybody is tested at least twice — upon arrival and before being allowed to leave quarantine.
Many service members travel on a government-chartered flight known as the Patriot Express, which originates in Seattle. Others take commercial flights.
USFK spokesman Col. Lee Peters said Monday that 23% of the new arrivals had negative results on the arrival test but positive on the second one required to exit quarantine.
The estimated median incubation period for COVID-19, the disease caused by the coronavirus, is five days.
"We don't know where the people are catching COVID-19," Peters said. "All we know is that we control our bubble, and when they come to South Korea we immediately take control of them."
"They don't have interaction with anyone on USFK installations or the local community," he added.
The U.S. Transportation Command, which oversees the Patriot Express, said passengers and crew members undergo medical screenings and temperature checks prior to flight.
"We continue to evaluate these cases and are not aware of any confirmed transmissions of COVID-19 in-flight," a spokesperson told Stars and Stripes in an email.
The directive to wear face coverings during the flights and inside air terminals applies to all military personnel, family members, contractors and civilian employees.
"Data from multiple sources indicate the risk of viral transmission in this environment is low," the spokesperson said in response to questions.
Aircraft also are equipped with High Efficiency Particulate Air, or HEPA, filtration systems and a rapid turnover of air in the cabin.
"The system does not kill the virus but filters it out of the airstream," the Transportation Command said.
Testing before flightsSouth Korea, which was an early epicenter of the respiratory disease, has flattened the curve of new infections but continues to struggle with imported cases and cluster infections.
The government also requires all arrivals to be tested and undergo a two-week quarantine.
Kwon Jun-wook, director-general of the Korea Centers for Disease Control and Prevention, said he was not aware of anybody catching COVID-19 during a flight but stressed but protections are in place.
If a passenger tests positive, health authorities monitor their neighbors in the same row as well as three rows in front and three rows behind them for signs of illness.
"Regardless of where they were sitting on the plane, they still have to go into quarantine, so if we do have a case we will have additional control of people who were sitting in the seven rows," Kwon told reporters last month.
Still, many South Koreans have expressed concern about the high-profile USFK cases and called for the service members to be tested before they get on the plane.
Experts agreed that would be a wise precaution, noting that many COVID-19 victims are asymptomatic and could spread it unknowingly along the way.
"If you want to really control it, you should control it before boarding, not after arriving," Chen said. "And those tests should be performed within five days of the flight."
People could be infected after the test or receive a false negative, but it would still provide a stronger screening process, said Chen, editor-in-chief of the academic journal Building and Environment.
Service members follow state and military guidance before getting on the plane, officials said.
"The important thing is that they all are tested and go through quarantine once they land, without exception," Peters said.
Other diseases have been known to spread on planes.
In one of the most famous cases, a man who had SARS infected more than 20 people on a three-hour flight from Hong Kong to Beijing in 2003.
Most of the infected passengers were seated far from the patient, pointing to airborne transmission, said Howard Weiss, a professor at the Center for Infectious Disease Dynamics at the Pennsylvania State University.
"COVID is believed to be mostly transmitted by respiratory droplets, which fall to the ground quickly," he said in a recent telephone interview.
Weiss, who also coauthored a 2018 research article on the transmission of "droplet-mediated respiratory diseases during transcontinental airline flights," said the best protections in the air are the same as those on the ground.
"Use hand sanitizer every time you touch a surface. Keep your hands away from your face. Wear a mask," he said, adding that even the simple act of talking can be dangerous.
"The infections by asymptomatic individuals are not going to be coughing or sneezing. It's going to be through speaking," he said.
gamel.kim@stripes.com Twitter: @kimgamel