Camp Humphreys places eight South Korean realty companies off-limits over security issues
by
Yoo Kyong Chang Kim Gamel
July 8, 2020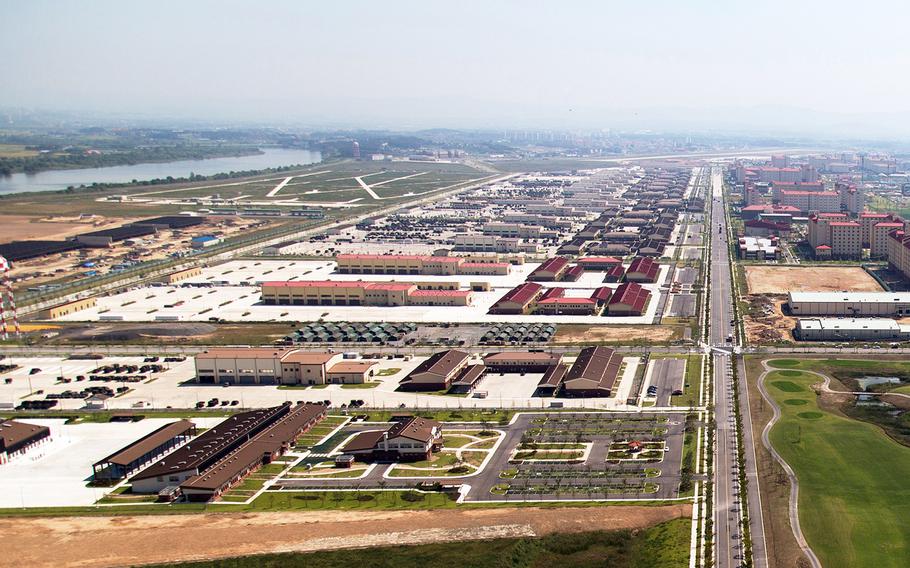 SEOUL, South Korea — The U.S. military's largest base in South Korea has banned business with eight local real estate companies for 10 years over allegations of using fraudulent passes to access the installation.
Camp Humphreys said Wednesday that the businesses were placed off-limits after a review determined they had "conspired to illegally access" the Army garrison "using fraudulently issued base passes."
"This directly affects the safety and security of the installation," it added, saying the decision was made after a Feb.13 emergency meeting with the area's Armed Forces Disciplinary Control Board.
"No U.S. personnel are allowed to do new business with these establishments as long as this order is in effect," it said, stressing the ban was an administrative, not a judicial, action and not subject to appeal.
The garrison said the decision was made because of business practices that were charged by the South Korean government and reviewed by Army investigators and the disciplinary control board.
The announcement of the decision was delayed because of the coronavirus pandemic and subsequent legal reviews, said garrison spokesman Steven Hoover.
Camp Humphreys, which is in the rural area of Pyeongtaek, has seen an explosion in population to nearly 40,000 in recent years after it became the main U.S. military base in South Korea as part of a long-delayed plan to relocate most American forces, their families and civilian employees south of Seoul.
Most people live off-base and rely on local real estate companies to find housing.
The announcement, which was posted on Camp Humphreys' Facebook page, said people who have leases with the affected companies could continue to do business with them for the duration but may not use the companies to renew the leases.
The banned companies were listed as Abba Realty, Christine Realty, JC Realty, GM Realty, Woomi Realty, Uptown Realty, New York Realty, and You & I Realty.
GM Realty owner Lee Geun-sik, who said he has been a broker for more than three decades, denied any wrongdoing.
Lee also said the military had not reached out to him and the decision was announced without notice, although South Korean police had investigated him.
"I'm innocent. I did not commit any crime," he said Wednesday in a telephone interview. "We never got a chance to address the allegations."
Min Won Ki, who runs Uptown Realty, said he only heard about the decision when one of his clients showed him the Facebook announcement.
"I feel this is very unfair because USFK just said we all did this without asking us," he said, using the acronym for U.S. Forces Korea. "I'm over 60 years old and USFK has damaged my honor."
People reached at the other companies either hung up without commenting or made statements but asked that their names be withheld.
One woman said the ban was unfair because she said the base pass didn't provide access to facilities but was only useful for the convenience of clients.
Another man who refused to identify himself said he got the base pass through a construction company even though he wasn't an employee. But he said he needed the pass to work hard for his clients and the 10-year ban was too long.
gamel.kim@stripes.com Twitter: @kimgamel