Brooks to take command of USFK amid heightened tensions with North Korea
By
Kim Gamel gamel.kim@stripes.com
April 29, 2016
---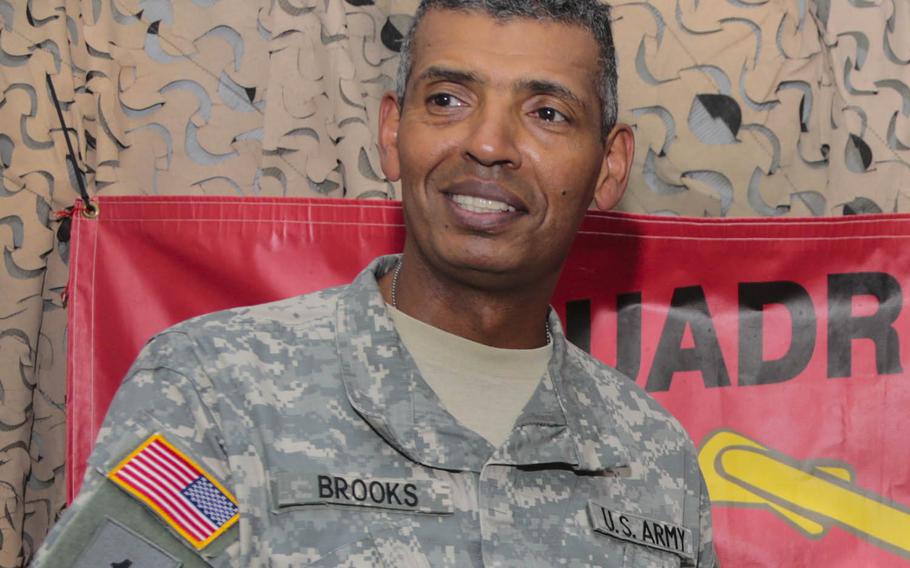 SEOUL, South Korea — Gen. Vincent Brooks will assume command of U.S. Forces in Korea on Saturday, stepping into the role as tensions have spiked on the peninsula since North Korea staged its fourth nuclear test early this year.
In an embarrassing setback, North Korea reportedly launched a pair of intermediate-range ballistic missiles on Thursday. but both appear to have failed, according to U.S. and South Korean military officials.
Brooks, 57, will take over from Gen. Curtis Scaparrotti in a ceremony at U.S. Army Garrison-Yongsan's Knight Field, USFK spokesman Christopher Bush said Friday. Scaparrotti will become the next commander of U.S. European Command and supreme allied commander for NATO forces.
Brooks, who has led U.S. Army Pacific since July 2013, will also lead the United Nations Command and the South Korea-U.S. Combined Forces Command, and will oversee the consolidation of most U.S. forces at regional hubs south of Seoul.
Speaking at his nomination hearing earlier in April, the four-star general warned that North Korean leader Kim Jong Un is determined to build rockets that could eventually reach as far as the United States. Brooks also said he was "very concerned" about the direction the erratic leader is taking.
"If confirmed, I intend to be a close partner with the Republic of Korea to make sure they're ready," he told the senators, referring to South Korea's official name.
About 28,500 U.S. servicemembers are stationed in South Korea, and the allies maintain close ties and regularly conduct joint training. The North sees the drills as rehearsals for an invasion.
North Korea has escalated its weapons program in recent months despite a harsh new round of U.N. sanctions imposed after a January nuclear test and a long-range rocket launch a month later.
Thursday's launches came two weeks after a similar failed test on the April 15 birthday of Kim's grandfather, North Korea founder Kim Il Sung.
The U.S. Strategic Command said the tests were presumed to be of Musudan missiles, which have a range that could put them in reach of U.S. military installations elsewhere in the Pacific.
"Initial indications reveal the tests were not successful," it said in a statement.
North Korea also tested a submarine-launched ballistic missile last weekend, which took off but apparently flew only about 20 miles.
Experts have cautioned against gloating over the failures, pointing out that the North is making progress in its weapons development and is learning from its mistakes. South Korean officials have warned Pyongyang may be preparing to stage a fifth nuclear test.
Alarm over the nuclear test has prompted discussions between U.S. and South Korean officials over the deployment of a sophisticated missile defense system called Theater High Altitude Area Defense System, or THAAD, to the South. China and Russia object to THAAD.
Brooks, who was born in Alaska, graduated from the U.S. Military Academy in 1980, where he became the first African-American cadet in the school's history to be named cadet brigade commander.
He also is a former commander of the Third Army and the 1st Infantry Division. He became well-known to the American public when he served as a spokesman for the U.S. Central Command and appeared on live televised briefings during the early stages of the Iraq War.
gamel.kim@stripes.com Twitter: @kimgamel
---
---
---
---