Britain planning to send Typhoon jets for exercise with Japan
---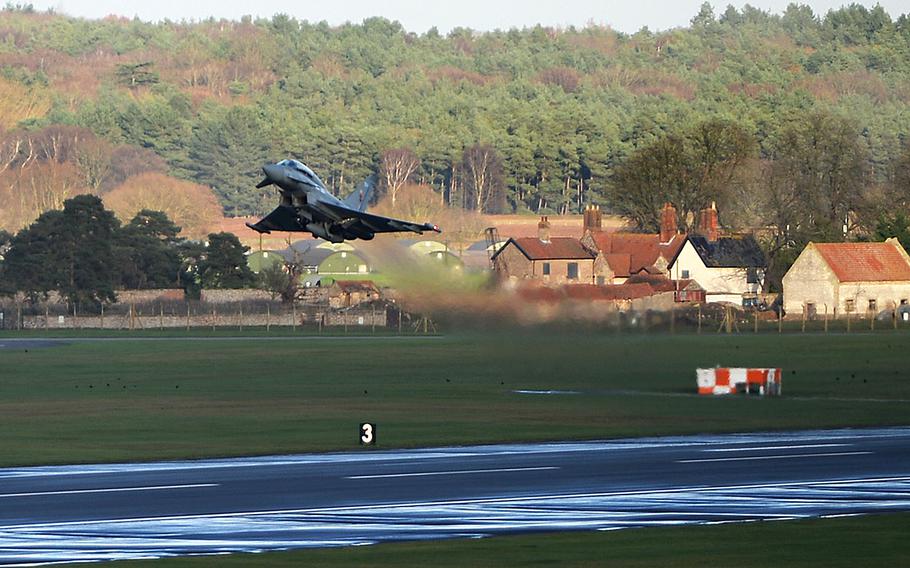 YOKOTA AIR BASE, Japan — Britain's Royal Air Force plans to fly its Typhoon fighter jets to the Far East this year to train with the Japan Air Self Defense Force.
British Defense Secretary Michael Fallon and his Japanese counterpart, Gen Nakatani, met in Tokyo on Friday and issued a joint statement confirming efforts to bring the Typhoons to Japan, which would mark the first time British fighters have flown there since the end of the Cold War.
"It will be extremely helpful for our country for Typhoons to come to Japan to conduct a joint exercise since UK has excellent knowledge and ability, especially against scrambles, and this will lead to strengthening a greater presence," Nakatani said in remarks posted on the Ministry of Defense website.
The deployment comes as Japan grapples with Chinese incursions on its southern waters, North Korean nuclear threats and Russian probes of its northern air space. Last year, scrambles of Japanese fighters surged to near-record levels in response to Chinese and Russian planes.
The security challenges have prompted Japan to increase its defense budget, strengthen its alliance with the U.S. and give more latitude to its military to cooperate with allies in a crisis.
Meanwhile, Typhoons have been busy intercepting Russian aircraft in the North Sea and in Eastern Europe where NATO allies feel threatened amid continuing unrest in Ukraine in the wake of Russia's 2014 annexation of Crimea.
Plans for the deployment come at a time when the RAF is under pressure with cuts to its budget and with personnel and aircraft responding to crises in Europe and the Middle East, said Australian national security consultant Ross Babbage.
"It's a high-op tempo so the number of Typhoons they can free up will probably be limited," he said.
The deployment is not a response to China or North Korea but to "significantly deepen defense cooperation between our two nations," Fallon told the Telegraph newspaper.
In their statement, the ministers welcomed a growing number of exchanges and joint training and exercises between their militaries. They confirmed that Japan and Britain would continue joint mine-sweeping exercises in the Persian Gulf and consider cooperating to improve amphibious and counter-Improvised Explosive Device capability.
Stars and Stripes staffer Hana Kusumoto contributed to this report.
robson.seth@stripes.com Twitter: @SethRobson1
---
---
---
---