Blowback from North Korea missile test: more strain in US-China ties
by
Paul Alexander alexander.paul@stripes.com
February 7, 2016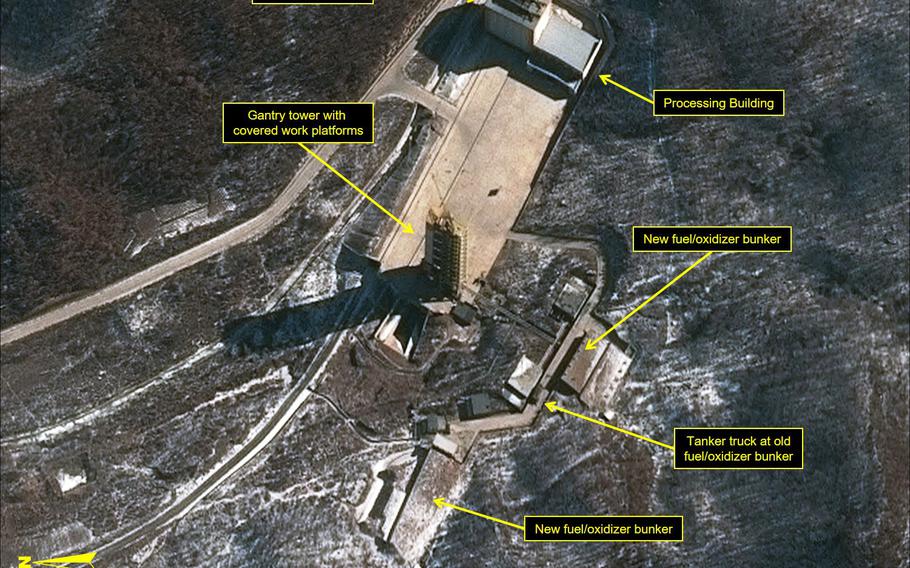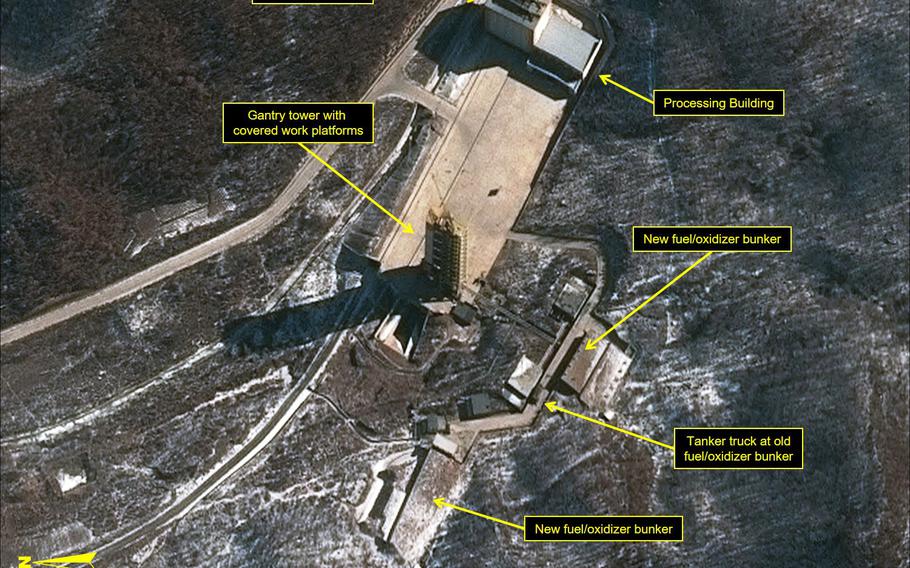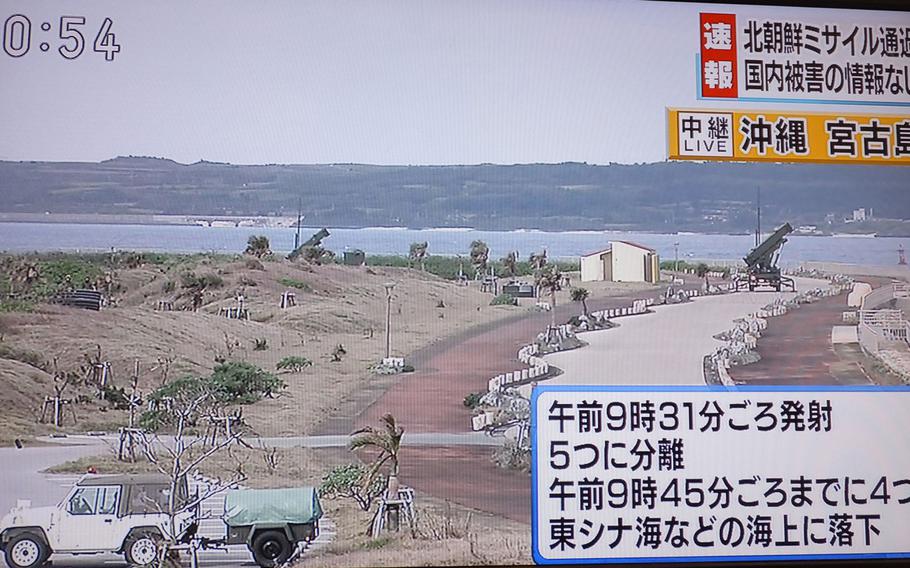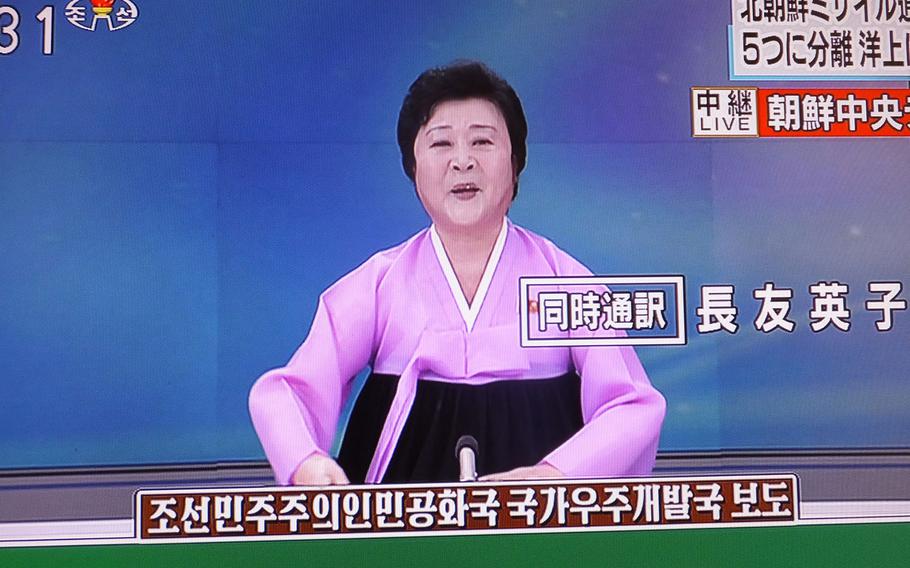 North Korea's rocket launch Sunday puts even more pressure on the international community to find a way to rein in the rogue nation and potentially adds stress to U.S.-China relations that have been frayed by Beijing's aggressive buildup on disputed islands in the South China Sea.
Already facing fresh U.N. Security Council sanctions for its nuclear test a month ago, Pyongyang turned a deaf ear to pleas to cancel the launch, including a visit by ally China's top nuclear negotiator.
Instead, the North tried out what was believed to be an improved version of the three-stage rocket that it fired three years ago.
Pyongyang claimed it put a satellite into orbit amid a chorus of condemnation from the U.S., Japan and South Korea that it's really working on a ballistic missile capable of reaching the U.S. mainland with a nuclear warhead. In pronouncing the launch's success, the North vowed to send up more satellites.
"This is our independent and peaceful use of the space," an obviously excited announcer said during a televised broadcast.
But U.N. Secretary-General Ban Ki-moon called the rocket launch "deeply deplorable," and the Security Council set an emergency session for later Sunday.
The U.S. strongly condemned the launch, calling it "a flagrant violation" of Security Council resolutions on the North's ballistic missile program, said Secretary of State John Kerry.
"This is the second time in just over a month that the (North) has chosen to conduct a major provocation, threatening not only the security of the Korean peninsula, but that of the region and the United States as well," Kerry said.
He urged united action by the international community in the wake of "this most recent destabilizing and unacceptable challenge to our common peace and security."
China has shown increasing irritation over the North's ongoing provocations. But while it expressed "regret" over the launch, it also called for negotiations — not sanctions — in a sign that it may resist action that it deems too strong.
A crippled North Korea could force a regime collapse, risking a flood of refugees and the possible rise of a pro-U.S. government on China's doorstep.
"Sanctions are definitely not the aim," China's Xinhua news agency, which often reflects official views, said in a commentary. "It is highly hoped that all related parties would show restraint and good faith."
Rocket closely monitoredWhile South Korea and the Pentagon agreed that the rocket did indeed reach space, there were questions about just how successful it was. Experts will be poring over footage and data for analysis.
The launch occurred at approximately 9:31 a.m. from the North's upgraded launch facility on its northwest coast and was quickly picked up by U.S., Japanese and South Korean monitors.
South Korea said the first stage blew up after separation off the west coast of the Korean peninsula, raining an estimated 270 pieces on the sea. After shedding its fairing southwest of South Korea's Jeju Island, the rocket then vanished from radar — leading Seoul to speculate that it may have failed completely — only to appear in the skies over Okinawa before disappearing again.
An emergency broadcast system in Okinawa used loudspeakers to alert residents that the missile had passed over 10 minutes after launch. TV footage showed a bright light rapidly traversing the skies.
Japan had deployed antimissile systems on land and sea in case the rocket started to come down over its territory but did not use them and reported no damage. Its military remained on high alert.
Japan and South Korea called emergency sessions of their national security councils. Japanese Prime Minister Shinzo Abe called the launch "intolerable," telling reporters: "We absolutely cannot allow this." South Korean President Park Geun-hye called it an "unacceptable provocation."
Weighing optionsThe U.S. Strategic Command said at no time was the missile a threat to North America.
"We continue to call on North Korea to refrain from irresponsible provocations," U.S. Forces Korea said in a statement. "No one should doubt that U.S. Pacific Command forces, specifically U.S. Forces Korea, are prepared to protect the American homeland and defend our allies in South Korea, Japan, and the region."
Under the early years of President Barack Obama's administration, Washington pursued a policy of not engaging the North, which had been pushing for direct negotiations with the U.S. That seemed to change after the December 2002 rocket launch, which was followed three months later by the North's third nuclear test, setting off what officials have called the most tense period on the Korean peninsula in decades. Pyongyang threatened to turn Seoul and major U.S. cities, including Washington, D.C., into a "sea of fire" and produced surreal music videos depicting such scenes.
Last month's nuclear test quickly escalated tensions again, with the U.S. sending a B-52 bomber from Guam for a low-level flight over Osan, South Korea, in a show of force and a sign of support for Seoul.
With the rocket launch, the ball seems to be back in the U.S. court. "I suppose if the United States and liked-minded countries … sought much tougher sanctions than previously, and China were to go along with those sanctions ... then that might be sufficient to satisfy Washington short of a major policy change," said Denny Roy, an Asia expert at the East-West Center in Hawaii. "But if we have the usual where Washington wants tough sanctions and China wants to water them down, then you might see that Washington is dissatisfied this time with business as usual."
Tensions between China and the U.S. have been strained recently. The U.S. already is dealing with China's expansionism in the South China Sea. It the last couple of months, the U.S. Navy has conducted two freedom-of-navigation cruises close to islands — claimed by China and other countries — that Beijing has been expanding by dredging sand and building airstrips.
Now, North Korea's launch will lead to consultations between Washington and Seoul on the possible deployment of the Terminal High Altitude Area Defense (THAAD) missile defense system to South Korea, U.S. Forces Korea said in a statement Sunday.
"North Korea continues to develop their nuclear weapons and ballistic missile programs, and it is the responsibility of our Alliance to maintain a strong defense against those threats," said Gen. Curtis M. Scaparrotti, Combined Forces Command, USFK commander. "THAAD can add an important capability in a layered and effective missile defense."
South Korea has resisted taking a THAAD system out of concern over upsetting China, but some legislators have softened their stance since the nuclear test and have even talked about South Korea building its own nuclear program.
North Korea emerged as a major topic in the Republican presidential debate Saturday night as candidates sparred over whether there should have been a preemptive strike against the reclusive communist country.
"If a pre-emptive strike is necessary to keep us safe, then we should do it," Jeb Bush said. Ted Cruz declined to comment, saying he would need the proper intelligence to make such a decision. Donald Trump said he would let China solve the problem of North Korea: "They can do it quickly and surgically."
Attempt to keep powerWhile the North wants to be accepted as a nuclear power — something the U.S. has said it will never do — the test also was seen as part of the ongoing efforts by youthful leader Kim Jong Un to consolidate power four years after taking over following the death of his father, Kim Jong Il. The challenges that he faces have been reflected in high-profile purges of top-level officials.
Analysts said the timing may have been linked to the major congress by the ruling Workers' Party in May, the Chinese lunar new year and Kim Jong Il's birthday Feb. 16.
"Prior to the Workers' Party meeting, there is a need for Kim Jong Un to show his people an achievement and advancement of nuclear and missile technologies to solidify his position," said Ken Jimbo, an associate professor at Japan's Keio University who specializes in Asia-Pacific security issues.
"What is also important for the North is to show the international community that North Korea could launch a missile under any circumstances it decides."
Cho Tae-yong, deputy chief of the South Korean presidential office of national security, called North Korea's launch "an extreme provocation only to maintain its regime."
Stars and Stripes staffers Erik Slavin, Wyatt Olson, Chiyomi Sumida and Hana Kusumoto contributed to this report.