Black troops call for action to fight racism in the military during USFK forum
by
Kim Gamel
June 8, 2020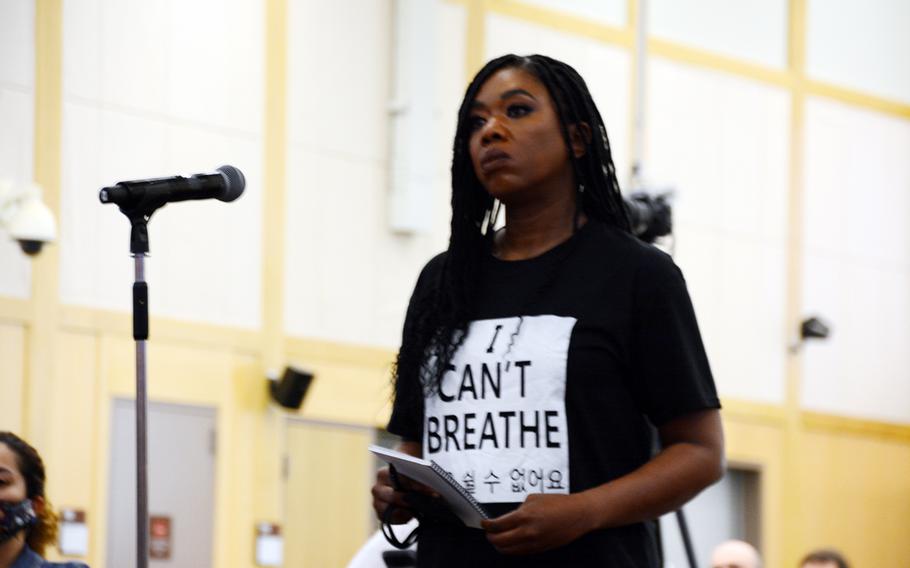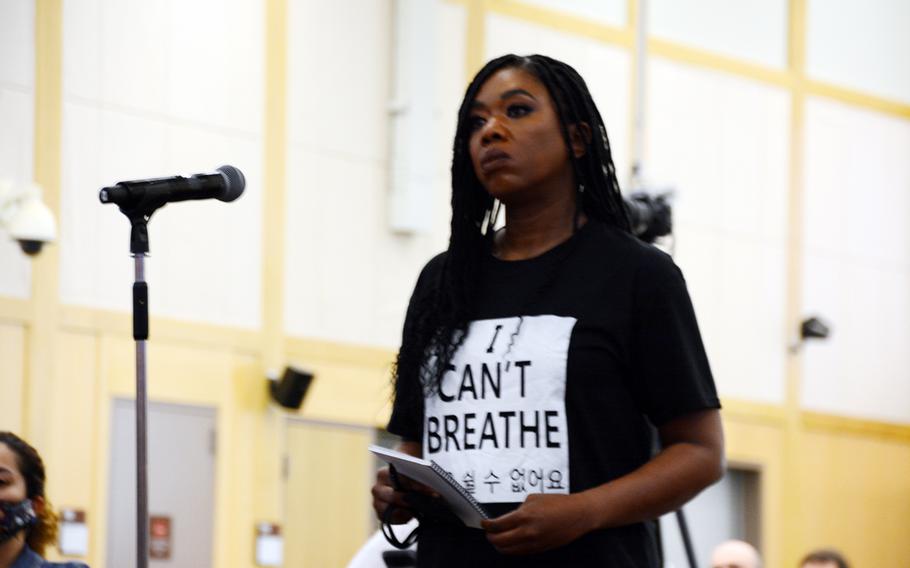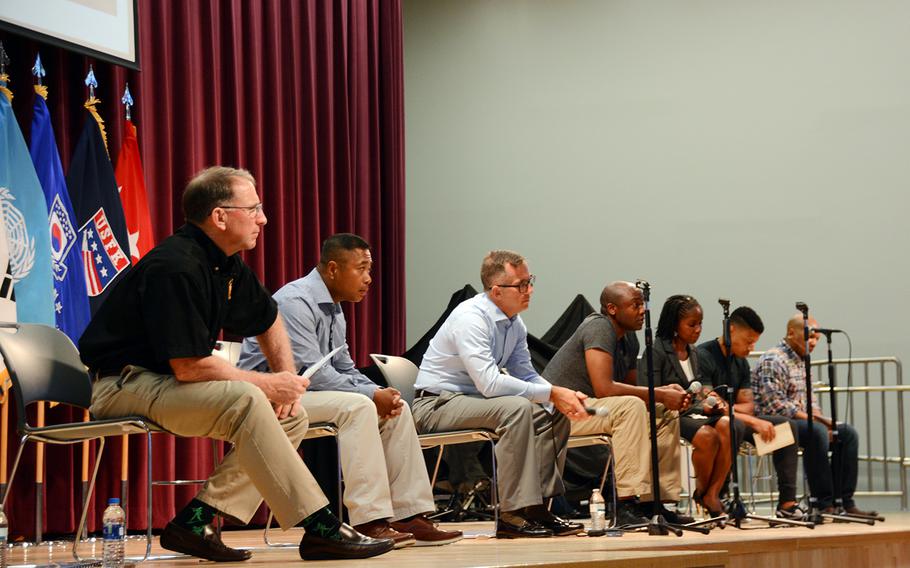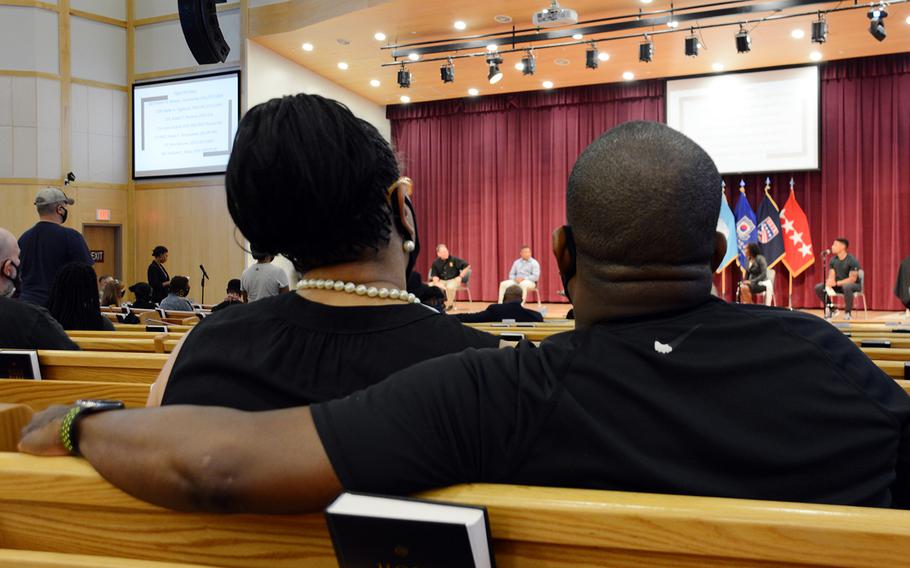 CAMP HUMPHREYS, South Korea — U.S. military leaders have been unusually outspoken about the need to address institutional racism amid a growing wave of civil unrest over the latest killing of a black man in police custody.
Many black service members speaking Sunday at a forum organized by U.S. Forces Korea welcomed the outrage but called for words to be translated into deeds.
Sgt. Dasha Long, 35, thanked U.S. Forces Korea commander Gen. Robert Abrams for tackling the long taboo topic, saying the discussion was an important first step.
"This isn't new, right? But it feels like it took too long for us to hear something about it," Long said, wearing a T-shirt emblazoned with the phrase "I Can't Breathe," which was uttered by George Floyd before he died as a white Minneapolis police officer kneeled on his neck for nearly nine minutes on May 25.
"I feel safer outside the country that I serve than I do in it, so I want to know aside from words what actions are going to take place because I'm tired," she said.
Anger over Floyd's death, which was captured on video, has sparked massive protests calling for racial justice and an end to police brutality in the United States. It also has led to soul searching in the military, which has long prided itself as promoting diversity.
Nearly 19% of active-duty enlisted service members are black, but that number falls sharply to just under 9% when it comes to officers, according to a 2018 Defense Department demographics report. Many also complain that they are unfairly targeted by the military justice system and receive unfair sentences compared to their white counterparts.
Falling short Abrams convened the two-hour town hall-style meeting dubbed "Stronger Together" at a chapel on Camp Humphreys — with everybody in civilian clothes — after tweeting on Friday that he had spoken privately with several black service members and had directed leaders at all echelons to hold discussions on the issue.
While the event only drew a few dozen people in-person, it also was broadcast live on Facebook and had 27,000 views by Monday evening.
Most in the audience wore face masks and every other pew was roped off to prevent the spread of the coronavirus.
"Now, from my time of service I've tried real hard to be part of the solution, and it was really difficult for me to come to grasp this week that I have fallen way short in helping eliminate racism and bigotry in our own ranks," Abrams said.
"Let me be clear about this - we are better together where everyone is treated with dignity and respect regardless of the color of their skin, or their gender, or where they practice their faith, or whether they practice faith at all, or their gender orientation," he added. "I also want to be clear about this. There is zero room, zero, for racism and bigotry and hate in the military."
Troops and other members of the military community also expressed concern about families at home and asked how they can express solidarity without violating regulations against political activity.
The director of USFK's office of judge advocate gave troops a green light to participate in gatherings planned on base to denounce racism and social injustice, including a candlelight vigil that he said was scheduled for Thursday on Camp Humphreys. The community at Osan Air Base held a candlelight vigil on Sunday.
"You can speak. You can shout. You can march. You can protest. You can demonstrate, and you can do all of these things on this and every USFK installation," said Col. Robert Penland. "I ask only please that you do not do so in connection with a particular candidate or incumbent in any political office."
Penland also apologized for earlier guidance that he said may have "inadvertently" created the impression that racial injustice and systemic racism is a political issue. He said troops may wear T-shirts with slogans like "Black Lives Matter."
"That's not a problem. That's not a political statement," he said, adding later in an email that troops are still barred from participating in demonstrations off base.
Starting dialogue Many black service members said the forum was the first time they had felt free to discuss race during long military careers.
Lt. Col. Nick Williams, who is assigned to USFK headquarters, said he initially "huddled in corners" with other black officers and civilians to talk about Floyd's killing, but he grew increasingly frustrated and worried for his son and daughter.
"I'm not an emotional person, but over the past couple weeks I've been a different person. It changed me," he said. "I also started feeling disappointed because in the Army we're supposed to be better. We're supposed to be a brotherhood."
In true military fashion, he offered a new acronym, CAREEE, which stands for creating a safe space for dialogue, acknowledging the problem, recognizing how it's affecting unit morale, empathizing with those affected, emphasizing resources available and empowering leaders with knowledge.
Sgt. Maj. Keyana Washington, who is assigned to the 65th Medical Brigade, suggested that the military review the outcomes and results of past courts-martial and nonjudicial punishment at all levels to determine the disparity.
"I'm sure they'll be very similar to what the outcomes are to our society and communities at home," she said. "And when you receive those results how are we going to change or reconstruct the military justice system?"
Abrams promised action.
"This is a small step of a larger effort," he said. "We're going to develop an action plan with real meat on the bones to get after this. We are not going to put up with this one second longer this time."
gamel.kim@stripes.com Twitter: @kimgamel
---
---
---
---