Black market cases at Camp Humphreys not linked to lifting of spending limits, commander says
by
Kim Gamel
February 18, 2020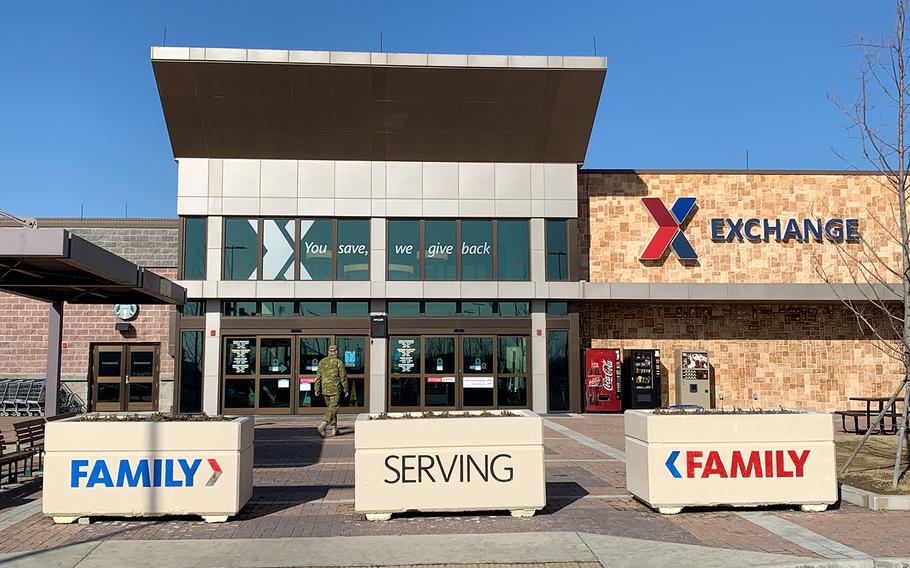 CAMP HUMPHREYS, South Korea — One U.S. military retiree was buying meat in bulk at the commissary to use at his American-style restaurant off post.
The other spent more than $100,000 at the commissary and the post exchange over just a few months and was seen dropping the purchases off at a safe house.
Both were eventually caught and banned for 10 years from U.S. installations in South Korea. The two cases were not related, according to officials at Camp Humphreys, where the infractions occurred.
New details about the unauthorized use of commissary and exchange purchases — including the second case that was not previously reported — revealed the challenges of policing duty-free purchases by American service members, family members and authorized civilians.
They also coincided with a decision by U.S. Forces Korea in September to lift commissary spending limits, which have since been reimposed.
However, garrison commander Col. Michael Tremblay said the two cases involving retirees were not linked to the ration control system.
"We did not see excessive purchases whatsoever when the spending limits were removed," Tremblay told Stars and Stripes. "We do not have a single active case ongoing from when the spending limits were removed until the time they were put back on."
The garrison announced earlier this year that a military retiree accused of making excessive purchases and black marketing had been banned Dec. 10 from American bases on the divided peninsula for the next decade.
He was a retired member of the Air Force in his 50s who was operating an American-style restaurant off post with his South Korean spouse, garrison officials said last week in response to questions from Stars and Stripes.
"The retiree was purchasing the meat for his restaurant at the commissary and was anonymously reported to the Korean authorities for violation of Korean customs and other laws," said spokesman Steven Hoover.
South Korean authorities shared their information with military law enforcement, and a review of commissary records confirmed monthly purchases consistent with running a restaurant, he said.
The retiree was given a chance to address the allegations before he was "debarred from USFK facilities for 10 years," Hoover said.
Tremblay said the man had been careful to stay within his monthly limits but quickly confessed after he was called to account.
"The sales of goods are meant to be a privilege, and they're meant for soldiers and their family members according to the [status of forces agreement] and not meant to fund a local business," Tremblay said.
The second individual, also in his 50s, and his spouse were investigated by the Army's Criminal Investigation Command for black marketing.
A review of his records showed $95,000 in purchases at the exchange, which is run by the Army and Air Force Exchange Service, and $16,000 in commissary purchases in just a few months, according to the garrison.
"He was under surveillance by CID and was observed purchasing items from the commissary and then dropping them off at a safe house," Hoover said.
The man was issued a "show cause notification" but "did not respond to the command and subsequently was debarred for 10 years from USFK facilities," Hoover said.
The garrison refused to identify the retirees, citing privacy concerns, so they could not be contacted for comment or responses to the allegations.
Debarment decisions are reviewed on an annual basis. The individuals also can request access as regular visitors with specific needs, but they would be carefully vetted, Tremblay said.
Patrons allowed to buy duty-free goods on U.S. bases in South Korea have long faced restrictions including commissary spending limits of $800 per month for the main beneficiary and $300 per month for each dependent.
USFK announced in September that it was removing those limits along with a requirement that people show ID or rations cards before being allowed to enter base commissaries and exchanges.
It reimposed the purchase limits last month, saying studies showed that most authorized shoppers stayed "well below" the allotted amounts anyway.
Tremblay said commissary sales actually decreased month to month during the period in which the limits were removed.
The reversal was, in part, an effort to reassure the community that controls were in place after several social media posts claiming abuses that were systematically debunked, Tremblay said.
"It is an over-the-top additional measure to just ensure one extra layer of protection," he said, adding that the two recent debarments were the only cases involving black marketing and excessive purchases since he took command in June.
"We wanted to reassure the community, and again, it made no difference one way or the other."
Restrictions were initially tightened in August 2013 after the U.S. military faced rampant problems with goods purchased from base facilities being resold on the local market in South Korea.
In one of the most notorious cases, a store manager and a South Korean businessman were convicted in 2003 of smuggling some 62,000 cases of wine and beer through a tunnel dug under a U.S. military housing compound in Seoul.
gamel.kim@stripes.com Twitter: @kimgamel