Bases pick up after typhoon lashes mainland Japan
by
robsons@pstripes.osd.mil Seth Robson
September 21, 2011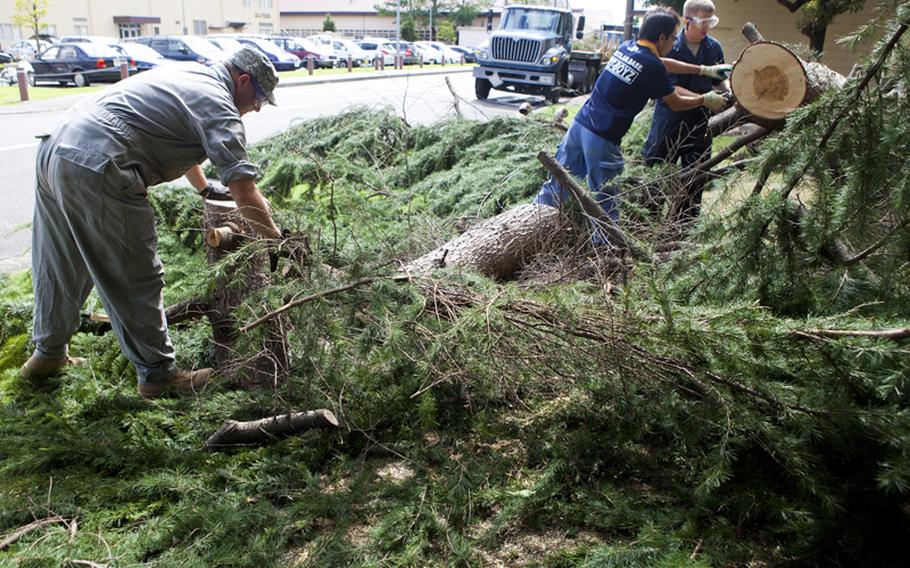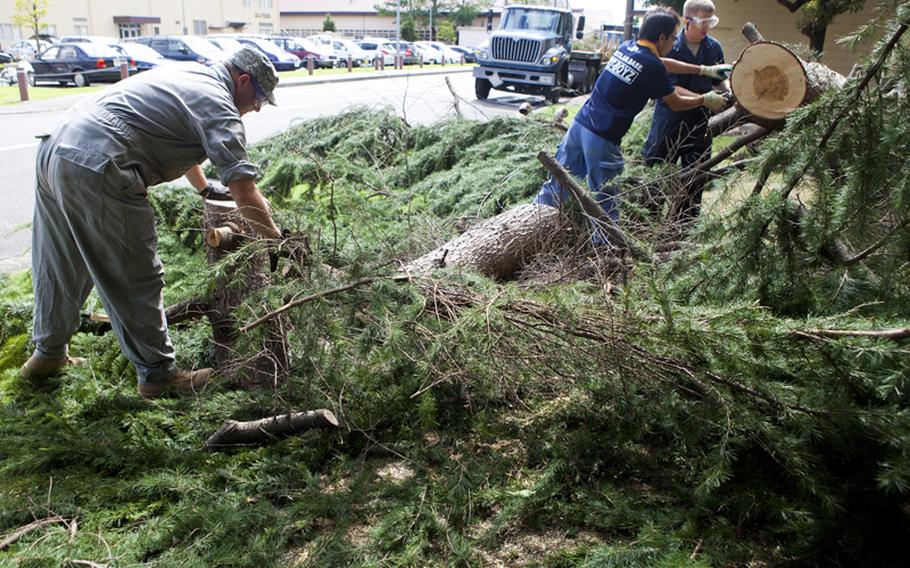 YOKOTA AIR BASE, Japan — The powerful typhoon that struck Japan's main island Wednesday caused only minor damage at U.S. military facilities near Tokyo.
Some 1.2 million Japanese people were evacuated from their homes as Typhoon Roke hit Japan with 130 mph winds and driving rain, causing flooding, landslides and concerns that the deluge could further damage nuclear reactors at Fukushima Dai-ichi nuclear plant, according to local media. The Associated Press reported that 16 people were dead or missing as a result of the storm but that there was only superficial damage at the Fukushima plant, where engineers are still struggling with small radiation leaks due to damage from the March tsunami.
The storm brought down trees that damaged vehicles and property at Yokota Air Base, Naval Air Facility Atsugi and Camp Zama, officials reported. Also, the Tama Hills Recreation Center was closed for business Thursday so crews could clear the area of downed trees and limbs.
Staff Sgt. Stephen Coakley, from the 374th Civil Engineer Squadron at Yokota Air Base, said the typhoon was the first he's experienced."Trees were down all over the base." he said when he began work Thursday morning.
Security personnel at Atsugi reported downed trees that damaged private and government property. Two power lines were also blown over in the storm and one started a small fire that was quickly extinguished, officials said.
Atsugi schools were delayed two hours on Thursday, the security forces reported.
At Yokota, vehicles were damaged by falling trees and small leaks sprung in several buildings but there was no major flooding, according to Yokota public affairs officer Capt. Raymond Geoffroy.
During the storm, power problems at telecommunications provider Allied Telesis disrupted phone, television and internet services to on-base customers, he said.
The storm also damaged a transformer in the main part of the base, and officials were expecting a power outage there Thursday afternoon while it was repaired, Geoffroy said.
School at Yokota also was delayed by two hours, but on-base businesses opened on time.
Camp Zama public affairs officer Dustin Perry said the public works staff was busy Thursday morning clearing debris, including several trees blown over on the Zama Golf Course.
Camp Zama schools and on-post businesses such as the post exchange and commissary opened two hours late Thursday, he said.
At Yokosuka Naval Base, the storm scattered debris across the base and knocked out power in two buildings, but no major damage was reported, public affairs officer Michelle Stewart said.