Bases loosen restrictions after US Forces Japan lowers coronavirus health-risk level
by
Caitlin Doornbos
June 11, 2020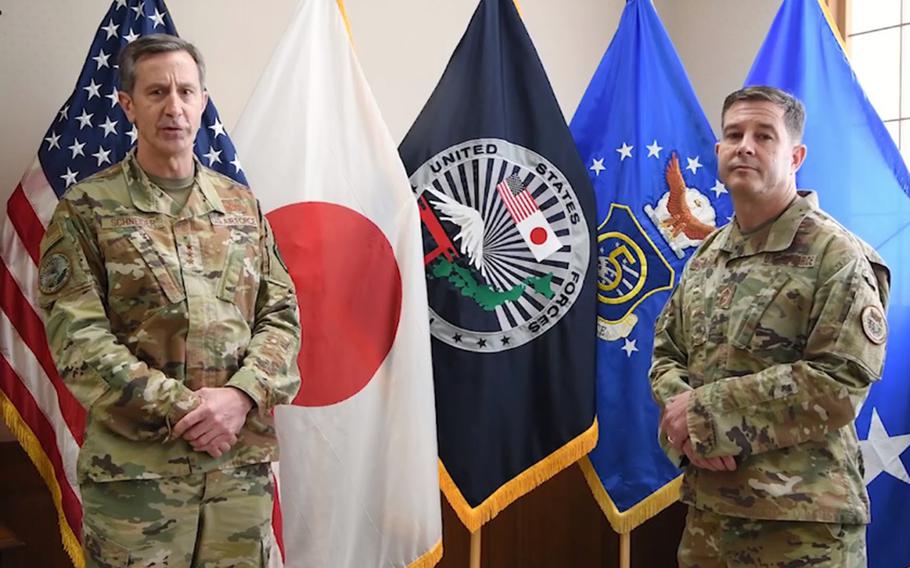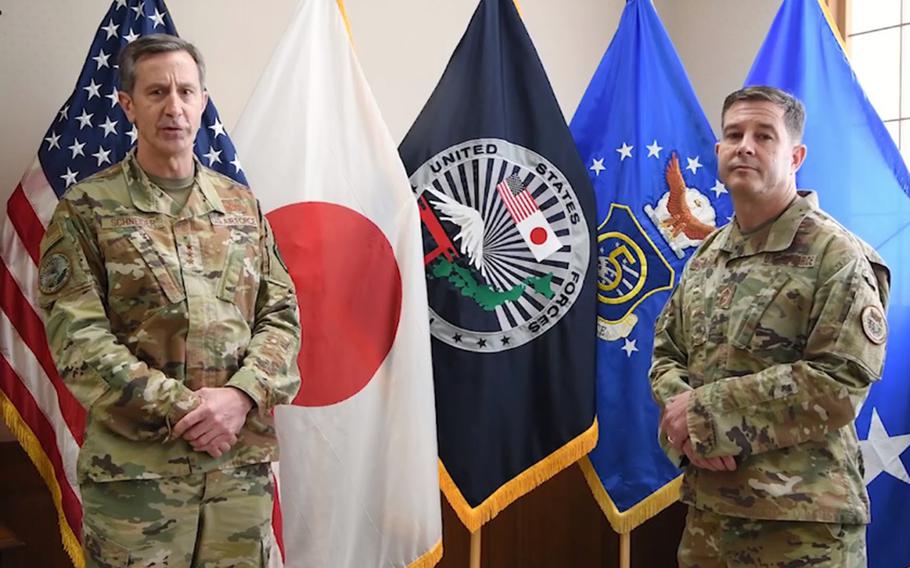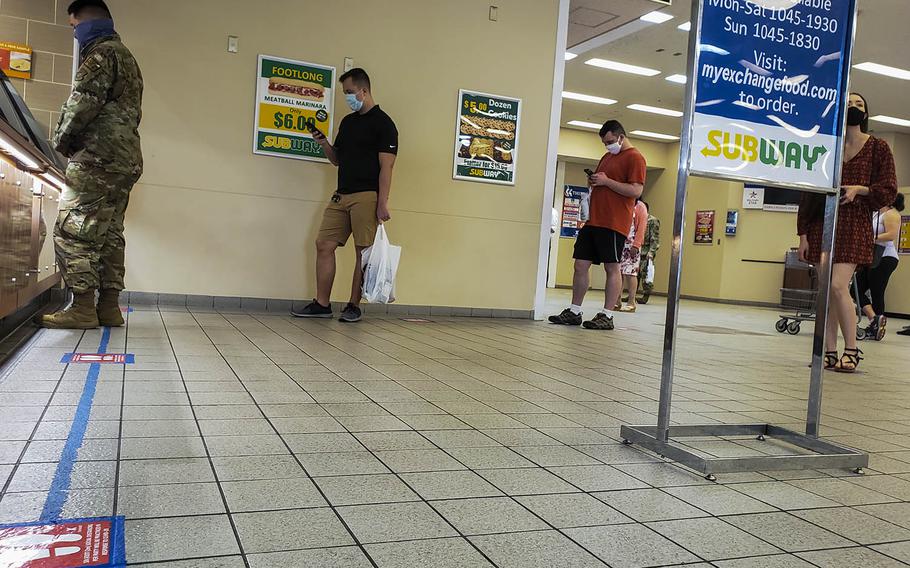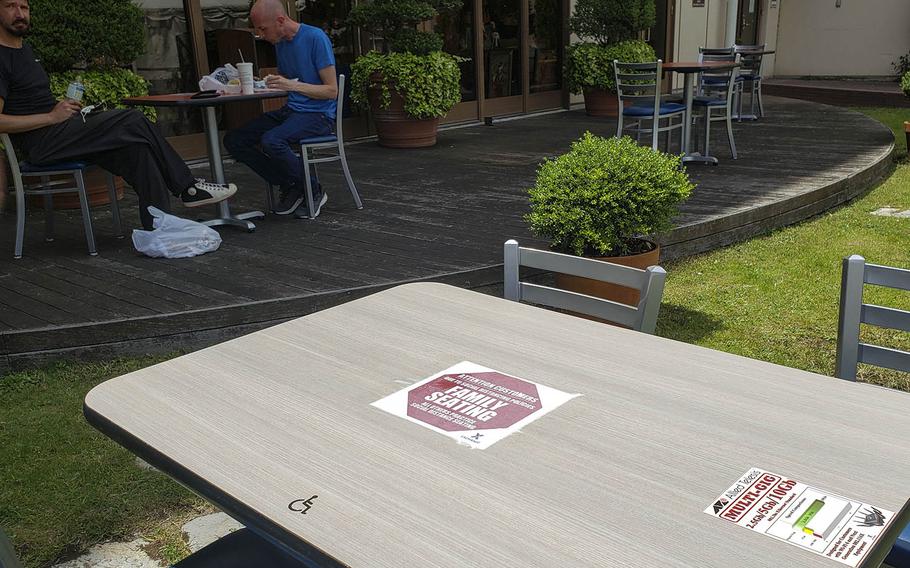 Stars and Stripes is making stories on the coronavirus pandemic available free of charge. See other free reports here. Sign up for our daily coronavirus newsletter here. Please support our journalism with a subscription.
YOKOSUKA NAVAL BASE, Japan — U.S. Forces Japan has moved its health protection condition from "substantial" to "moderate," commander Lt. Gen. Kevin Schneider announced in a video posted Friday on Facebook.
The change, which took effect at noon Friday, prompted loosened coronavirus-related restrictions for U.S. service members, Defense Department civilians and their families across the country.
The moderate level, known as HPCON-Bravo, represents progress in the fight against the virus, indicating there is a risk of "increased community transmission," according to DOD. That's a step down from HPCON-Charlie, which USFJ has been under since March 25 and indicates "substantial risk" of the coronavirus' spread.
HPCON-Charlie came with heightened restrictions and shelter-in-place orders for Japan bases. For many, movement outside the home for anything other than essential business or activities such as work, grocery shopping or medical appointments was prohibited.
"I know how difficult it has been to endure shelter-in-place orders, restrictions on movement, social distancing, travel restrictions and more, but we've been highly effective in checking the spread of COVID-19 and preserving our ability to maintain a trained and ready force," Schneider said in the video. COVID-19 is the respiratory disease caused by coronavirus.
Still, Schneider said the move does not mean precautions are no longer necessary; the use of face masks, regular handwashing and social distancing remain important.
"This is not a return to life as normal as it was in January and we are not finished dealing with the challenges of the virus," he said.
Eased rulesGroup limits were relaxed at many bases Friday, as long as attendees stay six feet away from each other. Up to 50 people may gather at Misawa Air Base; up to 20 at Yokota Air Base; and up to 10 at Yokosuka, which spent nearly three months under an order that barred contact between households.
The home of 7th Fleet has been under the strictest restrictions among U.S. bases in Japan since March 27, when the first USFJ-related coronavirus case was reported there.
Keeping the number of contacts low is important to mitigating the spread, Yokosuka commander Capt. Rich Jarrett said Thursday via Facebook Live. When someone tests positive for the virus, all those who have been in recent contact with the patient must go into isolation.
"One of the struggles that we faced here as we were getting our feet wet with COVID-19 cases is one person had been around so many people that they were taking 30 to 40 people into quarantine with them," he said.
The number of active coronavirus cases at Yokosuka has dwindled to the single-digits and "several weeks" have passed since a new case was reported on base, Jarrett said during the livestream.
The Defense Department on March 28 prohibited commanders from publicly reporting new cases of coronavirus on their installations. Before the ban, Yokosuka reported at least three sailors contracted the virus; in April, the Army reported five Japanese workers and a dependent at Camp Zama tested positive.
Recreational shopping is also now allowed for Yokosuka and Misawa, where residents had been restricted to essential items only.
Yokosuka resident Margaux Burke, whose husband has been deployed on the USS Antietam since February, said "all I had been wanting to do is go to a hardware store."
"I have been really bored, sad and lonely this whole time and gardening was one of the things that kept me preoccupied," Burke said. "Now I can finally go and get more stuff."
Remaining restrictionsSome activities remain prohibited across Japan, such as visiting off-base bars, hotels and tattoo parlors. While Misawa greenlit restaurants with less than 50% occupancy on Friday, off-base dining remains banned for Yokosuka personnel and families.
However, some installations are creating opportunities on base for some indoor and outdoor dining. At Yokosuka, officials opened a weekend beer garden for those thirsty for a bar-like setting.
The Tokyo Metropolitan Government lifted its coronavirus alert Thursday night, it said on Twitter. Issued June 2 after a spike in cases, the alert urged the public to stay vigilant against coronavirus. The DOD's New Sanno hotel in Tokyo will reopen July 1 for those stationed in Japan, but only half of its 149 guest rooms will be available to rent, according to its website.
Most Defense Department personnel and their families are restricted from going into highly populated cities. For example, those at Yokosuka must stay within the Miura peninsula and are barred from visiting Kamakura, Yokohama and Tokyo, while Sasebo residents must remain within Nagasaki prefecture.
Naval Air Facility Atsugi personnel and families are restricted to a 3.1-mile radius of the base or their homes and those at Misawa should stay within 12.4 miles of base. Navy-wide, personnel are also restricted at least to their prefectures, but those limits will be extended after June 19, Naval Forces Japan commander Rear Adm. Brian Fort said in a video posted to Facebook on Friday.
Service members stationed at Camp Zama, Sagami General Depot and Yokohama North Dock may travel within most of Kanagawa prefecture and part of Tokyo, U.S. Army Japan commander Maj. Gen. Viet Luong said Monday.
Personnel at Yokota in western Tokyo remain banned from the city's downtown metropolitan area, including the popular Shibuya, Shinjuku and Roppongi wards. However, they may now visit the towns of Ome, Iruma, Fuchu, Tama, Hachioji, Tachikawa and Okutama after being restricted to the vicinity of their homes and base.
Japanese police are targeting Americans in Tokyo for ID checks, Jarrett said during Thursday's livestream. Two Yokosuka sailors who sneaked to the city were caught on Monday and sent back to base after Japanese officers questioned them.
"One thing I learned from this incident is that [Japanese police] don't want us there either," he said. "As an American or somebody from a Western country, you stand out from the crowd — and when you stand out from the crowd right now, you are coming from a country with the highest rate of infection in the world."
Tokyo metropolitan and Kanagawa prefectural police on Friday told Stars and Stripes they were unaware of officers specifically looking for foreigners in Yokohama or Tokyo.
Stars and Stripes reporters Hana Kusumoto and Seth Robson contributed to this report.
doornbos.caitlin@stripes.com Twitter: @CaitlinDoornbos