Ban on off-base bars during pandemic breathes new life into officers, enlisted clubs
---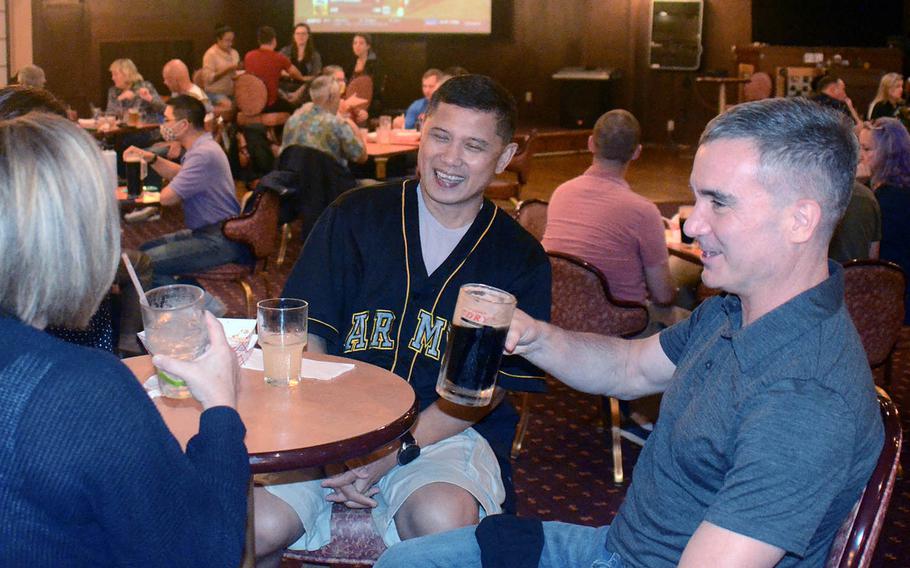 Stars and Stripes is making stories on the coronavirus pandemic available free of charge. See other free reports here. Sign up for our daily coronavirus newsletter here. Please support our journalism with a subscription.
YOKOTA AIR BASE, Japan — The Yokota Officers' Club bar, closed for much of spring and summer at the home of U.S. Forces Japan in western Tokyo, was near capacity on Friday night.
The lounge, which reopened in August, is limited to 50 guests to help slow the spread of the coronavirus. But the crowd suggests there's plenty of demand for a place to drink on base at a time when most members of the overseas military community are prohibited from visiting bars and nightclubs in the surrounding area.
"It's nice to see people being able to interact as long as they are taking precautions," said Jack Higbee, 72, a retiree who, along with his wife, librarian Bonnie Higbee, 70, was part of a healthy crowd at the "O Club" on Friday. It was only the second time the couple had come to the club since the pandemic began, he said.
The bar, built in 1975 on the site of a 1930s-era Imperial Japanese Army officers' club, includes a pool table, stage and big-screen television showing pro sports. Since reopening, it seems as lively as ever, although food is served by staff rather than spread out in a buffet and members' beer steins have been removed from the wall hooks.
"The clubs used to be rowdier," Higbee said of on-base facilities he's patronized over four-decades working as a civilian on bases in Japan, the Philippines and Bahrain. "In the old days alcohol wasn't frowned on as much as it is now."
Another patron, Air Force Maj. Julian Mapp, 35, of El Paso, Texas, who works at U.S. Forces Japan, said it's good to have a place to go when off-base bars are off-limits.
"You have to balance safety with maintaining people's sanity, and I think the O Club is a good balance," he said.
The lively scene at the bar contrasts with a decline in the popularity of base clubs in recent years, according to Officers' Club manager Charles Mecke, 48, of Baltimore, Md., who also oversees Yokota's Enlisted Club.
The decline traces back to the 9-11 terror attacks, which resulted in more regulations, including tougher rules for bringing guests onto military bases, he said.
In the past, base clubs were venues for big-name entertainers touring overseas bases. But since the pandemic the tours have stopped, Mecke said.
"We have tried to get some entertainment," he said. "A couple of weeks ago some guys from one of the squadrons played '90s rock."
However, the clubs can't book bands that might draw a large crowd due to the pandemic, he said.
Mecke's last duty station was in Singapore, where he managed the Terror Club, named after the British warship HMS Terror and, at one time, featuring a pirate statue. The bar often hosted transient crews, including hard-drinking Australian and New Zealand sailors who celebrated ANZAC Day there with a haka war dance, he said.
Yokota has a more stable customer base, he said.
"We do offer a quality product," he said. "We are able to provide that to our airmen and their families and that is what we are trying to do even now with reopening."
robson.seth@stripes.com Twitter: @SethRobson1
---
---
---
---