Atsugi group honors emergency personnel who died in 9/11 attacks
by
Nathan A. Bailey
September 11, 2012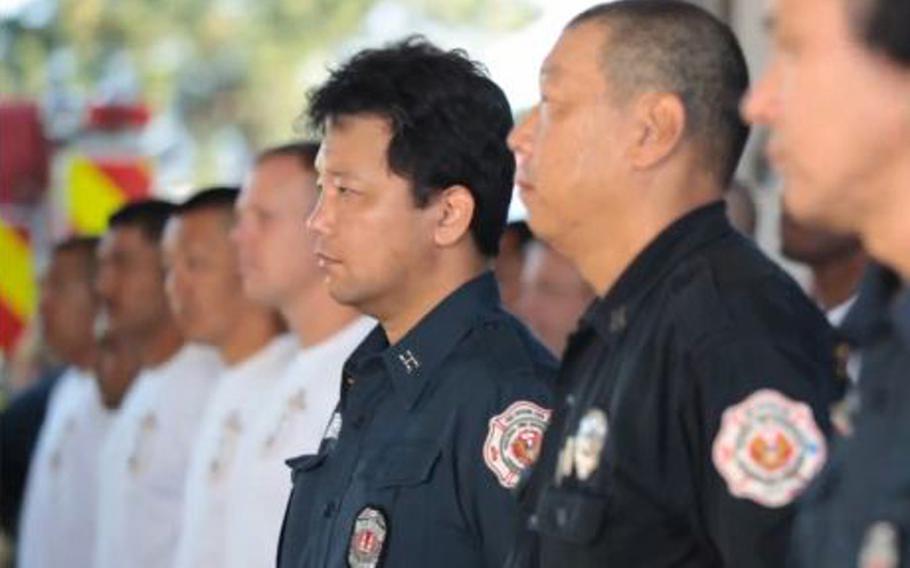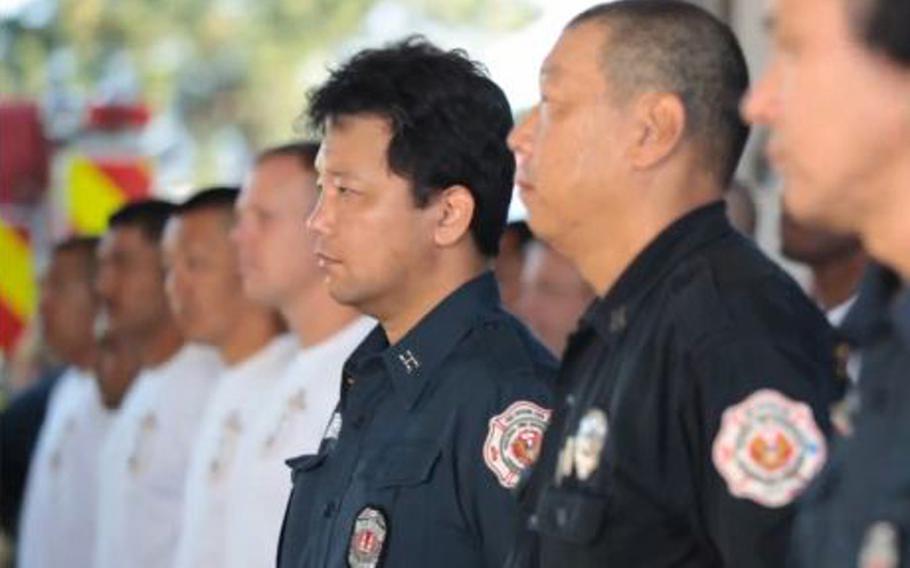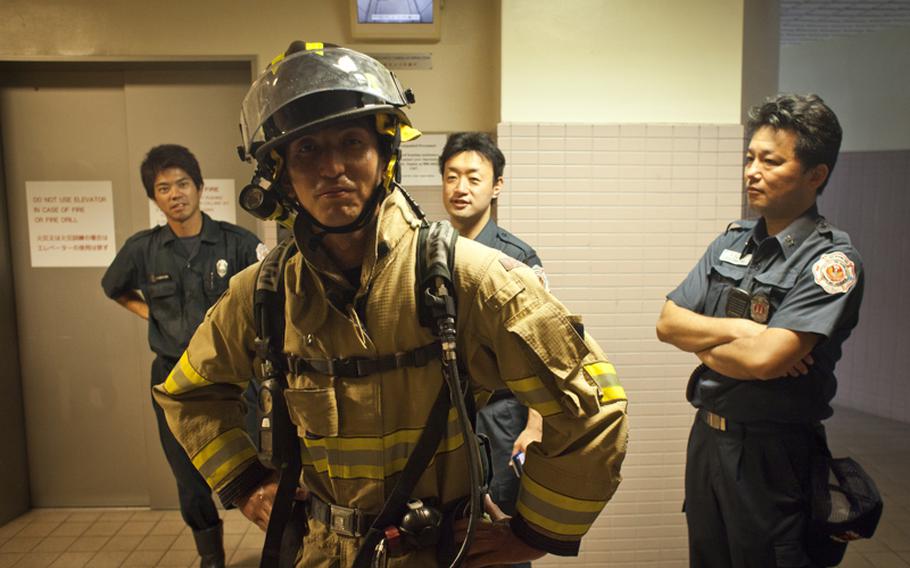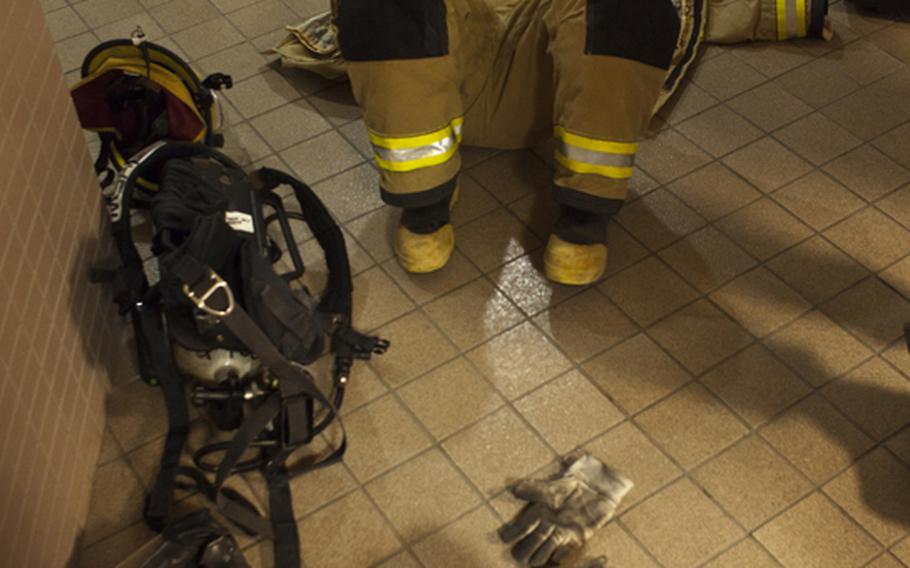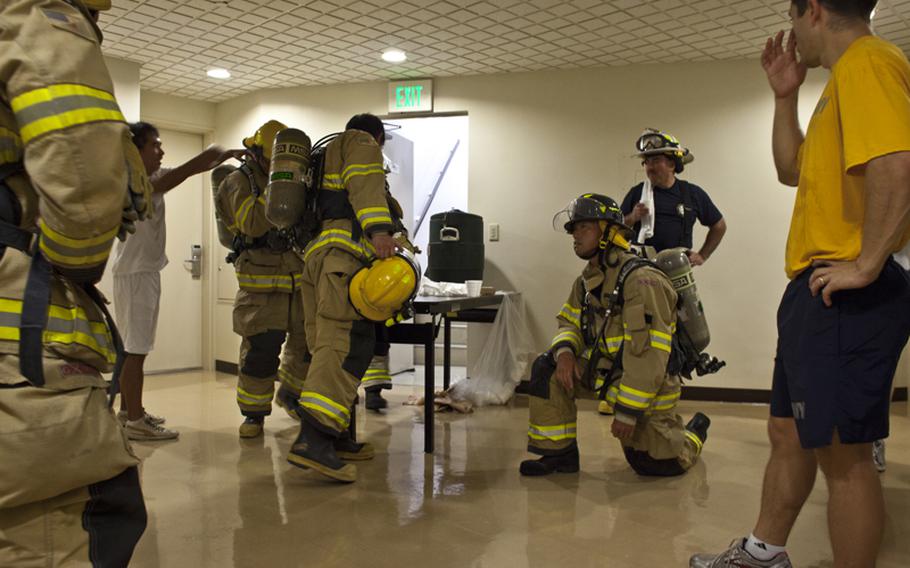 NAVAL AIR FACILITY, ATSUGI, Japan — Half a world from Ground Zero, a group of Japanese firefighters and American servicemembers honored the men and women who gave their lives trying to save others when the World Trade Center's twin towers collapsed 11 years ago.
In 90-degree heat Tuesday, the 40 firefighters, base emergency medical technicians and security personnel climbed 110 flights of stairs — the same number in the New York City towers that were hit by airplanes hijacked by terrorists on Sept. 11, 2001. A group of chief selectees in training from the base also joined in the climb.
The two base housing units used for the climb each had nine floors, meaning 12 ascents to the top, a total of 1,944 stairs.
Each firefighter wore a full ensemble, complete with helmet and self-contained breathing apparatus to create similar conditions that the New York Fire Department would have endured on Sept. 11.
Some started by bounding sprightly up the stairs, while others were more methodical. All were soon drenched in sweat as they breathlessly huffed, "Four more," or, "I think this is my last one."
Toward the end, most were immediately dropping to the floor at the top, then slouching on the bottom of the elevator, which provided the only brief respites as the climbers went down to start all over again.
Areas with cold drinking water were set up every few floors, but the firefighters poured more over their heads and down their backs than in their mouths.
"It's very tough, it was terrible," said Kumono Kazuyuki, a fireman at NAF Atsugi who visited Ground Zero in 2010 and was one of the first to finish the climb. He said he recently walked from his house in Kamakura to the top of Mount Fuji and back, a four-day trip covering more than 125 miles, and he said the stair climb was just as difficult.
One climber from the base clinic decided to wear a 20-pound weight suit to simulate the gear the first responders would have been carrying.
"It's definitely an eye-opening and somber experience realizing that not only did (EMTs) do that, but that they started treating patients as soon as they were done. I was out of breath and could barely stand, but they went right to work saving lives," said Petty Officer 2nd Class Joshua Whicker, a hospital corpsman at NAF Atsugi's Branch Health Clinic and Fleet Marine Force combat veteran in Afghanistan.
Memorial stair climbs have been taking place across the U.S. since 2005, when a group of Colorado firefighters climbed a high-rise building in Denver in memory of the FDNY firemen who were killed in the terrorist attacks, but this was believed to be the first commemoration of its type in Japan.