As murder trial opens, Japanese woman says she stabbed her Yokota airman boyfriend in 2018
by
Hana Kusumoto Caitlin Doornbos
February 21, 2020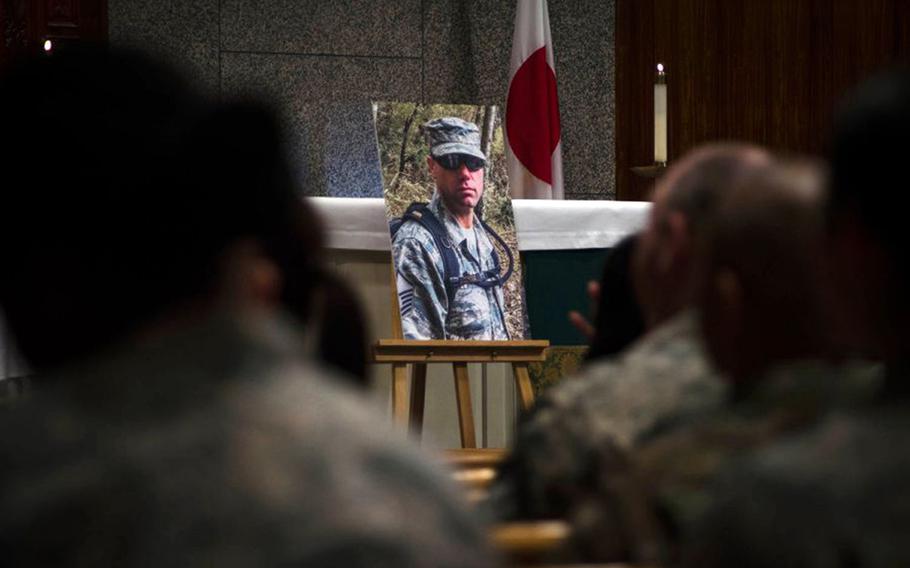 TACHIKAWA, Japan — On the first day of her jury trial Friday in Tokyo District Court, a 28-year-old Japanese woman admitted to killing her U.S. airman boyfriend at his home near Yokota Air Base.
Aria Saito, of Tokyo, faces charges of murder and violation of Japan's Swords and Firearms Control Law in the November 2018 death of Master Sgt. Nicholas Vollweiler. The 35-year-old, who served as the Yokota security forces squadron's chief of standards and evaluation, was stabbed in the neck with an 8-inch kitchen knife.
Defense attorneys say the killing was not pre-meditated, but prosecutors insist Saito planned the attack. In response to a question from Presiding Judge Yu Takeshita, Saito admitted she committed the offenses in the indictment against her.
Saito was working at an adult entertainment business in June 2018 when she met Vollweiler. They began dating, vacationed together on Okinawa the next month and she began splitting her time between his house near Yokota and her mother's Tokyo home, her attorneys said.
Vollweiler was separated from his wife, who lived in Hawaii. Saito's attorneys said he did not tell Saito he was married. Vollweiler's friend, Sgt. Maj. Douglas Hansen, testified Friday that Saito knew about his marital status.
Saito's attorneys said in court she had learned of Vollweiler's marriage through social media, but Vollweiler said he planned on a divorce.
On Nov. 3 or 4 of 2018, less than a week before his death, Vollweiler broke up with Saito, saying he did not want to divorce his wife, defense attorneys said. Saito then pushed and struck Vollweiler, broke some of his belongings and tried to let loose Vollweiler's retired military working dog, Jimmy. Military police arrived and took Saito to her mother's house, Hansen said.
On Nov. 8, Saito appeared at Vollweiler's home unannounced, with two kitchen knives with 8- and 6.5-inch blades in her bag, prosecutors said. Saito's attorneys said she intended to use the knives to kill herself, not Vollweiler, but prosecutors disagreed.
In the days prior, Saito had searched Google for the terms "stab," "neck" and "fatal wound," according to printouts of her search history presented Friday.
The following day, Saito climbed through a window at Vollweiler's house and waited for him to come home, prosecutors said. He was on the phone with his wife when he discovered Saito there, and immediately hung up.
Alarmed, Vollweiler's wife contacted Hansen, who arrived with a fellow Yokota security forces officer who'd been to the house the week prior. They found Vollweiler and Saito arguing inside.
"I let [Vollweiler] know that if he needed anything that I was there for him because we were family," Hansen said.
Vollweiler told the officers he was OK, and they left, still concerned, Hansen said.
"Something just did not feel right about the entire situation," he said.
Hansen and the other officer, along with Chief Master Sgt. Paul Rodgers, returned to the home. There, Rodgers told Saito she needed to leave, but gave her five minutes to say goodbye, Hansen said.
Rodgers knocked on the door again, but Saito asked for more time. Within minutes, the supervisor heard Vollweiler scream, and ran inside, Hansen said.
Hansen followed and found Saito clinging to Vollweiler's collar as he clutched his neck and tried to push her away, Hansen testified. He said he attended to Vollweiler while Rodgers apprehended Saito and asked her why she stabbed him.
"She said, 'I wanted to kill him, then kill myself,'" Hansen testified. "I heard it as clear as day."
They arrested Saito just before 8 p.m., and Vollweiler was pronounced dead an hour later at a local hospital, prosecutors said.
Defense attorneys argued events that day exceeded Saito's ability to cope with them, and that her Attention Deficit Hyperactive Disorder prevented her from controlling her actions and emotions.
Saito was "emotionally unstable" and "fragile more than others," the defense attorney said, adding that she had low self-worth.
The trial is scheduled to continue Tuesday. Witnesses expected to testify include Rodgers, a coroner and a psychologist who will speak about Saito's mental state.
doornbos.caitlin@stripes.com Twitter: @CaitlinDoornbos
kusumoto.hana@stripes.comTwitter: @HanaKusumoto