As furlough looms, South Koreans working for US military fear for their futures
by
Yoo Kyong Chang Kim Gamel
February 10, 2020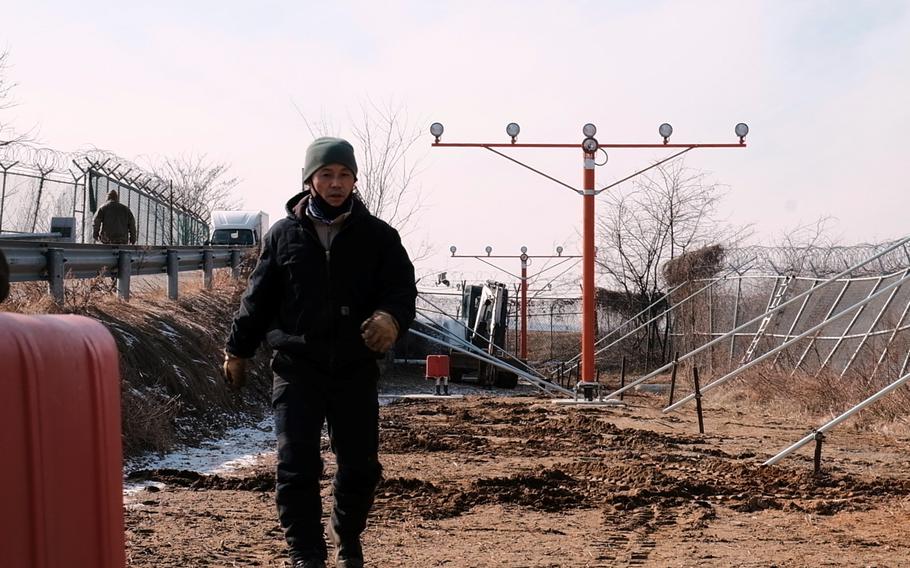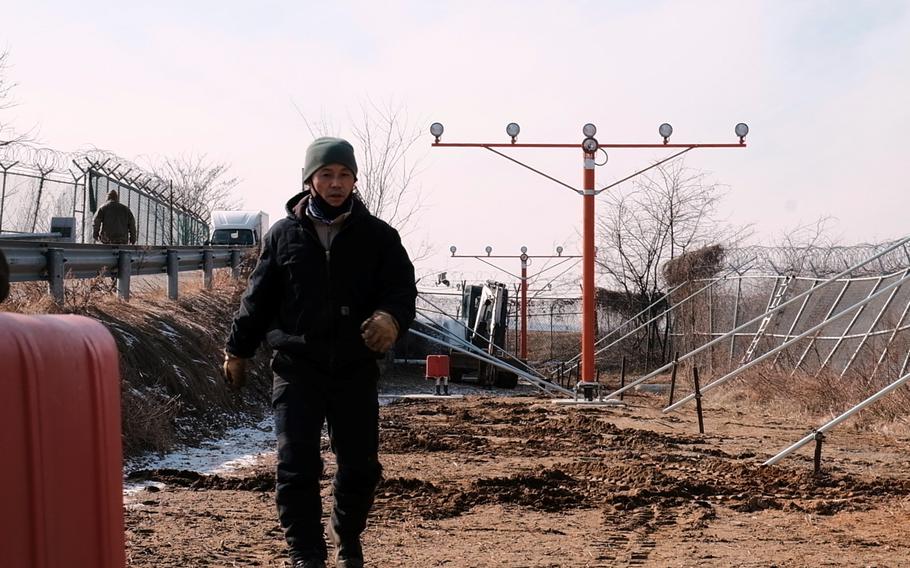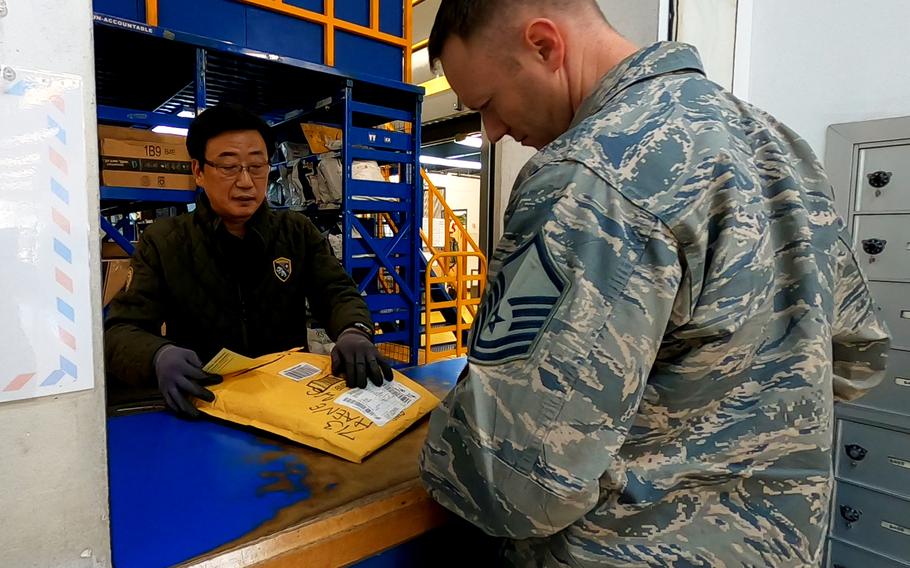 CAMP CASEY, South Korea — Yi Myong Hwa, who has worked for the U.S. military for nearly half her life, has been getting headaches and wakes up these days to a feeling of dread.
Yi is one of some 9,000 South Korean employees who received notice late last month that they may be forced to take unpaid leave beginning on April 1 if the U.S. and South Korea fail to agree on a new defense cost-sharing agreement.
"The furlough notice hit us like a bolt of lightning," the 46-year-old fire department dispatcher told Stars and Stripes in a recent interview at her office at Camp Casey, the closest U.S. base to the border with North Korea.
"Korean employees have been working for U.S. troops and the security of the United States and South Korea," she said. "It's outrageous that we're being used as a bargaining chip."
U.S. Forces Korea said the 60-day notice was required by law since the previous Special Measures Agreement, as the pact is known, expired at the end of last year and residual funds will run out by the end of March.
South Koreans who are placed on furlough will keep their jobs and base access but won't receive back pay, U.S. officials said.
It was the first time individual employees have received such a warning due to a lapsed agreement officials said, although the military sent a six-month notice to the USFK Korean Employees Union in October as it has done in the past.
'Big gap' South Korea has helped offset the cost of stationing some 28,500 U.S. troops on the divided peninsula under the agreement since 1991. The funds are used for administrative and logistical support as well as construction projects and the bulk of salaries for Korean nationals, as the employees are known.
Negotiations over the amount, previously held every five years, have always been contentious.
But President Donald Trump's administration raised the stakes by demanding that the South pay nearly $5 billion per year, a fivefold increase from the amount paid last year.
The allies also missed the deadline in 2018 but agreed a few weeks later to a stopgap measure increasing South Korea's contribution by 8.2% but only lasting a year.
The two sides still face "a big gap" after six rounds of negotiations, although they continue to communicate "via email or phone," Foreign Minister Kang Kyung-wha said Thursday.
The U.S. softened its initial demand but reportedly still seeks a sharp hike in funding and a broadening of the agreement to cover more costs including rotational troops.
Negotiators said they narrowed their differences during a meeting in January in Washington, D.C., but no date has been announced for the next session.
The two sides "should act reasonably and fairly within the framework of the existing SMA," Kang told reporters in Seoul.
She acknowledged the need to reach a swift conclusion as the furlough looms. South Korea also will hold parliamentary elections in April, which may delay the issue further since the National Assembly needs to ratify the deal.
Bracing for impact The furlough wouldn't affect non-appropriated fund organizations such as on-base restaurants, exchange stores, bowling alleys and other community activities that receive money from other sources.
But it would hit bus drivers, staff at the military hospital, post offices, fire departments, maintenance crews and administrative offices, among others.
Tech. Sgt. David Rodgers, a heavy equipment scheduler assigned to the 51st Fighter Wing at Osan Air Base, said his unit relies on South Korean workers to help clear snow and maintain the airfield.
"Korean Nationals provide us about a third of our work force," he said. "It's important that the furlough gets resolved with our [South Korea]-US alliance so that we can get our Korean Nationals back in the fight and helping us accomplish the mission."
Camp Humphreys, which is home to USFK headquarters and with a population of nearly 40,000 is the largest overseas U.S. base, is bracing for the potential impact.
"We're still working through that, very closely identifying all the positions that would be affected by the lack of a Special Measures Agreement," garrison commander Col. Michael Tremblay said last week in an interview.
"Of course, there will be impacts to the families of the Korean nationals that are employed, and I would assume but don't know yet that there would be some impacts to garrison operations," he said.
Camp Humphreys already has reduced late-night hours for bus routes and warned the community of likely delays in services after implementing "austerity measures," including a ban on overtime and a local hiring freeze.
Workers at Camp Casey also have felt the effects of the overtime freeze. Yi said the fire department has reduced the number of people responding to late-night calls for help, often involving severely intoxicated soldiers.
Kim Hyong Kon, who works at the housing office, said the staff is struggling to accommodate late-night troop arrivals at a busy time as the new rotational brigade is preparing to arrive.
"They're on a 24-hour schedule so we're often on standby," he said. "That's been a big problem. We request overtime, but they reject everything."
Job insecurity Kim, who at 60 is his family's sole breadwinner, said the furlough notices shocked those who received them.
"The two countries had problems with the SMA negotiations last year too, but this is the first time we got furlough notices. This is serious," he said.
The issue has gained widespread attention in South Korea, prompting anti-American rallies, although they have been relatively small and recent polls show that overall support for the decades-old alliance remains strong.
The USFK Korean Employees Union has threatened to stage protests, calling on the U.S. government to drop its "unreasonable demands that are destroying the [South Korea]-U.S. alliance" and "withdraw the furlough threat immediately."
The furlough threat was just the latest blow to the job security of South Korean employees, said union vice chairman Yang Yu Min. Many have been laid off in recent years as USFK consolidated most operations south of Seoul.
Yang said the union expects USFK to issue its final decision on the furloughs at the end of this month.
"Korean National employees are suffering from severe emotional distress because they have lots of family members depending on them," he said last week during an interview.
Stars and Stripes reporter Matthew Keeler contributed to this report.
gamel.kim@stripes.com Twitter: @kimgamel chang.kyong@stripes.com
---
---
---