Army Week fitness events lift spirits of Japan-based soldiers during pandemic
by
Theron Godbold
June 11, 2020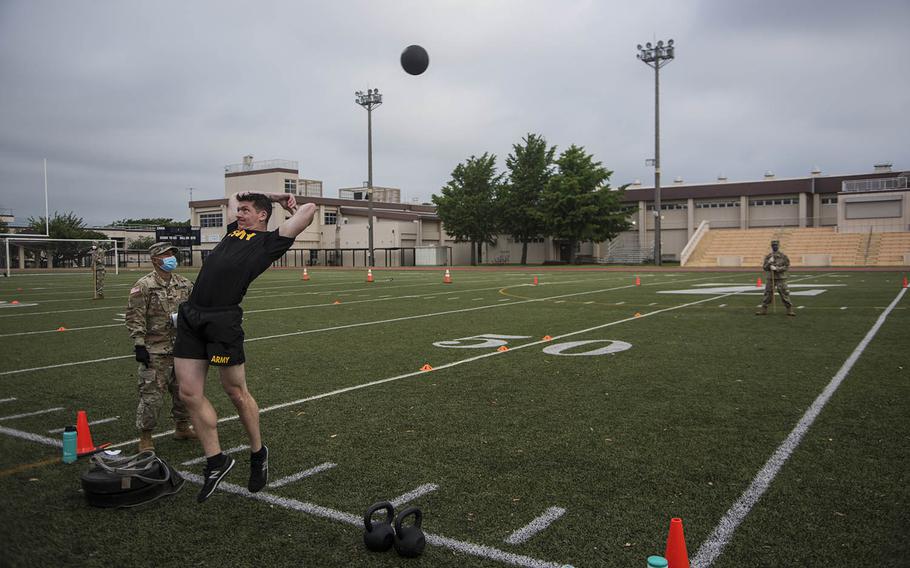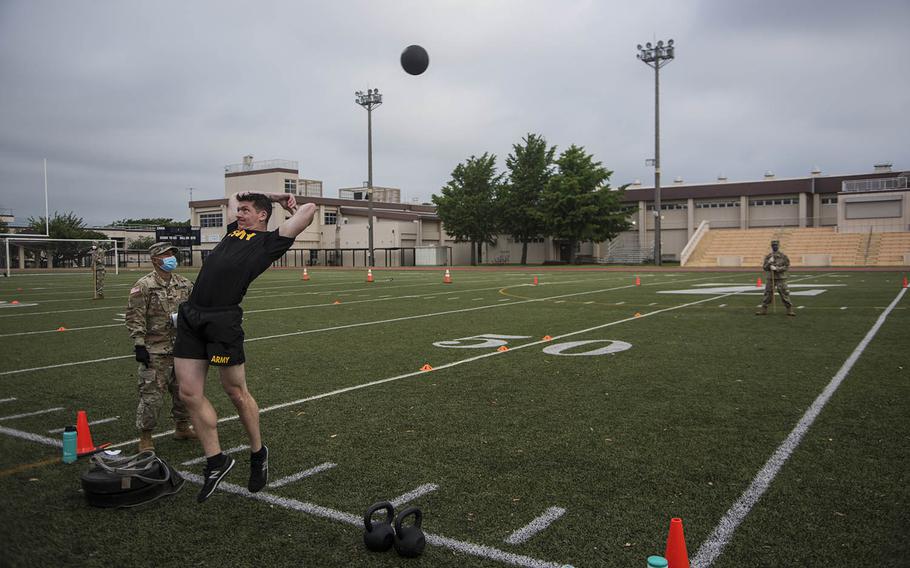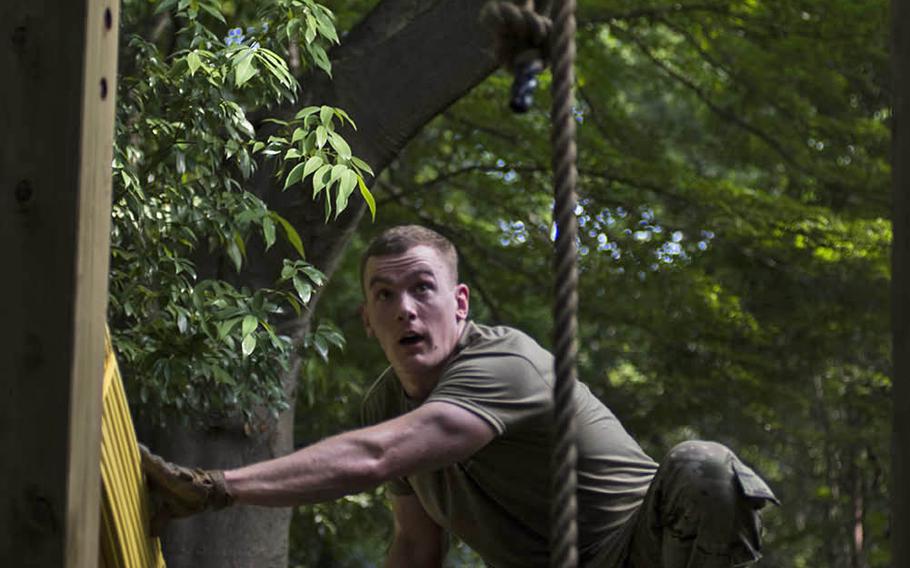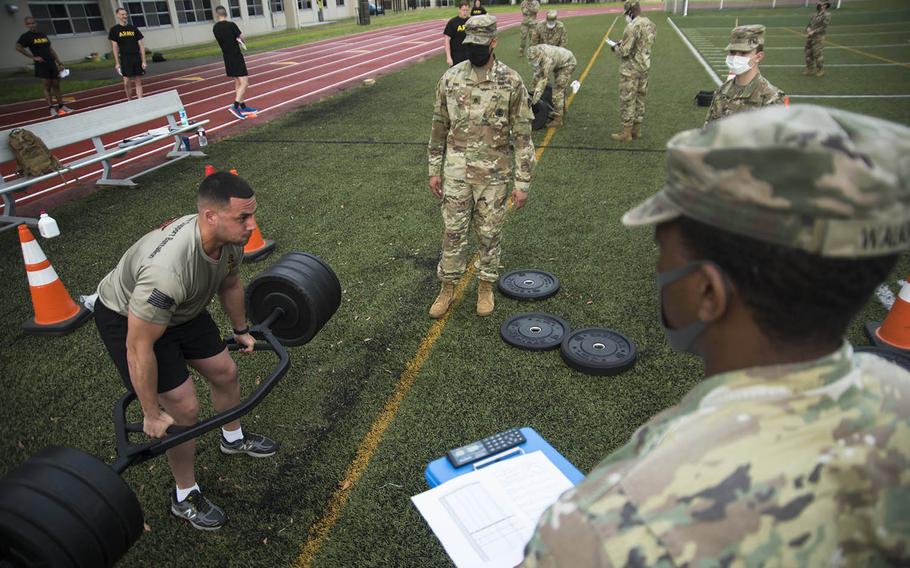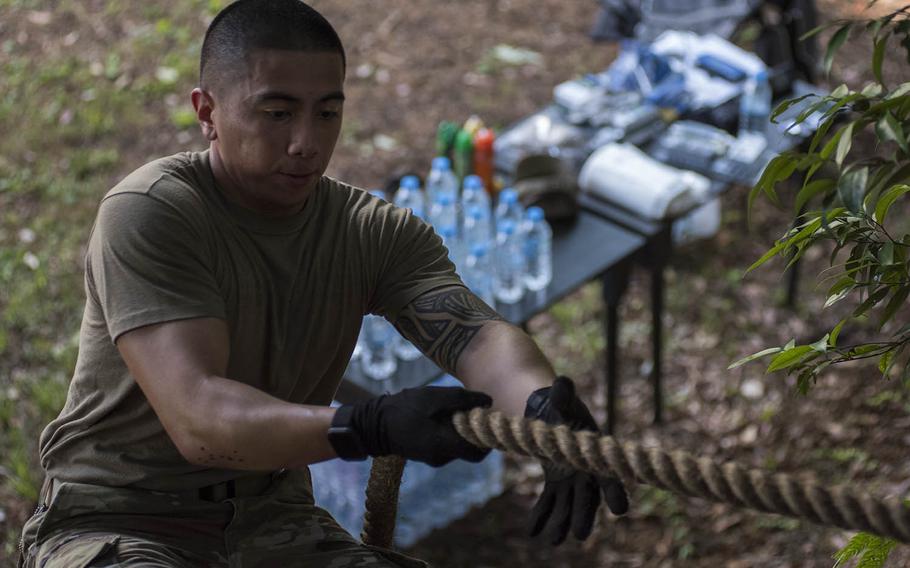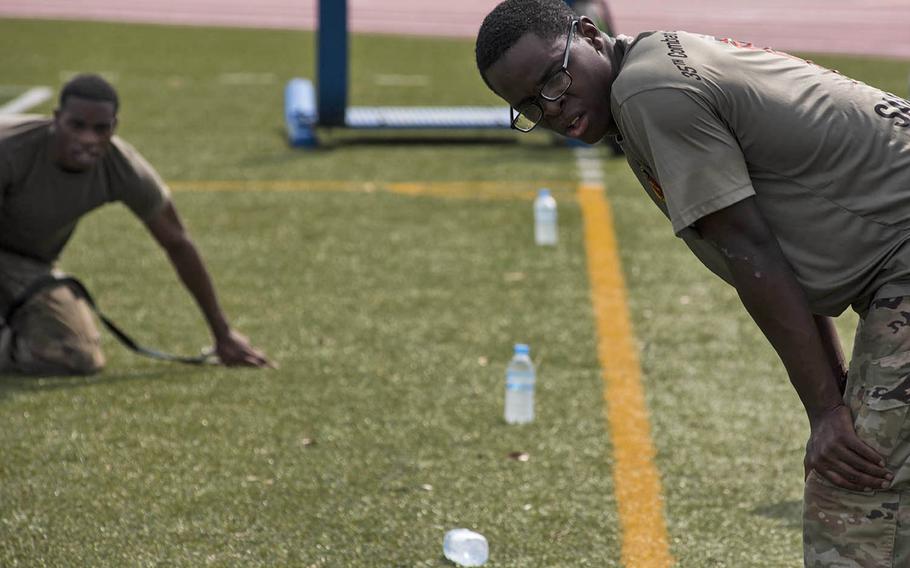 Stars and Stripes is making stories on the coronavirus pandemic available free of charge. See other free reports here. Sign up for our daily coronavirus newsletter here. Please support our journalism with a subscription.
CAMP ZAMA, Japan — Soldiers taking part in Army Week competitions this week at the home of U.S. Army Japan were doing more than demonstrating feats of strength.
They were releasing pent-up energy, lifting their spirits and mixing with comrades — with safeguards — after months abiding by restrictions aimed at keeping them healthy during the global coronavirus pandemic.
"If you look around, people were depressed but now they're with their comrades getting in a good workout," said Sgt. Doug Pistner, a medic from Minneapolis. "That not only helps their physical wellbeing but their mental health."
The three events began Monday under hazy skies, with the aroma of bleach in the air. Equipment set out for the Army Combat Fitness Test portion was wiped clean in preparation for the competitors.
"We're sanitizing everything after we use it," Pistner said.
Army Week, an annual series of events that marks the Army's birthday, this year was trimmed from the usual four days to three because of health protection safeguards in place to curb the coronavirus. This year marks the Army's 245th year.
On Monday, more than 100 troops took part in the new Army Combat Fitness Test, a series of events designed to simulate combat activity.
For example, hurling a 10-pound medicine ball simulates throwing equipment over an obstacle or helping a buddy to climb a wall. Other proxy workouts include a three-repetition maximum deadlift, hand release push-ups and a sprint-drag-carry series.
In the end, Capt. Patrick Sorensen, of Grand Ronde, Ore., took first place in the combat fitness competition. He works for U.S. Army Japan's information management directorate.
The Army will make the new combat fitness test its official gauge of soldiers' physical fitness in October, according to Army.mil. Lt. Col. Roberto Herrera, lead planner for Army Week at Camp Zama, said the fitness events were a good way for soldiers to familiarize themselves with the test.
Herrera said safety and sanitization were major factors in planning the event. During Army Week, troops were expected to monitor their own health, Herrera said. Participants' temperatures were checked and they had to answer a series of health-related questions. Finally, the equipment was sanitized frequently and anyone other the actual participants wore face masks. Everyone maintained social distancing during the events.
Even with the stricter safety guidelines, soldiers were happy to be out and doing something with friends and coworkers.
"Since this whole [coronavirus] thing, it's good to see different units together," said Pfc. Dwight Zuniga, of Brooklyn, N.Y. "It's good healthy competition."
Day 2 pitted 23 teams of five against each other in the Functional Fitness Team Competition. Events included a run of nearly five miles, interspersed with eight activity stations including an obstacle course and litter carry. Herrera called those two the hardest of the day's events.
First Sgt. Christopher Lett, from Mobile, Ala., the captain of the winning team, said his group relied on more than physical fitness for the win.
"We had to get the right people with the right mental mindset," he said. "It was the soldiers who have exhibited the ability to perform under pressure and not quit."
godbold.theron@stripes.com Twitter: @GodboldTheron