Army using ground-penetrating radar to look for Agent Orange at Korea base
by
Ashley Rowland
June 2, 2011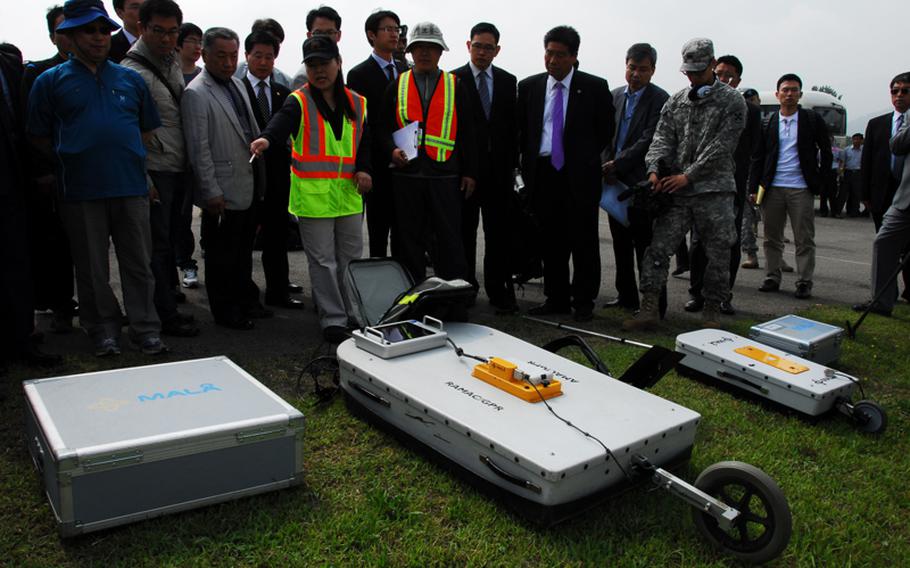 CAMP CARROLL, South Korea — The U.S. and South Korea began ground and water testing at Camp Carroll on Thursday, an early step in determining whether Agent Orange was buried at the Daegu-area base in the late 1970s as claimed by a handful of veterans once stationed there.
"I want to make clear: if there's any health risk, we will clean that up," Lt. Gen. John Johnson, commander of the 8th Army, said during a press briefing at the base. The results of ground-penetrating radar tests and water sampling around a broad area near the base's helipad will be used to focus the investigation on specific areas if any contamination or unusual objects are found, he said.
Meanwhile, U.S. military officials said they expanded their records search in hopes of determining whether barrels of chemicals that were removed from the ground in 1979 were sent to stateside storage or disposal facilities.
Three former soldiers stationed at Camp Carroll told a Phoenix television station last month that they dug trenches and buried barrels of Agent Orange — a defoliant that has since been shown to cause birth defects and some cancers — at the base in 1978. One of the soldiers said in the report that he helped bury about 250 drums of Agent Orange.
The 8th Army says records show that 65 barrels of chemicals were buried at Camp Carroll that year, but they were unearthed the following two years and disposed of outside the base. Nobody knows what happened to the barrels after they left the base, but "we have not seen anything in our records indicating Agent Orange was ever stored or disposed of on Camp Carroll," Brig. Gen. David Fox, head of Installation Management Command-Korea, said during Thursday's briefing.
Fox and Johnson reiterated during the two-hour briefing and tour of the helipad area that the investigation would be transparent. They said their top concern was the safety of people who live and work on or near the base.
As of Thursday, a U.S. military investigation team had interviewed four people in the U.S. who say Agent Orange was buried at Carroll. Based on their statements on where the burials allegedly took place, the military is focusing the ground-penetrating radar search on two locations near the helipad.
The plan is that they'll start the radar at 10 meters. If needed, it can go to 15 meters, officials said. One of the veterans, Steve House, told investigators he dug a trench 15 feet deep. The radar can locate objects underground as well as changes in soil density, which could indicate where a trench was once dug.
Radar testing will continue through July. Results from the water samples will not be available for several weeks, officials said.
The procedures for the testing were agreed upon last week by a joint U.S.-South Korean team overseeing the investigation. The U.S. and South Korea will each be given a portion of the water samples for testing.
When asked whether veterans' statements indicating two different burial sites made their allegations less credible, Johnson said he would search any areas they claimed were used for burial.
"Because of the seriousness of what they're claiming, I have to look at each area they said," Johnson said. "It's over 30 years ago, and these guys were young men at the time doing what they were asked to do."
The Agent Orange allegations have angered South Koreans and generated fears of environmental contamination among area residents.
Several local officials attended the briefing and questioned whether the radar could search deep enough to locate any barrels that might remain underground. One said South Korea had better contamination-detecting technology than the U.S. but its equipment was not being allowed on the base.
"They have complete access to this area," Johnson said. "I've put no restrictions on that."