Army's THAAD presence in S. Korea gets permanent home amid rough living conditions
by
Marcus Fichtl
October 19, 2018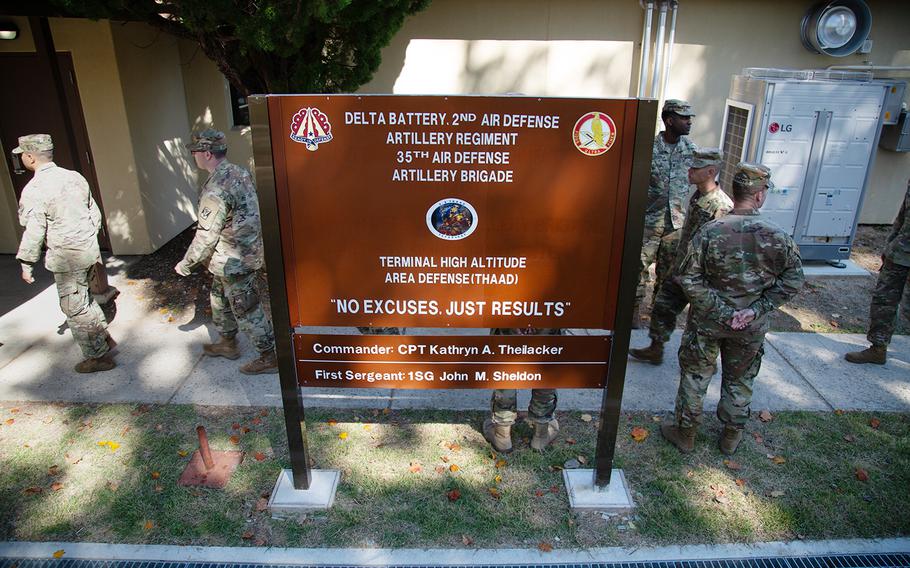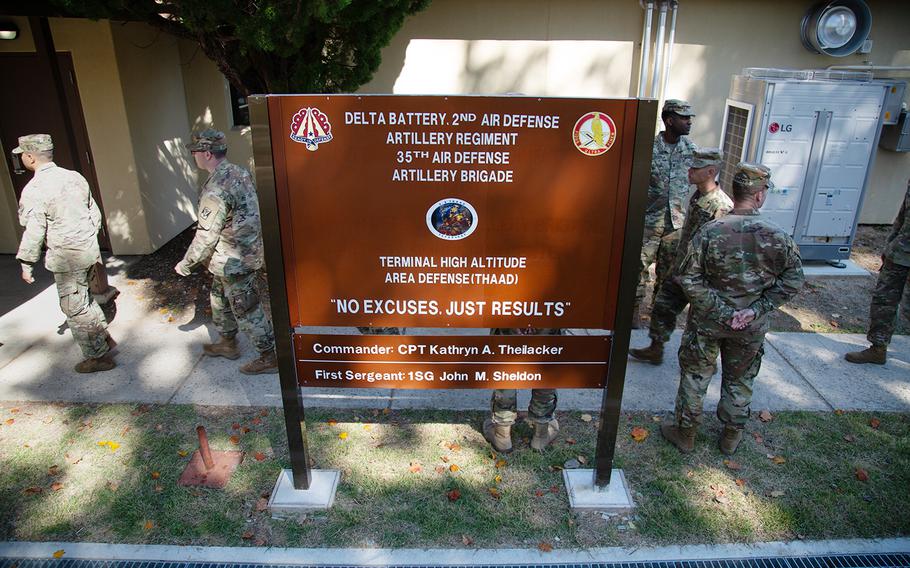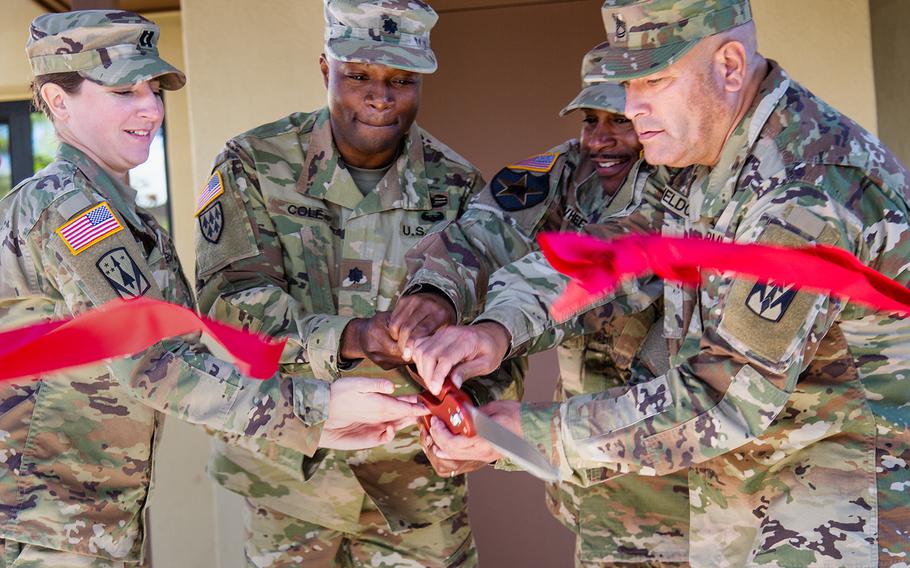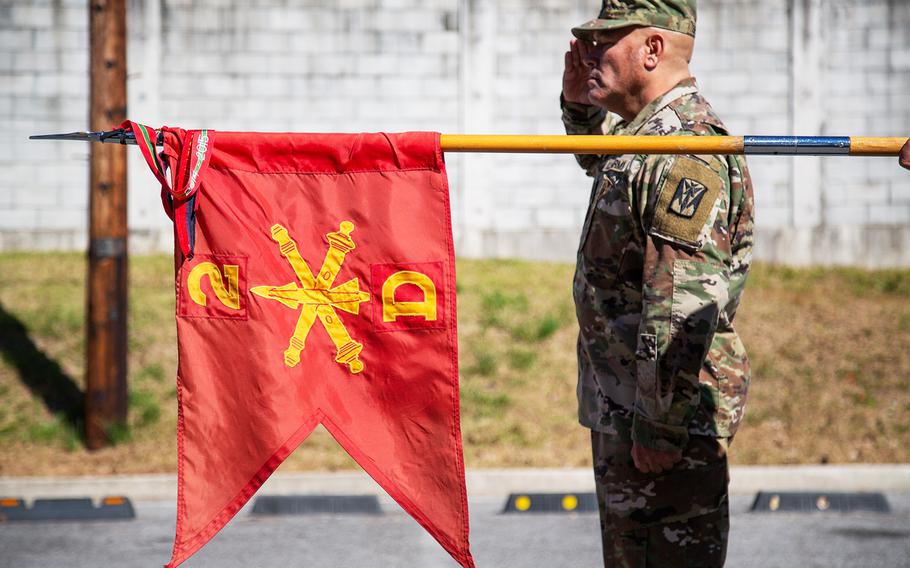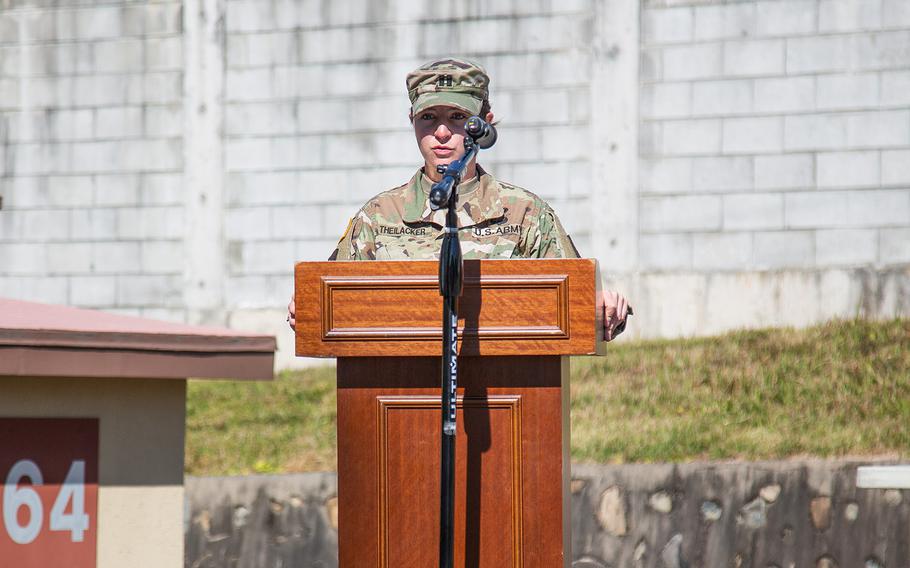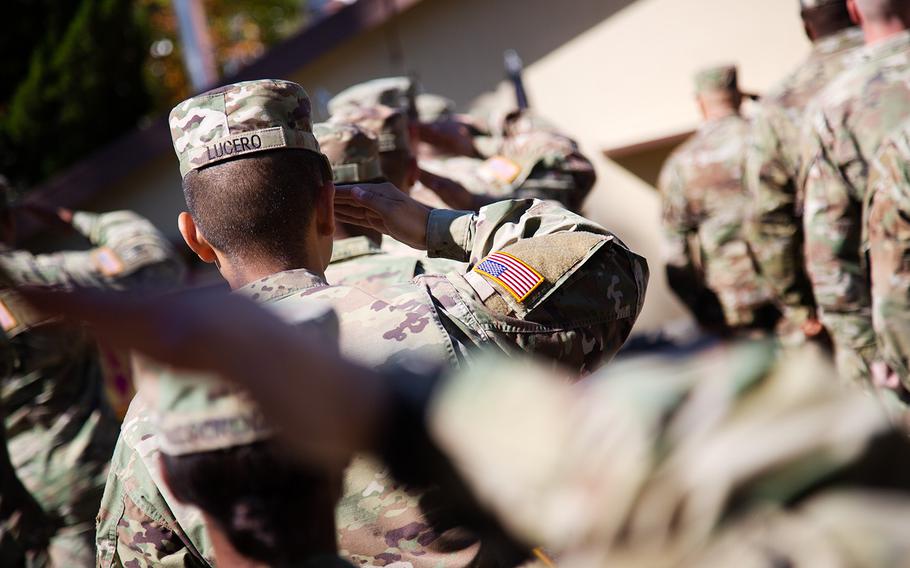 CAMP CARROLL, South Korea — The administrative offices for the U.S. military's most advanced anti-ballistic missile system in South Korea have finally found a permanent home nearly two years after a midnight-run brought the first pair of launchers to the peninsula.
The controversial Terminal High Altitude Area Defense, or THAAD, battery — on a former golf course in the melon-farming area of Seongju, 190 miles south of Seoul — is manned by a unit known as Combined Task Force Defender.
The Delta Battery, 2nd Air Defense Artillery Regiment, which oversees the operation from nearby Camp Carroll, cut the ribbon Friday for its newly refurbished headquarters building.
"This ceremony today is the final step to formalize the presence of Delta-2 on the Korean Peninsula," said the battery's commander, Capt. Kate Theilacker.
The 29-year-old from New Richmond, Wisc., later told Stars and Stripes she was "honored" to be part of the "historic moment."
"We're here for the long haul to support the Korean people; we're here as a permanent fixture in the ballistic missile defense of the peninsula," she said.
The United States and South Korea agreed to deploy THAAD to the peninsula in 2016 to counter a growing threat from North Korea.
The transition from temporary to permanent unit began about a year ago when the unit flagged to the 35th Air Defense Artillery Brigade and its soldiers became permanently assigned rather than rotated in from the United States.
The move occurred despite opposition from locals, activists and China, which claims THAAD's radar system poses a threat to its national defense. President Donald Trump also questioned what he said was the $1 billion cost of THAAD.
Local South Korean protesters routinely come to a head with transport vehicles entering the base. Most recently, skirmishes erupted in April when the South Korean defense ministry said it was providing material to make the base livable for the South Korean and U.S. servicemembers there.
Theilacker said the new building was a massive upgrade from their old location, which consisted of two small rooms and three computers.
"Sometimes we'd cram 40 people in to the old place" she said while giving a tour of the new headquarters, which includes offices, an armory to store small arms for the unit and space for 20 computer work stations
Work to be doneThe smell of new paint and celebratory cake was a warm welcome to their new home at Camp Carroll, but Theilacker said life at Seongju needs improvement.
"The buildings we have weren't built to house soldiers," she said. "It's not unlivable, but it's not nice."
She says the protesters not only force her troops to fly in and out every week via helicopter, but also stop U.S. vehicles from shipping in goods and supplies.
"Currently, the only way on and off of the site is by helicopter," she said. "A week at a time at least, every single one of my soldiers is away from their barracks room, their family."
She said if the gates weren't blocked they wouldn't require the extended rotations and could keep more people at Carroll, which is only a 25-minute drive away.
Spc. Josiah Welch, a THAAD operator, said conditions have improved since he started at the site in November.
"There was pretty bad mold initially," said the 25-year old from Winter Park, Fla. "There was a week where we didn't have running water – we had baby wipe showers."
Now they have air conditioning and showers, he said.
The military finally began shipping fresh food three times week last month, reducing some reliance on pre-prepared field rations, Theilacker said.
The site even got a popcorn maker two weeks ago, she said, adding that toward the end of her last rotation it began tasting like the best popcorn she ever had.
Theilacker hopes they will get a functioning dining facility by the end of the year, rather than relying on the South Korean unit's kitchen.
Welch said he appreciates the "real world application" of his job despite the rough conditions at Seongju.
"We get to see our work come to life and actually make an impact in the world," he said.
fichtl.marcus@stripes.com Twitter: @MarcusFichtl